Voice of the Sea Season 10
Voice of the Sea is broadcast on TV in Hawaiʻi, American Samoa, Guam, Palau, The Federated States of Micronesia, and The Marshall Islands. Click on the episodes below to watch Voice of the Sea full episodes or 30 second trailers. Voice of the Sea is also available on our YouTube channel and Vimeo page.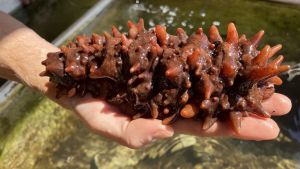 In this episode of Voice of the Sea, we visit Kauaʻi Sea Farm, a one-of-a-kind restorative aquaculture operation, located on the southwest side of Kauaʻi—in the 20-acre, saltwater fishpond, Nomilo (Nōmilu) loko iʻa, which is owned and cared for by ...
Select a season of Voice of the Sea