Voice of the Sea Season 8
Voice of the Sea is broadcast on TV in Hawaiʻi, American Samoa, Guam, Palau, The Federated States of Micronesia, and The Marshall Islands. Click on the episodes below to watch Voice of the Sea full episodes or 30 second trailers. Voice of the Sea is also available on our YouTube channel and Vimeo page.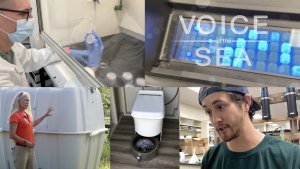 Placeholder text here Watch the trailer for Season 7, Episode 10 on Vimeo or on YouTube. Learn more in our episode Cesspool Issues Rising and Cesspool Contamination Revealed by Invasive Algae! @ 4pm Sat, Dec 19th  and 6pm Sun, Dec 20th, 2020 in Hawaiʻi ...