Saving the Kiwikiu: Part 2
We're talking about the progress and plans to help save the kiwikiu — a critically endangered Maui forest bird that eats insects from the bark of Native Hawaiian trees, like Koa and Oʻhia. The Maui Forest Bird Recovery Project has led a decade-long effort, with multiple partners to regrow native forest, breed the kiwikiu in captivity, and re-establish a wild population of kiwikiu in the newly grown forest of Nakula, on the leeward slopes of Haleaklā.
In October 2019, biologists attempted to relocate 13 kiwikiu to Nakula. The birds took well to the new habitat, but the move was unsuccessful because of avian malaria, which is transmitted by non-native, introduced mosquitoes. Experts are now reinvigorating their work to reduce threats facing the kiwikiu and ensure its future—including mosquito control plans that could save not only the kiwikiu but also many species of native forest birds threatened by invasive species, disease, and climate change.
PC: Cover photo by Zach Pezillo.
Watch part 1, from season 6, in the episode "Saving the Kiwikiu."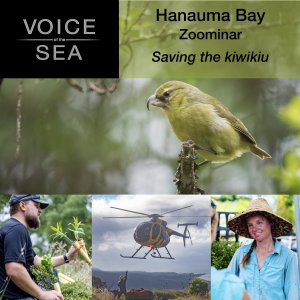 We hosted a special Zoominar on August 27th, 2020, as part of the Hanauma Bay Education Program lecture series. Along with viewing a draft version of the episode and providing feedback for its TV debut, attendees talked with featured experts from the Maui Forest Bird Recovery Project, American Bird Conservancy, Pacific Bird Conservation, the Hawaiʻi Department of Land and Natural Resources (DLNR), and University of Hawaiʻi researchers. This video is the talk-story portion of the Zoominar.
Experts in this talk-story include Dr. Hanna Mounce, Chris Warren, Laura Berthold, Teya Penniman, Chris Farmer, and Peter Luscomb.
Watch  the talk-story portion of the Zoominar below. You can also watch this talk-story session on YouTube.
Hanauma Bay Lecture Series Talk-Story Zoominar
Curriculum Connections:
Additional Resources:
Maui Natural Area Reserves (including Nakula and Hanawī)
Kiwikiu Recovery and Translocation
Avian Malaria Resources
Mosquito Control Information
American Bird Conservancy
Pacific Bird Conservation
Department of Biology, University of Hawaiʻi at Mānoa
Select a season of Voice of the Sea