PACIFIC REGION AQUACULTURE AND COASTAL RESOURCE HUB
State Food, Drug, and Cosmetic Law: Aquatic Food Sale Regulations
A. Legal Authority
Chapter 328, HRS, Food, Drug, and Cosmetics
Chapter 321-11, HRS, Department of Health
Title 11, Chapter 29 HAR, Department of Health, Food and Food Products
Information: https://files.hawaii.gov/dcca/pvl/pvl/hrs/hrs_pvl_328.pdf
B. Purpose
The general purpose of the food, drug and cosmetic regulations is to establish standards of identity, quality and labeling for foods, and specifically in this context to regulate the sale of aquatic foods in the interest of consumer protection and the public welfare. Aquatic food includes all species of edible plants and animals from fresh, brackish, and salt or sea water.
C. Applicability to Aquaculture
According to §11-29-4, HAR, it is unlawful to take, sell, deliver for sale, hold for sale, or offer for sale, any aquatic food from any body of fresh, brackish, or salt water, which the state Department of Health (DOH) may find and declare to be polluted. Specifically, a violation exists when that pollution constitutes a condition whereby the aquatic food found may have become contaminated with filth, or rendered diseased, unwholesome or injurious to health. It is also unlawful to offer for sale any fish which have been bruised, torn, or otherwise rendered liable to spoilage. The DOH has a separate set of rules and regulations which apply to shellfish, such as oysters, clams, and mussels (see the Shellfish Regulations Section). The DOH regulations also incorporate by reference various federal regulations promulgated under the U.S. Food, Drug and Cosmetic Act (§11-29-4, HAR). The applicable sections of federal law are listed in the DOH regulations and are generally found in Title 21, Part 161, of the Code of Federal Regulations.
D. Administering Agency
The regulations are administered by the Department of Health, Food and Drug Branch.
Food and Drug Branch
Department of Health
591 Ala Moana Boulevard
Honolulu, Hawaii 96813
Phone: 808-586-4725
Fax: 808-586-4729
Web site: http://hawaii.gov/health/environmental/food_drug/food/about.html
https://www.capitol.hawaii.gov/hrscurrent/vol06_ch0321-0344/hrs0321/hrs_0321-0011.htm
https://health.hawaii.gov/opppd/files/2015/06/11-29.pdf
E. Information Requirements
There is no permit or permit application required by these regulations, but the Food and Drug Branch can monitor and inspect for compliance by a business. The law allows for inspection of establishments where food products are manufactured, distributed or sold. The Branch also investigates complaints and collects samples to determine compliance with product standards.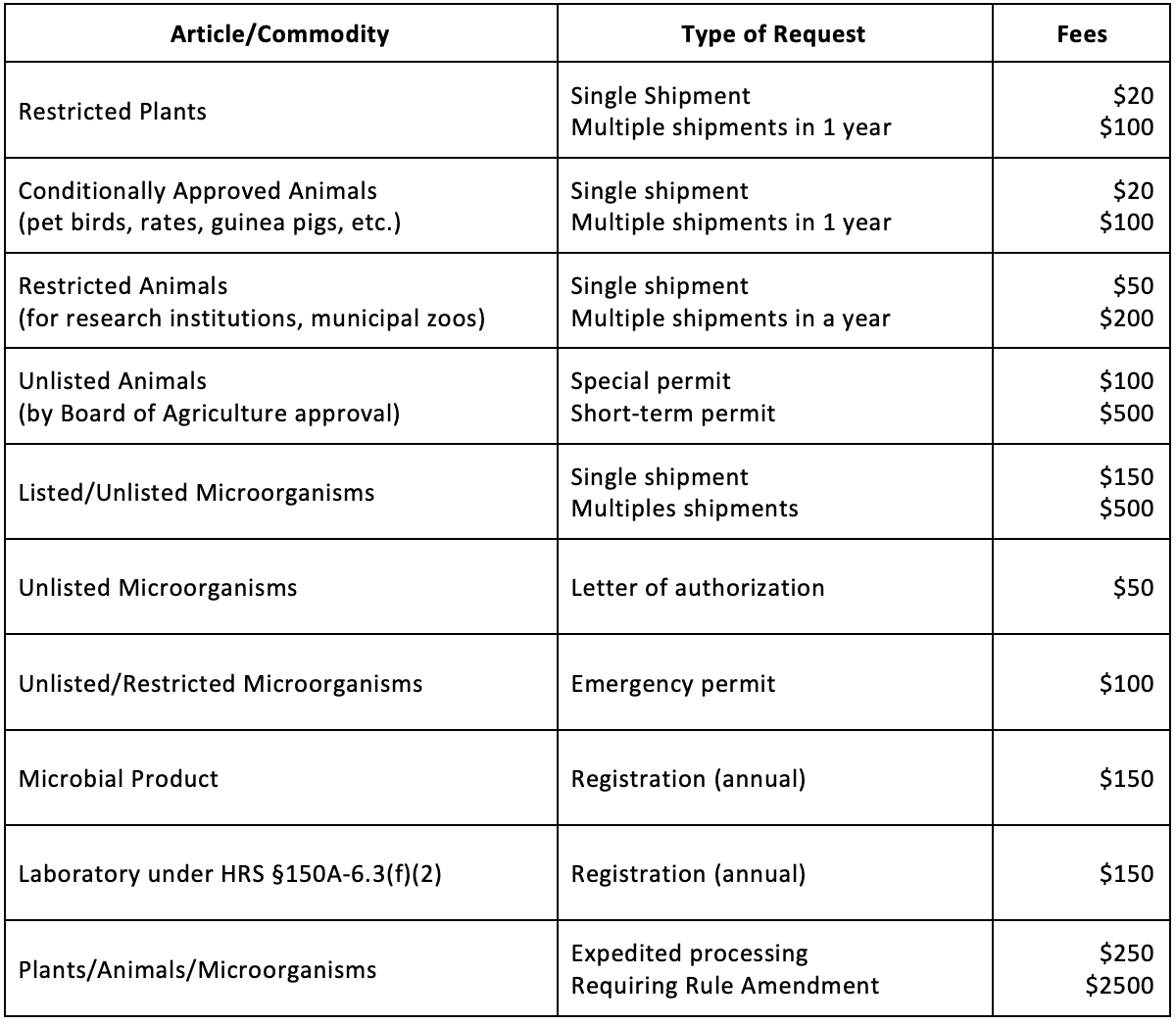 Pacific Region Aquaculture and Coastal Resource Hub
2525 Correa Road, HIG 238
Honolulu, HI 96822
Phone: (808) 956-7031

Each pattern represents a Center of Excellence. Learn more about the cultural connections and meanings behind them.