PACIFIC REGION AQUACULTURE AND COASTAL RESOURCE HUB
PERMITS AND REGULATORY REQUIREMENTS FOR AQUACULTURE IN HAWAIʻI

Regulation of Aquaculture Operations and Product Sale
A. Legal Authority
Federal Food Drug and Cosmetic Act, 21 U.S.C. 301 et seq.
Food Safety Modernization Act of 2010, 21 U.S.C. 301 et seq. (amendments to FDCA)
Federal Insecticide, Fungicide, and Rodenticide Act, 7 U.S.C. 121-134, 136 et seq.
Title 21 CFR Parts 500 – 589, Animal Drugs, Feeds and Related Products
Title 40 CFR Part 180, Tolerances and Exemptions from Tolerances from Pesticide Chemicals in or on Raw Agricultural Commodities
Information: http://www.accessdata.fda.gov/scripts/cdrh/cfdocs/cfcfr/cfrsearch.cfm
B. Purpose
The purpose of the federal Food, Drug and Cosmetic Act (FDCA) is to protect the public from misbranded or adulterated food, drugs, and cosmetics. The Food Safety Modernization Act (FSMA) of 2010 made changes to the FDCA to shift the focus of federal regulations to preventing contamination through stricter controls and regulation, improved inspection services, and more scrutiny of imported foods, including seafood. The purpose of the Federal Insecticide, Fungicide, and Rodenticide Act (FIFRA) is to regulate the sale, distribution and use of pesticides in the U.S.
C. Applicability to Aquaculture
Aquacultured food products are subject to regulation by the Food and Drug Administration (FDA). The FDCA prohibits the addition of any poisonous or deleterious substance to food products in interstate commerce, unless permitted by the FDA. The jurisdiction of the FDA covers virtually all commercial aquaculture production. The regulatory scheme has three areas applicable to aquaculture: 1) food additives; 2) pesticide use on raw agricultural commodities; and 3) animal drugs used directly or in animal feed. For otherwise prohibited food additives which are required for food production or cannot be avoided, the FDA has established regulations as to the quantity and circumstances under which the substance can be used.
The FSMA imposes a number of mandates on individuals and entities that manufacture, process, pack, transport, distribute, receive, or hold articles of food. It broadens the FDA's authority to regulate food facilities and would establish new requirements for those facilities. It also does the following: 1) provides FDA with mandatory recall authority (§206); 2) requires food companies to enhance due diligence on imported foods (§301); 3) provides food testing results to FDA (§202); 4) enacts Hazard Analysis and Critical Control Point (HACCP) programs (§103); 5) supplements food tracking recordkeeping; and 6) provides food industry employees with whistle-blower protection (§402). It exempts some farms and small businesses from some of the new regulatory requirements, and imposes fees on a limited number of FDA services/functions such as recalls, re-inspections, and export certifications (§207). Pesticides applied to raw agricultural products are regulated by the FIFRA. The standards concerning allowable quantities of regulated pesticides are found at 40 CFR Part 180. Drugs for use on animals used for food and used in animal feed must be approved by the FDA (21 CFR, Parts 500 to 589).
D. Administering Agency
U.S. Food and Drug Administration
10903 New Hampshire Ave.
Silver Spring, MD 20993
Phone: 888-463-6332
Web site: http://www.fda.gov/ http://www.fda.gov/SiteMap/default.htm
E. Information Requirements
Permits and approvals required for sale of food additives, pesticides, and animal drugs and feed would generally apply only to manufacturers. For example, in 1995 the FDA finalized a rule (21 CFR 123), "Procedures for the Safe and Sanitary Processing and Importing of Fish and Fishery Products," that requires processors of fish and fishery products to develop and implement HACCP systems for their operations. HACCP creates a process control system that identifies where hazards might occur in the food production process and puts in place stringent actions to take to prevent hazards from occurring.
With respect to aquaculture producers, they are exempt from coverage. Treatment with carbon dioxide, bleeding, washing, and icing of otherwise unprocessed fish by the aquaculture producer is an integral part of the process of harvesting and getting the fish to market, and is, therefore, not considered to be processing. However, heading, gutting, or packaging of fish (e.g., retail or wholesale packages or cartons) performed by the aquaculture producer is considered processing, and would subject the producer to coverage under the regulations.
With respect to which activities of a molluscan shellfish harvester are exempt from the requirements of the seafood HACCP, a person is exempt from all provisions of 21 CFR, §123 if they engage in the activity of harvesting molluscan shellfish without otherwise processing the shellfish. The following harvesting activities are not considered to be processing:
Temporarily holding shell stock in bulk, or in containers, in part of the same natural shellfish growing waters where harvested, where such holding is an integral part of the operation of getting the harvested product to market;
Placing shell stock in containers as they are harvested;
Placing shellfish shipping tags on containers or shell stock;
Sorting or washing shell stock in the harvest area; and
Transporting by the harvester of shell stock in a boat to a processing facility.
Specific standards, permits and approvals which may apply to the use of food additives, pesticides and animal drugs and feed are beyond the scope of this summary. Go to the federal FDA web site and state DOH web site with specific questions and guidance documents. The FDA regulations only apply if and when regulated substances are used by an operator. It is important, however, that the operator be aware of possible restrictions and regulations before engaging in production.
Importation of Non-domestic Aquatic Animals
A. Legal Authority
Lacey Act, 18 U.S.C. 42
50 CFR 16 et seq.
Chapter 150A, HRS, Hawaii Plant Quarantine Law
Title 4 Subtitle 6, HAR, Department of Agriculture, Division of Plant Industry
Information: http://hawaii.gov/hdoa/pi/pq/lists
B. Purpose
The purpose of the Permit to Import Restricted Commodities into Hawaii is to control the importation and movement between islands of specific plants, insects, microorganisms, and non-domestic animals that are or could be detrimental to the agricultural and aquacultural industries, natural resources and environment of Hawaii.
C. Applicability to Aquaculture
Anyone desiring to import aquatic animals, plants and microorganism cultures into Hawaii must obtain a Permit to Import Restricted Commodities from the Plant Quarantine Branch (PQB), Department of Agriculture (DOA). Though called the PQB, the Branch oversees all plant, animal, and microorganism imports into Hawaii. This permitting process is important to the local aquaculture industry because much of the industry grows nonnative species.
To manage exotic species importation, the DOA maintains three lists of specific species that are established by going through a rule making process: 1) Prohibited; 2) Restricted A and B; and 3) Conditionally Approved. If a particular species is listed and has been allowed previously under established permit conditions, and the new import request is for a similar purpose, then the process is a straight-forward administrative approval.
However, if the importation is for an unlisted (new to Hawaii) species, the organism must first be placed on a designated list, which is initiated when an application and species profile is submitted to the PBQ for a submission to the Board of Agriculture (BOA). The submission goes through a multi-tiered review, which includes reviews by two advisory committees, and then recommendations by the PQB to the BOA. Based on the Board decision and following public hearings, the species will be placed on one of the three lists.
There are separate lists for microorganisms.
In general, organisms on the prohibited list are not allowed for importation into the state. Organisms on the Restricted List require a permit for both importation and possession and the list is separated into Parts A and B. Part A includes species used primarily for research or display by recognized government agencies. Part B includes species that may also be imported for private and commercial use. All Restricted species are monitored closely and movement within the state is only by permit.
The Conditionally Approved List is reserved for organisms that present the lowest risk in the event of escape or unauthorized release into the environment. These species may or may not be monitored after arrival.
D. Administering Agency
The permit is administered by the Plant Quarantine Branch. Permit decisions on animals for which a permit application has been previously made and the Board of Agriculture has ruled, can be made by the Branch Chief. Decisions on new animals or organisms are made by the BOA, based on an application.
Plant Quarantine Branch
Department of Agriculture
State of Hawaii
1849 Auiki Street
Honolulu, Hawaii 96819-3100
Phone: 808-832-0566
Fax: 808 832-0584
Web site: http://hawaii.gov/hdoa/pi/pq/
E. Information Requirements
For animals the entry of which has been previously permitted (previously listed), an applicant submittal should include:
Name and address of the shipper and importer;
Method of shipping and approximate quantity and species type (scientific name);
Purpose of the importation;
Mode of transportation; and
Approximate date of shipment and arrival.
For new animals or organisms, the following additional information is necessary to allow reviewers to make a responsible and informed decision on potential risks verses economic benefits:
Statement of reasons for importation;
Person responsible for the importation;
Description of the containment facility and the safeguarded to prevent escape;
Detailed species profile, including information on: 1) local prey; 2) potential competitors; 3) feeding strategy and diet; 4) diseases and treatments; 5) reproduction; and 6) environmental requirements of life stages; and
Means of transportation.
Microorganisms will have special information requirements and applicants should contact PQB for a complete list.
F. Public Participation
Decisions for the listing and importation of new species are subject to public meetings of the Advisory Committee on Plants and Animals and the Board of Agriculture. Before the regulations are changed to add a new species, a public hearing must be held in every county.
G. Process Time
The regulations do not provide a specific time frame for a decision on the permit application and duration of the process will vary with the complexity of the request. Already listed species, subject to requests with similar conditions can be processed in as little as two weeks. Applications for new species could take twelve months or longer.
H. Sequence of Filing
The PQB permit must be obtained prior to importation of the organism of interest.
I. Cost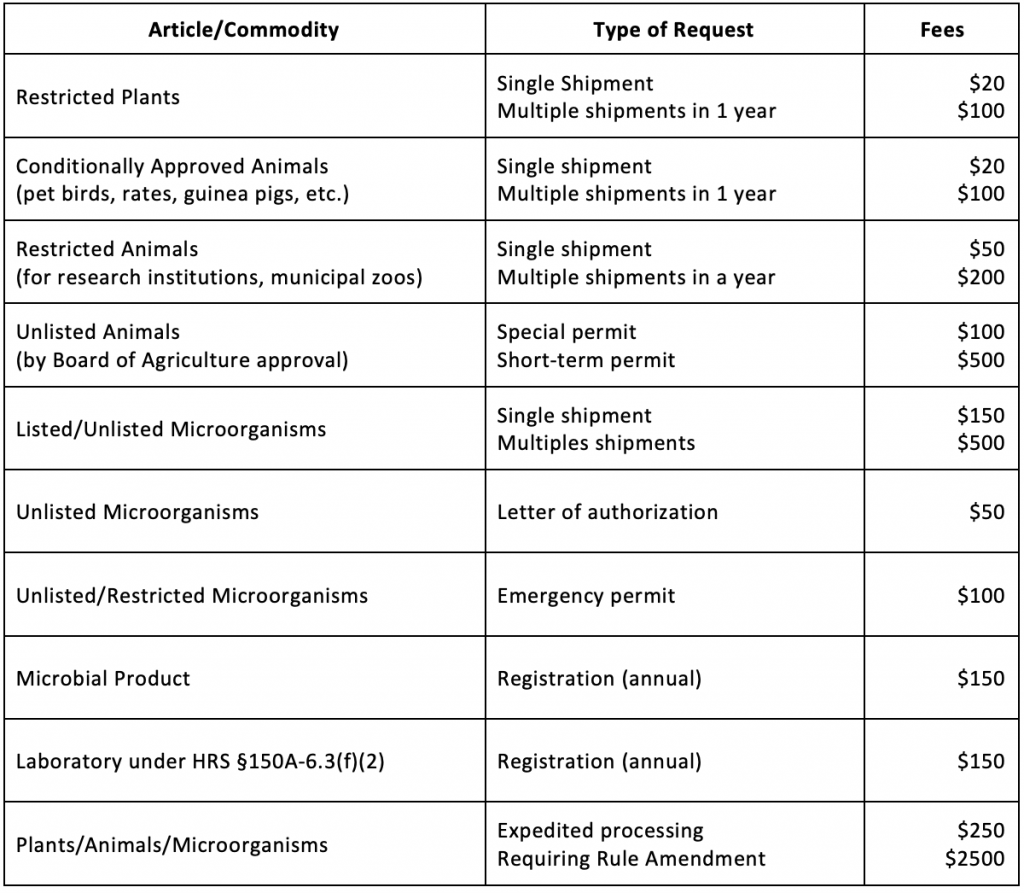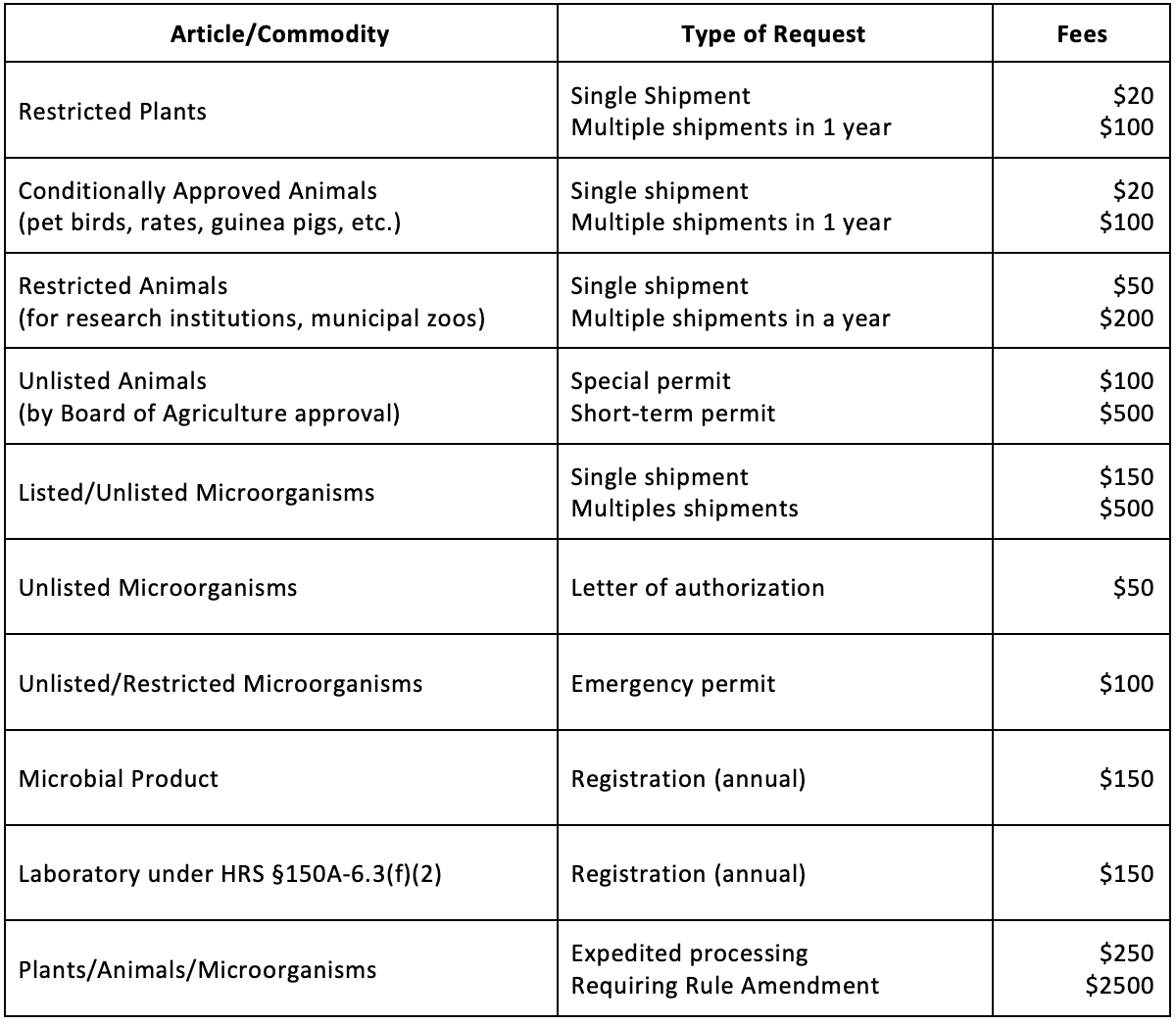 State Food, Drug, and Cosmetic Law: Aquatic Food Sale Regulations
A. Legal Authority
Chapter 328, HRS, Food, Drug, and Cosmetics
Chapter 321-11, HRS, Department of Health
Title 11, Chapter 29 HAR, Department of Health, Food and Food Products
Information: http://gen.doh.hawaii.gov/sites/har/admrules/default.aspx
B. Purpose
The general purpose of the food, drug and cosmetic regulations is to establish standards of identity, quality and labeling for foods, and specifically in this context to regulate the sale of aquatic foods in the interest of consumer protection and the public welfare. Aquatic food includes all species of edible plants and animals from fresh, brackish, and salt or sea water.
C. Applicability to Aquaculture
According to §11-29-4, HAR, it is unlawful to take, sell, deliver for sale, hold for sale, or offer for sale, any aquatic food from any body of fresh, brackish, or salt water, which the state Department of Health (DOH) may find and declare to be polluted. Specifically, a violation exists when that pollution constitutes a condition whereby the aquatic food found may have become contaminated with filth, or rendered diseased, unwholesome or injurious to health. It is also unlawful to offer for sale any fish which have been bruised, torn, or otherwise rendered liable to spoilage. The DOH has a separate set of rules and regulations which apply to shellfish, such as oysters, clams, and mussels (see the Shellfish Regulations Section). The DOH regulations also incorporate by reference various federal regulations promulgated under the U.S. Food, Drug and Cosmetic Act (§11-29-4, HAR). The applicable sections of federal law are listed in the DOH regulations and are generally found in Title 21, Part 161, of the Code of Federal Regulations.
D. Administering Agency
The regulations are administered by the Department of Health, Food and Drug Branch.
Food and Drug Branch
Department of Health
591 Ala Moana Boulevard
Honolulu, Hawaii 96813
Phone: 808-586-4725
Fax: 808-586-4729
Web site: http://hawaii.gov/health/environmental/food_drug/food/about.html
E. Information Requirements
There is no permit or permit application required by these regulations, but the Food and Drug Branch can monitor and inspect for compliance by a business. The law allows for inspection of establishments where food products are manufactured, distributed or sold. The Branch also investigates complaints and collects samples to determine compliance with product standards.
Shellfish Sanitation Regulations
A. Legal Authority
Chapter 328, HRS, Food Drugs and Cosmetics
Title 11, Chapter 35, HAR, Department of Health, Shellfish Sanitation
U.S. Food, Drug and Cosmetic Act, 21 U.S.C. 301 et seq.
National Shellfish Sanitation Program Manual of Operations, Public Health Service Publication Number 33, U.S. Department of Health and Human Services
Information: http://gen.doh.hawaii.gov/sites/har/admrules/default.aspx http://www.fda.gov/Food/FoodSafety/ProductSpecificinformation/Seafood/FederalStatePrograms/NationalShellfishSanitationProgram/ucm046353.htm
B. Purpose
The purpose of these shellfish sanitation regulations is to establish sanitary controls for the shellfish industry. The provisions shall apply to the growing area and to all aspects of harvesting, processing, packaging, storing, and distributing of shellfish.
C. Applicability to Aquaculture
Culture of shellfish (e.g., oysters, clams, mussels) is an established industry on the U.S. Mainland and an emerging industry in Hawaii. No person in the State of Hawaii shall operate a plant or business engaged in growing, harvesting, shucking, packing, repacking, or reshipping fresh or fresh-frozen shellfish for sale to the public for human consumption without a valid permit issued by the Department of Health (DOH). Shellfish include all edible species of oysters, clams, and mussels of the molluscan class Pelecypoda, unless the product is in final packaging and has been heat-sterilized and packaged in hermetically sealed containers.
Shellfish growing areas (e.g., offshore ocean, coastal, estuarine or fresh water areas suitable for natural shellfish growth or artificial shellfish propagation) are surveyed, approved and classified by DOH. A survey evaluates all factors affecting the quality of the shellfish growing area, including sources of pollution, the effects of wind, tides, and currents, and the distribution and dilution of the polluting materials, and the bacteriological quality of water.
Areas not surveyed are automatically classed as prohibited areas. Shellfish from approved areas may be harvested for direct marketing. No person shall sell, transport, receive or take any shellfish not declared to be approved or otherwise fit for direct marketing.
Artificial growing systems for shellfish, e.g., a man-made system with definite boundaries in which shellfish are grown using supplemental materials, must meet the performance criteria for natural growing systems. The operator of an artificial growing system shall be issued a shell stock shipper's certificate. Harvesting, processing, packing, storing and shucking operations must be approved and meet the standards set forth in the regulations.
Permits issued are valid for up to one year, with an automatic expiration date of June 30 of each year.
D. Administering Agency
Food and Drug Branch
Department of Health
591 Ala Moana Boulevard
Honolulu, Hawaii 96813
Phone: 808-586-4725
Fax: 808-586-4729
Website: http://hawaii.gov/health/about/admin/health/environmental/food_drug/about.html
E. Information Requirements
Permit applications shall be accompanied by sufficient written data, drawings and descriptions for the department to evaluate the operation relative to the regulations. All collection and transportation of shellfish growing water samples and shell stock shall be performed in accordance with "Recommended Procedures for the Examination of Sea Water and Shellfish," American Public Health Association, 4th edition, 1970. Analyses of these samples for bacteriological, toxicological, chemical, and physical parameters shall be performed by a laboratory approved by the DOH and in accordance with methods recommended in the regulations.
F. Public Participation
There is no requirement for public notice or participation in the decision.
G. Process Time
The regulations do not set forth any specific time frames for action on permit applications. However, sampling of proposed growing areas for classification will require a year or more of data for review by DOH.
H. Sequence of Filing
The permit must be obtained prior to conducting shellfish operations for sale of product to the public.
I. Cost
There is no filing fee associated with the permit application to sell shellfish. However, the application must have sufficient written data, drawings and descriptions for the department to evaluate the operation relative to the regulations. The cost of a Sanitary Survey to classify a natural growing area is the responsibility of the DOH. An artificial growing system must have a routine monitoring program by the certificate holder to assure proper functioning of the water system. This program shall include the monitoring of temperature, salinity, and fecal and total coliforms of source and effluent waters.
A. Legal Authority
Chapter 321-11, HRS, Department of Health
Hawaii Public Health Regulations, Chapter 1-A, Food Service and Food Establishment Sanitation Code
B. Purpose
The purpose of the sanitation regulations is to provide minimum requirements for the handling, processing and serving of foods to protect the public health, safety and welfare.
C. Applicability to Aquaculture
The need for a sanitation permit will depend on the specific nature of the aquaculture operation. Any person operating a food establishment must obtain a permit (Art. 1, Sec. 5, PHR). A food establishment means any place or portion thereof, maintained, used, or operated for the purpose of storing, preparing, serving, manufacturing, packaging, transporting, or otherwise handling food at the retail or wholesale level. The term includes any place where food is served or provided to the public, with or without charge, regardless of whether the food is consumed on or off premises.
Food establishments include: fish markets, fish-processing plants, or facilities for the production, preparation for sale, packing, storage, sale or distribution of any food. If a company is only harvesting and wholesaling to a processor or other permitted facility, a sanitation permit may not be required. Concerned aquaculture operations should check with the Sanitation Branch directly regarding the applicability of the requirements to any specific operation.
D. Administering Agency
The Sanitation Permit is administered by the Department of Health, Sanitation Branch.
Sanitation Branch Department of Health
591 Ala Moana Boulevard
Honolulu, Hawaii 96813
Phone: 808-586-8000
Fax: 808-586-8040
Web site: https://health.hawaii.gov/ (See web site at main branch for neighbor island offices)
E. Information Requirements
Permit applications can be obtained from the Sanitation Branch and online. Information needed includes the establishment name and location and owners name. There will be an inspection of the facility to review compliance with appropriate regulations.
F. Sequence of Filing
An applicant must apply for a permit prior to beginning construction, extensive remodeling or conversion work. Operation can begin pending a permit decision so long as the application has been made to the department.
G. Cost
Each application for issuance or renewal of a food establishment permit shall be accompanied by a fee payment. The fees are based on the total number of food operations conducted within the establishment, e.g., receiving, cold storage, cooling, display, etc. (see §11-12-7, HAR to determine the appropriate fees). In addition, there is a charge of $200 for food establishment plan review for new construction and$150 for remodeling.
There are two emerging global trends in the production and sale of seafood evident today that the prospective commercial aquaculture projects should understand. They are: Organic Certification and Best Practices Certification. These trends are extensions of existing long-term trends in terrestrial agriculture and livestock food production and are indicators that developed-world consumers are becoming more concerned about health and where their food comes from and how it is grown. In the U.S., these certifications are currently optional for aquaculture farmers; however, major seafood buyers are beginning to require some sort of certification from their sources, thus putting pressure on producers to participate.
In essence, the two concepts generally involve aquaculture farmers adopting certain required processes and procedures to grow their product. Then an independent third party, either government or an approved/accepted private group, inspects and certifies that the product has met these required growing standards. The farmer may then use a special label or logo to show consumers and the marketplace that the farm has been certified. Expectations are that by meeting these standards and displaying this "eco label" or brand, a farmer may charge a premium for the product.
This section briefly introduces each concept, its implantation status with respect to U.S. and global aquaculture, and where an interested business can go to find more information.
A. Concept
Congress passed the Organic Foods Production Act (OFPA) in 1990. The OFPA required the USDA to develop national standards for organically produced agricultural products to assure consumers that agricultural products marketed as organic meet consistent, uniform standards. The OFPA and the National Organic Program (NOP) regulations require that agricultural products labeled as organic originate from farms or handling operations certified by a state or private entity that has been accredited by USDA.
The NOP is a marketing program housed within the USDA Agricultural Marketing Service. Neither the OFPA nor the NOP regulations address food safety or product nutrition.
Production and handling standards address organic crop production, wild crop harvesting, organic livestock management, and processing and handling of organic agricultural products. Organic crops are raised without using most conventional pesticides, petroleumbased fertilizers, or sewage sludge-based fertilizers. Animals raised on an organic operation must be fed organic feed and given access to the outdoors in the case of livestock. They can be given no antibiotics or growth hormones.
The NOP regulations prohibit the use of genetic engineering, ionizing radiation, and sewage sludge in organic production or handling. As a general rule, all natural (non-synthetic) substances are allowed in organic production and all synthetic substances are prohibited, unless approved by the NOP. The National List of Allowed Synthetic and Prohibited NonSynthetic Substances maintained by the NOP and promulgated in a section of the regulations, contain the specific exceptions to the rule.
Labeling requirements for agricultural products are based on the percentage of organic ingredients in a product.
B. Current Status
After trying for three years to incorporate aquaculture under the livestock regulations and resolve inherent incompatibilities between terrestrial and aquatic animals, the National Organic Standard Board (NOSB) concluded that an independent set of standards for aquaculture was needed. This decision was advised by a group of aquaculture industry representatives and environmentalists, the Aquaculture Working Group (AWG), which continued to work on the issue. On November 19, 2008, the NOSB did recommend several limited changes to existing regulations that addressed aquaculture feeds and the use of fish oil and fish meal and related issues. Details can be found at: [http://www.ams.usda.gov/AMSv1.0/getfile?dDocName=STELPRDC5074508].
While other countries, such as those of the European Union, are moving forward rapidly with standards for organic aquaculture, the U.S. has made limited progress. The specifics of how marine fish species can be certified as organic remain unclear and consumers are currently confused about organically labeled products due to the many conflicting and misleading standards around the world. Challenges to address include: 1) the flexibility and ambiguity in the term "organic"; 2) defining appropriate practices is complicated by the variety of cultured species; 3) the difficulty in keeping pollutants out of the aquatic medium; and 4) controlling food supplies.
C. More Information
There is a great deal of information on the Internet that addresses Organic Aquaculture around the world. In the U.S., aquaculturists can begin to check the status with the following source:
National Organic Program
Agricultural Marketing Service
Web site: http://www.ams.usda.gov/AMSv1.0/nop
Questions E-mail: amsadministratoroffice@ams.usda.gov
Best Practices Certification
A. Concept
In the past 40 years, aquaculture has grown to produce more than 50% of the world's edible seafood and projections are that the industry will continue to expand to meet the increasing global demand. Such rapid global growth, the majority of it in developing countries, has elevated concerns by environmental groups, governments and others about the potential for large-scale negative environmental and social impacts. The solution to these concerns is generally summarized under the concept of fostering sustainable aquaculture practices or best practices.
These issues of sustainable aquatic farming are part of the wider reaching concerns over sustainability of planet earth's land and ocean ecosystems, and specifically the food production systems, in the face of global climate change and continued population growth. Around the world, governments, the aquaculture industry, and the environmental and NGO communities have responded with various cooperative efforts to develop best practices or standards for the major species and production technologies in use today.
In concept, industry compliance with standards would not only minimize the major environmental impacts of farming, but some groups have also included addressing the negative social impacts that have been particularly evident in developing countries. As with organic certification, once the accepted processes, procedures and standards are developed for responsible aquaculture, then the usual approach is one or more third party organization could play the role of certifiers and the a producer could utilize a special certification or brand in product marketing.
B. Current Status
There are dozens of global, regional and national public and private sector groups currently working on some form of best practices or aquaculture certification today. Some groups are focusing on managing the environmental impacts of aquatic farming , while a few are incorporating addressing social and community impacts, e.g., disrupting the rural community structure. Three efforts are emerging as the leading global approaches (including in the U.S.) to managing and certifying sustainable aquaculture practices:
The Global Aquaculture Alliance (GAA) is an international, non-profit trade association, registered in the U.S., that promotes advancement in environmentally and socially responsible aquaculture. GAA is developing Best Aquaculture Practices (BAP) certification standards for the major aquaculture products. BAP standards will be determined by evaluators accredited by an independent body, the Aquaculture Accreditation Council (AAC).
The GLOBAL G.A.P. is a private group that sets voluntary standards for certification of production processes of agricultural products around the world, including aquaculture. The adopted standards serve as a global reference system for other existing standards. This is a business-to-business label and not directly visible to consumers.
The World Wildlife Fund (WWF) is a non-profit conservation organization interested in fostering a sustainable supply of seafood through responsible aquaculture farming that minimizes impacts. WWF has initiated eight round table discussions, called the Aquaculture Dialogues, to facilitate communication and foster consensus among the diverse stakeholders involved in global aquaculture to develop specific standards that farmers must meet to be certified. WWF intends to turn the standards over to an independent organization, the Aquaculture Stewardship Council (ASC), to be the third party auditors to certify farms.
C. More Information
There is a great deal of information on Best Practices Certification on the Internet. For example, the Food and Agriculture Organization (FAO) of the United Nations has addressed sustainability, certification and codes of practice for aquaculture. The contact information for the groups mentioned above is as follows:
Global Aquaculture Alliance
Web site: http://www.gaalliance.org/bap/
GLOBAL G.A.P.
Web site: http://www.globalgap.org/cms/front_content.php?idart=883
Aquaculture Dialogues
World Wildlife Fund
Web site: http://www.worldwildlife.org/what/globalmarkets/aquaculture/aquaculturedialogues.html 

Pacific Region Aquaculture and Coastal Resource Hub
2525 Correa Road, HIG 238
Honolulu, HI 96822
Phone: (808) 956-7031

Each pattern represents a Center of Excellence. Learn more about the cultural connections and meanings behind them.