Managing Cats & Saving Native Wildlife on Maui
We're on Maui, learning about efforts to manage the extreme number of feral cats—and how that will benefit both cats and the ecosystem! Cats in the wild have relatively harsh, short lives. And, they spread disease, posing health threats to birds, marine mammals, and humans. Cats also prey on native birds—from the nearshore wetlands to the high forests—killing critically endangered native species and disrupting the ecosystem.
Across Maui Nui, experts are working to innovatively solve the problem of too many cats. We talk to Mayor Michael Victorino; Jay Penniman and Jenni Learned from the Maui Nui Seabird Recovery Project; Emily Drose from the Maui Humane Society; Darlene Rayhill from the Good Cat Network; and Kehau Kimokeo from the Division of Aquatic Resources—all working to restore the resilience of Maui's environment by reducing the number of feral cats, rebuilding native bird populations, and supporting the recovery of endangered marine mammals.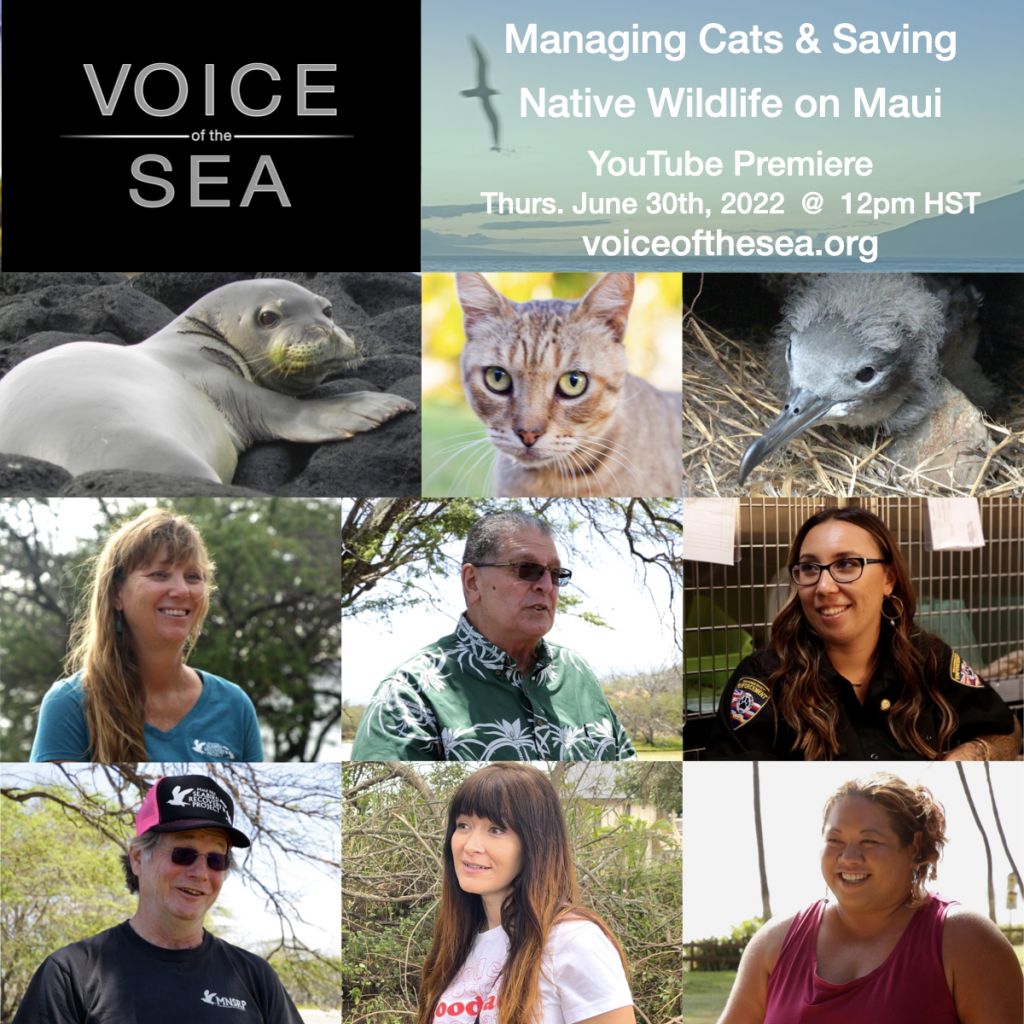 Curriculum Connections:
Seabirds
Hawaiian Monk Seals
Additional Resources:
Maui  County
Maui Nui Seabird Recovery Project
Maui Humane Society
Good Cat Network
Hawaiʻi Department of Land and Natural Resources (DLNR): Division of Aquatic Resources
Reducing feral cat numbers, and protecting and restoring native populations of birds and marine mammals, requires input and action across our communities. You can help by being a responsible neighbor

:
Get your cat spayed or neutered. 
Keep your cat indoors when possible (especially at night when birds are more susceptible).
Bring or report stray cats to the humane society.
Do not dump unwanted cats or other pets into the wild.
Do not feed feral cats.
Volunteer to help with

fencing and trapping of cats and mongoose,
counting birds and restoring native plant habitat,
fostering cats for adoption, or
monitoring cat colonies.
Select a season of Voice of the Sea