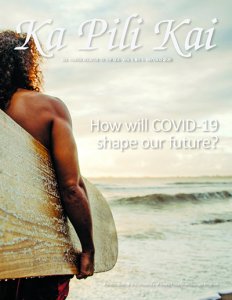 Click on the cover image to view the full issue.
How Will COVID-19 Shape Our Future

This issue discusses some of the impacts of COVID-19 in Hawai'i and explores what they might mean for our future.
All of us at the University of Hawaiʻi Sea Grant College Program (Hawaiʻi Sea Grant) recognize that we must do more than simply acknowledge what is happening in our country and across the globe. Black Lives Matter…the lives of Indigenous peoples and people of color matter.
As an organization of 45 faculty and staff at the University of Hawaiʻi, Hawaiʻi Sea Grant has contributed to the persistence of societal inequities due to systemic racism and colonialism. These issues are deeply rooted in ways, that while unintentional by many and certainly those here at Hawaiʻi Sea Grant; they persist. We are committed to acknowledging this truth as a first step and doing everything we can as individuals and as an institution to dismantle these influences and actions that have for too long negatively impacted the lives of people of color and in particular, because of these places in which we are so honored to call home, to support our Native Hawaiian and Pacific Islander colleagues, friends, communities, and cultures. Our overarching goal is to increase the sustainability and resilience of our communities, something that we can achieve when we fully support diversity, equity, and inclusion.
Please join us.
Articles:
Click here to view full issue.