Fisheries Fellow 2023
Education
BS Marine Biology, University of Hawaiʻi at Mānoa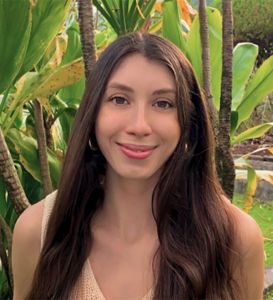 Address:
2525 Correa Road, HIG 239
Honolulu, HI 96822
Sophia Rahnke is a PhD student at the University of Hawaiʻi at Mānoa, conducting research at the Hawaiʻi Institute of Marine Biology in the Marine Ecological Theory Lab. She is excited to be a part of the 2023 National Marine Fisheries Service-Sea Grant Fellowship program through the University of Hawaiʻi Sea Grant. Her research will explore Hawaiʻi's nearshore fisheries across historical and future timescales, using simulation modeling to investigate how management, climate change, and predator-prey interactions shape these important resources. Through collaboration with scientists and managers at the Heʻeia National Estuarine Research Reserve, Sophia aims to examine questions at the intersection of fisheries science and policy to help achieve conservation and sustainability goals in Hawaiʻi. She will be mentored by her academic advisor, Dr. Lisa McManus, and NOAA mentor Dr. Donald Kobayashi at the Pacific Island Fisheries Science Center.
Originally from Arlington, Texas, Sophia moved to Oʻahu to pursue her BS degree in Marine Biology at the University of Hawaiʻi at Mānoa. As an undergraduate student, Sophia worked with the Coral Resilience Lab (CRL) at the Hawaiʻi Institute of Marine Biology where she completed her undergraduate honors thesis, which focused on developing protocols for optimal growth of Montipora capitata, an important reef building coral, for restoration. As an undergraduate student, Sophia also participated in Our Project in Hawaiʻi's Intertidal (OPIHI) program where she studied the potential impact of invasive ant species on native crab populations at James Campbell Wildlife Refuge. Sophia began her graduate school journey in the fall of 2021 with the hope that her PhD research can contribute to the effective management of coral reef fisheries in Hawaiʻi.