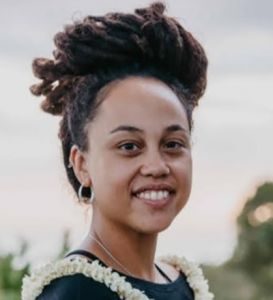 Address:
2525 Correa Road, HIG 239
Honolulu, HI 96822
Alex Narrajos (she/her) is a 2023 Peter J. Rappa Fellow at the University of Hawaiʻi Sea Grant College Program. As a Rappa Fellow, Alex will be working under the mentorship of extension agents Melanie Lander and Dolan Eversole on the Green Infrastructure Planning in the Ala Wai Watershed project. As a Rappa Fellow, Alex will work to understand, synthesize, and document community priorities related to water quality and climate change hazards within the Ala Wai Watershed, as well as explore mitigation options, specifically green infrastructure types, potential sites, and partner feasibility.
Alex earned a bachelor's degree in urban studies from the University of Illinois – Chicago and has worked in multiple positions for a variety of community and environment focused non-profit organizations on Oʻahu. She is currently pursuing her master's degree in the Department of Urban and Regional Planning at the University of Hawaiʻi at Mānoa with a focus on food systems, community planning, and resiliency.