Junior Researcher, Ulana ʻIke Center of Excellence
Education
PhD Integrative Biology, University of California, Berkeley
BS Geology & Geophysics (Paleontology), Yale University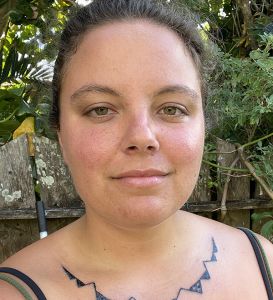 Email:
sskahana@hawaii.edu
Address:
2525 Correa Road, HIG 239
Honolulu, HI 96822
Sara Kahanamoku is currently a postdoctoral fellow with the Hawaiʻi Sea Grant Ulana ʻIke Center of Excellence, focusing on utilizing multiple knowledge systems to track historical climate and ecosystem cycles in Hawaiʻi as part of the Rising Voices, Changing Coasts (RVCC) National Indigenous and Earth Sciences Convergence Hub. RVCC has an overarching goal of facilitating convergence research on coastal hazards in a community context through co-production between social and earth sciences and Indigenous knowledge experts.
For their PhD research, Sara studied the life history and morphology of benthic foraminifera in the Santa Barbara Basin of California, using fossil records to track population-level trends over the past 2,000 years and investigate the impact of climate change and ecosocial regime shifts, such as impacts stemming from the colonization of California, on foraminifer ecology. Sara has also conducted meta-research on equity in the process of science, including on racial disparities in funding at the National Science Foundation and on place-based science in Hawaiʻi. They previously served as a graduate fellow in the Hawaiʻi Sea Grant Ulana ʻIke Center of Excellence from 2021-2023, while finishing their PhD at UC Berkeley.