Grau Fellow 2022
Education
MS Tropical Conservation Biology and Environmental Science, University of Hawaiʻi at Hilo
BS Marine Science, University of Hawaiʻi at Hilo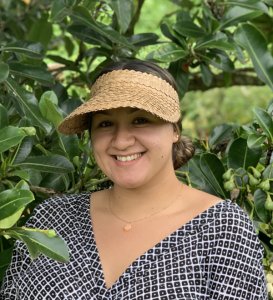 Shayla Waiki is a 2022 E. Gordan Grau Fellow with the University of Hawaiʻi Sea Grant College Program, hosted by Wastewater Alternatives and Innovations (WAI). WAI is a non-profit organization whose mission is to protect water quality, reduce sewage pollution, and restore healthy watersheds by providing innovative, affordable, and eco-friendly solutions for wastewater management here in Hawaiʻi. Her fellowship is focused on setting up, managing, and finalizing pilot projects with new wastewater technologies and financing options. She will also be helping with policy research and water quality monitoring.
After completing her BS in Marine Science at the University of Hawaiʻi at Hilo, Shayla worked for the Water Resources Research Center (WRRC) as a marine technician on Hawaiʻi Island for the Act 125 project. This project provided the state with water quality data to aid in determining priority areas for cesspool conversion by the year 2050. Shayla then had the opportunity to pursue her MS degree as a Sea Grant Graduate Fellow, further studying water quality in her hometown of Hilo. Her MS thesis research assessed water quality in regards to sewage pollution in coastal waters of Keaukaha, Hawaiʻi and determined the connectivity of on-site sewage disposal systems to nearby shorelines. Shayla graduated with her MS in Tropical Conservation Biology and Environmental Science from the University of Hawaiʻi at Hilo in 2022.
Shayla is excited to start this journey as a Grau Fellow working with WAI to protect water quality and ensure clean water for the people of Hawaiʻi and future generations.