Grau Fellow 2021
Education
MS Oceanography, University of Hawaiʻi at Mānoa
BS Global Environmental Science, University of Hawaiʻi at Mānoa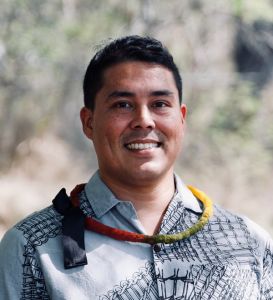 Aka Beebe is excited and grateful to be part of the 2021 E. Gordon Grau Coastal and Marine Resource Management Fellowship and join the NOAA Office of National Marine Sanctuaries (ONMS) in the Pacific Islands Region (PIR). He will be working with ONMS PIR to support development of management plans that substantiate climate adaptation for the region and specific sites. The PIR sites include Hawaiian Islands Humpback Whale National Marine Sanctuary, Papahānaumokuākea Marine National Monument, and National Marine Sanctuary of American Samoa. This effort will involve collaboration between site managers, site specific community resources and partners, and other NOAA partners to reach the goal of resource resilience and readiness especially in the face of the uncertainties of climate change.
Aka's academic background is in the natural sciences with degrees in Global Environmental Science (BS) and Oceanography (MS) from the University of Hawaiʻi. Before attending UH Mānoa, he studied at Windward Community College and Kapiʻolani Community College, where he met Aunty Keolani Noa who helped mentor him and introduced him to Barb Bruno, Anela Choy, Gordon Walker, Leona Anthony, Shimi Rii, and Rosie Alegado. These were some of the people who helped him navigate his future and pursue opportunities at the University of Hawaiʻi, specifically at the School of Ocean and Earth Science and Technology (SOEST), while integrating his passions for science, people and culture, and Hawaiʻi. Some of the projects he contributed to include: Strategic Monitoring and Resilience Training in the Ala Wai Watershed (SMART Ala Wai), Our Project in Hawaiʻi's Intertidal (OPIHI), KCC STEM Summer Bridge, and Project Olonā. For his undergraduate thesis, Aka was involved with Ka Papa Loʻi O Kānewai, quantifying sediment loads, measuring water quality, and analyzing the soil microbiome of their loʻi (an indigenous flooded agroecosystem). Work for his MS focused on environmental effects of biocultural restoration and diatom abundance in Heʻeia Fishpond, where he worked with Paepae O Heʻeia and other community leaders.
Aka's focus on academics is driven by his desire to be a part of the actions that will affect our shared future together. He is a husband and father of two keiki, and as his main responsibility, his ʻohana have been the support and inspiration in his life. They enjoy having time together outside playing sports, riding bikes, being in the ocean, or hiking. Aka enjoys learning new things and meeting new people, as well as spending time with old friends. Even though he is finished with school, he considers himself a lifelong student. Aka believes this time as part of the NOAA team will be a valuable experience, learning to translate the curiosity that has carried him through school into actions that engage people in valuable ways.