Knauss Fellow 2021
Education
PhD Marine Biology, University of Hawaiʻi at Mānoa
BS Marine Biology, Oregon State University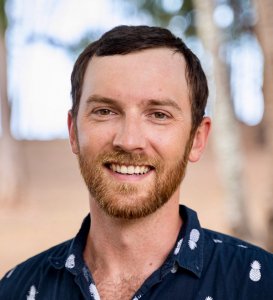 Address:
2525 Correa Road, HIG 238
Honolulu, HI 96822
Derek Kraft joins the 2021 cohort of Knauss Marine Policy Fellowship in the executive branch. He will be working in the Highly Migratory Species Management Division of NOAA Fisheries. Specifically, he will be working on fisheries regulatory policy for the sustainable management of tunas, billfish, and his favorite creatures, sharks!
Derek completed his PhD in Marine Biology with a specialization in Ecology, Evolution, and Conservation in December of 2020. His research focused on using molecular tools to outline genetic stocks of pelagic sharks, the basic unit of any wildlife management. Additionally, he developed and implemented a shark bite forensics protocol used to genetically identify shark species involved in bites on surf boards, wet suits, and even bitten fish.  This protocol is now standard procedure in human shark interactions across the Hawaiian Islands. His dissertation research was funded by Hawaiʻi Sea Grant, the National Science Foundation, the American Elasmobranch Society, and the Western Pacific Regional Fisheries Management Council.  He received his Bachelors of Science in Biology from Oregon State University in 2010.
Derek looks forward to helping bridge the gap between science and policy by applying his fundamental knowledge on conservation genetics of sharks into fisheries management. He hopes to create a more sustainable future for our oceans by engaging with leaders, fishermen, and stakeholders. Through the Knauss Fellowship he hopes to learn the ropes of policy and build a career in sustainable fisheries.