Aquaculture Extension Specialist
Education
MS Tropical Conservation Biology and Environmental Science, UH Hilo
BS Marine Science, Montana State University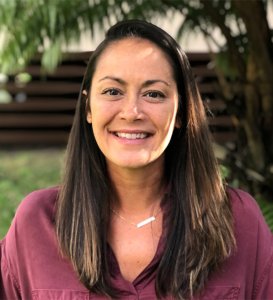 Email:
ckauahi@hawaii.edu
Address:
1079 Kalanianaole Ave.
Hilo, HI 96720
Cherie serves as Hawaiʻi Sea Grant's Aquaculture Extension Agent, working with communities in Hawai'i and the U.S.-affiliated Pacific Islands through an innovative extension program on aquaculture. Co-located with the Pacific Aquaculture and Coastal Resources Center (PACRC) at the University of Hawai'i at Hilo (UHH), Cherie has statewide extension duties and responsibilities, including establishing an extension program in aquaculture, developing relationships with the aquaculture industry, identifying aquaculture stakeholder needs, informing aquaculture research activities, disseminating science-based information through traditional extension methods to inform aquaculture stakeholder decision-making, and instruction at UHH.
Cherie most recently served as the program coordinator with Pacific Internship Programs for Exploring Science (PIPES) where she created a series of lessons implementing the Kulana Noiʻi practices for undergraduate interns. Cherie has also worked as a research assistant creating community outreach programs, called Na Waʻa Mauo, to increase awareness of marine monitoring efforts at Hilo Bay.