Specialist, HIGP
Education
PhD Geology and Geophysics, University of Hawaiʻi at Mānoa
MS Geology and Geophysics, University of Hawaiʻi at Mānoa
BA Mathematics/BS Geological Science, Brown University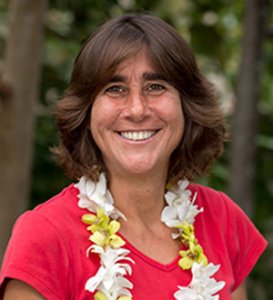 Address:
2525 Correa Road, HIG 214
Honolulu HI, 96822
Current Sea Grant research project:
Fostering a SOEST culture of place-based and community-based pedagogy in support of coastal sustainability in Hawaiʻi
In Hawai'i and the Pacific, coastal communities are facing unprecedented stresses, which are adversely impacting water quality, quantity, and ecosystem health. The solutions lie partly in training a local, diverse geoscience workforce, equipped with the knowledge and skills to tackle these pressing issues. But this alone is not sufficient. Equally important is a well-educated citizenry: those who will not become scientists but will nevertheless play crucial roles in the decision-making process – e.g., as educators, journalists, city planners, business owners, politicians and simply as voters. A global leader in earth and environmental sciences, the School of Ocean & Earth Science & Technology (SOEST) at UH Mānoa is uniquely positioned to spearhead this education effort. The overarching goal of this proposal is to train faculty in SOEST and other relevant departments, so they in turn can train a diverse, local workforce and well-educated citizenry to understand and address the critical needs related to coastal sustainability in Hawai'i. Our approach is to foster a culture of place- and community-based teaching practice, which has been shown to improve student learning, increase student interest and motivation, promote strong relationships with local communities, and cultivate environmentally conscientious citizens.