Community Planning & Design Extension Specialist; Peter Rappa Fellow 2016
Education
MS City and Regional Planning (Specialization in Env&Health), Georgia Tech
BA Geography (minors in Env. Studies, Sustainability Studies), University of Florida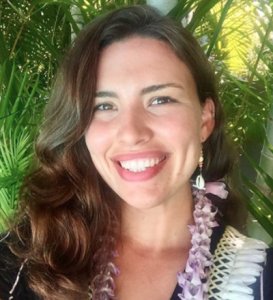 Email:
mlander@hawaii.edu
Address:
2525 Correa Road, HIG 207
Honolulu, HI 96822
Melanie's work focuses on the urban-environmental interface in coastal areas. She specializes in mitigating present-day issues caused by yesterday's decisions, such as stream channelization, development on the shoreline and within floodplains, wetland and native species loss, wastewater management, and urban sprawl. Melanie is interested in how the restoration of ecosystems in urban areas can be used to adapt to global climate change and improve the health of communities. Her work highlights the importance of considering place in policy-making, and prioritizes the use of low-impact development to protect and restore ecosystem services from land to sea.
Previously, Melanie was a Project Analyst with the Hawaiʻi Office of Planning Coastal Zone Management Program, a Peter J. Rappa Sustainable Coastal Development Fellow with Hawaiʻi Sea Grant, and a wetland ecologist in South Florida. Melanie earned her Bachelor's degree in Geography from the University of Florida and Master's degree in City and Regional Planning from Georgia Tech.