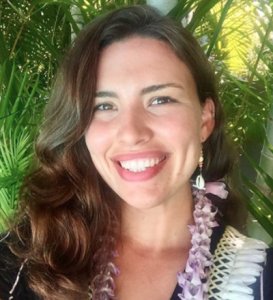 Address:
2525 Correa Road, HIG 238
Honolulu, HI 96822
Melanie Lander was a 2016 Peter J. Rappa Fellow at the University of Hawaiʻi Sea Grant College Program. Melanie received her master's degree in City & Regional Planning with a specialization in Environment and Health at the Georgia Institute of Technology (Georgia Tech). Her studies were focused on applications of ecosystem-based climate adaptation methods in coastal zones. Her graduate thesis titled Tailoring Green Infrastructure to Hawaiian Landscapes, focused on the differences between the leeward and windward sides of Oʻahu in the selection of low impact development options.
As a Rappa Fellow, Melanie conducted a "what-if" audit of Honolulu's current flood control and hazards preparedness activities. Under the mentorship of Hawaiʻi Sea Grant Extension Agent Matthew Gonser, her project evaluated the City and County of Honolulu's potential to join the National Flood Insurance Program's (NFIP) Community Rating System (CRS), a comprehensive floodplain management program administered by the Federal Emergency Management Agency (FEMA). Honolulu's participation in the program could make the City and County more resilient to inland flooding, sea level rise, and coastal hazards.
Since graduating with her master's degree from Georgia Tech, Melanie has moved back to Hawaiʻi to serve in a new role working for the state of Hawaiʻi Office of Planning as a Coastal Zone Management Project Analyst. She is responsible for coordinating the Ocean Resources Management Plan (ORMP) and will be collaborating on ORMP-related projects, such as the 'Guidelines for Integrating Resilience into Existing Planning Frameworks' joint effort between the Office of Planning and Sea Grant.