Coastal Resilience Specialist; Project and Partner Coordinator, Ulana 'Ike Center of Excellence
Education
MS Natural Resources and Environment, University of Michigan
BA History, McGill University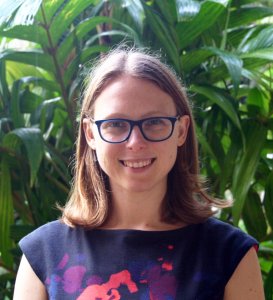 Email:
hintzen@hawaii.edu
Address:
2525 Correa Road, HIG 207
Honolulu, HI 96822
Katy Hintzen is an Extension Agent with the University of Hawaiʻi Sea Grant College Program specializing in coastal resilience and a Climate Adaptation Services Liaison with the Pacific Islands Climate Adaptation Science Center. Her work focuses on helping communities prepare for and adapt to changing climate conditions, coastal hazards, and sea level rise. In addition to her climate adaptation work, Hintzen is the Projects and Partnerships Coordinator for the Ulana ʻIke Center of Excellence. In her role with Ulana ʻIke she works to further more equitable and reciprocal partnerships between coastal communities, resource stewards, and researchers across the Pacific Islands region. Hintzen was part of the author team that developed the Kūlana Noiʻi.
Prior to joining Hawaiʻi Sea Grant, Hintzen was an Extension Agent with Michigan Sea Grant working on resilience and sustainability in the Great Lakes region. She served as a Peace Corps Volunteer in the Ecuadorian Amazon. Katy has a M.S. in Natural Resources and Environment from the University of Michigan and a B.A. in History from McGill University.