Project and Partner Coordinator, Center for Integrated Knowledge Systems; Coastal Resilience Specialist
Education
MS Natural Resources and Environment, University of Michigan
BA History, McGill University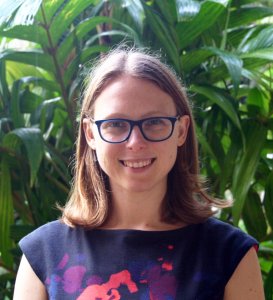 Email:
hintzen@hawaii.edu
Address:
2525 Correa Road, HIG 207
Honolulu, HI 96822
Katy Hintzen is a Coastal Resilience Specialist with the University of Hawaiʻi Sea Grant College Program. Her work focuses on helping communities prepare for and adapt to changing climate conditions, coastal hazards, and sea level rise. As part of this role Katy coordinates the Hawaiian Islands Sentinel Site Cooperative (HISSC). The HISSC is one of five national cooperatives of the NOAA Sentinel Site program which have a shared mission of improving understanding, long range planning, and adaptation to climate change impacts through coordinated efforts. As the HISSC coordinator, Katy works closely with communities and stakeholders to share scientific research, provide educational programs, and implement outreach efforts.
In addition to her work with the HISSC, Katy collaborates with planning, research, and management partners from across Hawaiʻi to implement the Building Resilience to Coastal Hazards and Climate Change in Hawaiʻi project. Funded through the NOAA Regional Coastal Resilience Grants Program, this project focuses on increasing community resilience to coastal hazards and impacts from climate change and sea level rise.
Previously Katy served as an Extension Agent with Michigan Sea Grant where she provided leadership for education and outreach programming related to community resilience, watershed health, and ecosystem conservation. Katy has also worked with NOAA developing strategic plans for research, restoration, and outreach activities as part of the Habitat Blueprint initiative. She served as a Peace Corps Volunteer in the Ecuadorian Amazon. Katy has a M.S. in Natural Resources and Environment form the University of Michigan and a B.A. in History from McGill University.