Assistant Director for Education; Director, Center for Marine Science Education
Education
- PhD Zoology, University of Hawaiʻi at Mānoa
- MS Zoology, University of Hawaiʻi at Mānoa
- BS Ecology and Systematic Biology, Cal Poly State University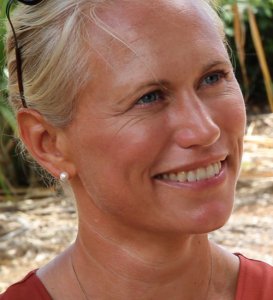 Address:
2525 Correa Road, HIG 239
Honolulu, HI 96822
Kanesa Seraphin, PhD, is the University of Hawai'i Sea Grant College Program's Director of the Center for Marine Science Education and Assistant Director for Education. The center is dedicated to building partnerships that enhance marine science education at all levels (Kindergarten through graduate school and the public community) in order to foster understanding of the natural world and the role of humans in it.
Seraphin's science research background is in zoology, specifically population genetics and ecology. She earned her bachelor's degree at the California Polytechnic State University – San Luis Obispo and her master's and Ph.D. degrees in zoology from the University of Hawai'i at Mānoa (UHM). She is an Associate Professor at the Curriculum Research & Development Group (CRDG) in the UHM College of Education, a credentialed K-12 educator with the State of Hawaiʻi and an experienced curriculum developer. She joined UH Sea Grant as associate faculty in 2009.
Seraphin is currently the lead PI of a three-year grant from the United States Department of Education, Institute of Education Sciences to conduct research in Accessible Professional Development for Teaching Aquatic Science Inquiry (TSI Aquatic). She is also a Co-PI on Hawaiʻi's collaborative project with the National Science Foundation funded Center for Ocean Science Education Excellence (COSEE) CA and an active member of the local and national marine science education community.