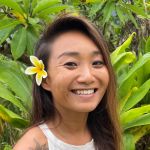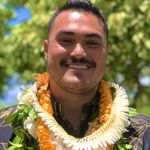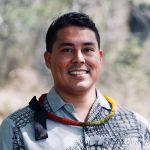 Three Hawai'i Sea Grant postgraduate fellows gain hands-on experience in state and federal agencies
January 26, 2022

The 2021 cohort of Hawaiʻi Sea Grant Grau Fellows will focus on conservation and management of natural and cultural resources through Hawai'i-based host offices
(Honolulu, HI) – Three postgraduate fellows have a unique opportunity to work directly with state and federal agencies through the University of Hawai'i Sea Grant College Program (Hawai'i Sea Grant) E. Gordon Grau Coastal Resource Management and Policy Fellowship Program (Grau Fellowship).
The paid fellowship, named in honor of Emeritus Professor E. Gordon Grau, Hawai'i Sea Grant's visionary former director, provides students the chance to obtain relevant policy experience in Hawai'i and, for many, to pursue career opportunities in their home state.
Anita Tsang, a recent graduate of the University of Hawai'i at Manoa Department of Natural Resources and Environmental Management, brings her background in marine biology, conservation, and scientific monitoring to the State of Hawai'i Division of Aquatic Resources (DAR). Throughout her two-year fellowship she will focus on effective management of nearshore waters, working directly with DAR staff, communities, and stakeholders.
Kiloaulani Ka'awa-Gonzales, who was born and raised on Molokai and returned home with a master's degree in fish, wildlife, and conservation biology from Colorado State University, will be working with the National Oceanic and Atmospheric Administration's Pacific Region Executive Board on conserving natural and cultural resources in Lalo, or French Frigate Shoals, in the Papahānaumokuākea Marine National Monument.
Aka Beebe, who succssefully defended his graduate thesis in biological oceanography at the University of Hawai'i at Mānoa last year, is spending his fellowship at the NOAA Office of National Marine Sanctuaries Pacific Islands Region working on climate adaptation and planning for the Hawaiian Islands Humpback Whale National Marine Sanctuary, the National Marine Sanctuary of American Samoa, and Papahānaumokuākea Marine National Monument.
From now until March 1, 2022, Hawai'i Sea Grant is recruiting prospective host offices to provide educational opportunities to a new cohort of Grau Fellows who will begin their two-year fellowship on September 1, 2022. Host offices can be any municipal, state, federal agency, or Hawai'i based nonprofit organization that works on coastal or marine research, policy, or management. Host office applications should be submitted via email to Maya Walton (waltonm@hawaii.edu) by 5:00 p.m. on March 1, 2022.
The Grau Fellowship is modeled after the highly competitive and successful John A. Knauss Marine Policy Fellowship Program which sends recent graduate students to Washington, D.C. for one year to work in either the legislative or executive branch of government. Now, students with advanced degrees from Hawai'i colleges or universities, or local students who are from Hawai'i but obtained their degree(s) elsewhere, have the opportunity to remain in Hawaiʻi to help lead us to a better future.
For more information on the Grau Fellowship visit: http://seagrant.soest.hawaii.edu/about/opportunities/ or contact Maya Walton, Hawai'i Sea Grant assistant director for research and fellowships, at (808) 956-6992 or waltonm@hawaii.edu.
For examples of current or former host offices for the Grau Fellowship, please visit https://seagrant.soest.hawaii.edu/directory/grau-fellows/
The University of Hawai'i Sea Grant College Program is part of the University of Hawai'i at Mānoa's prestigious School of Ocean and Earth Science and Technology. It supports an innovative program of research, education, and extension services directed to increasing sustainability of coastal and marine resources and resilience of coastal communities of the state, region, and nation. Science serving Hawai'i and the Pacific since 1968.