Kiloaulani
Kaʻawa-Gonzales
Grau Fellow 2021
Education
M.S. Fish, Wildlife, and Conservation Biology, Colorado State University
B.S. Fish, Wildlife, and Conservation Biology, Colorado State University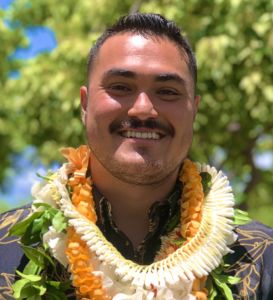 Address:
Papahānaumokuākea Marine National Monument
1845 Wasp Blvd, Building 176
Honolulu , HI 96818
Kiloaulani Kaʻawa-Gonzales serves as a 2021 E. Gordon Grau Coastal and Marine Resource Management Fellow (Grau Fellow) with the University of Hawaiʻi Sea Grant College Program, and the NOAA Pacific Region Executive Board (PREB). His fellowship is focused on assisting in the development of a Lalo (French Frigate Shoal) Resiliency Strategy Report as well as supporting the Papahānaumokuākea Marine National Monument Office of National Marine Sanctuaries permitting program. He will be hosted by Papahānaumokuākea as a part of this team during his fellowship, where he will be working with the co-managers of Papahānaumokuākea as a part of this project, coordinating with the Office of Hawaiian Affairs (OHA), the U.S. Fish and Wildlife Service (FWS), and the Department of Land and Natural Resources (DLNR).
Kaʻawa-Gonzales is a Native Hawaiian, born and raised on the island of Molokai, where he developed his lifelong passion and love for the ocean, streams, and natural resource conservation. Throughout his college career, he has worked and collaborated with numerous conservation agencies, including the Nature Conservancy, Molokai Land Trust, Pono Pacific, Kalaupapa National Park, DLNR Division of Aquatic Resources, and DLNR Department of Forestry and Wildlife.
Kaʻawa-Gonzales is a stream ecologist by training and earned his degree in fish, wildlife, and conservation biology at Colorado State University. For his graduate research, he conducted a cross-disciplinary study on Molokai and Maui highlighting the overlap, as well as the novel information that can emerge, from integrating ecological and social research focusing on hihiwai (Neritina granosa), an endemic freshwater gastropod that is a valuable cultural and food resource for Hawaiian communities. His research illustrated how bridging the gap between western ecological science and traditional ecological knowledge through local community collaboration will be critical for developing effective management plans that ensure ecological and cultural sustainability of hihiwai in Hawaiʻi. As an indigenous scientist, Kaʻawa-Gonzales is strongly committed to learning from others and passing on knowledge to future generations, bringing energy, skill, culture, and heart into his conservation work.