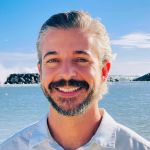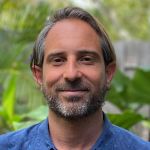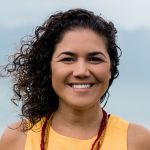 Three graduates from University of Hawai'i begin NOAA Sea Grant Knauss Fellowship in Washington, D.C.
March 30, 2022

(Honolulu, HI) – Three graduate students from the University of Hawai'i at Mānoa, Sean Mahaffey, Roberto Porro, and Mariana Rocha de Souza, were awarded the prestigious 2022 John A. Knauss Marine Policy Fellowship and began their one-year paid fellowship in Washington, D.C. focusing on critical marine policy issues.
The students are representing the University of Hawai'i Sea Grant College Program and were selected from a highly competitive pool of applicants from across the nation to serve in either the legislative or executive branch of government.
"At both the state and national levels, Sea Grant's active recruitment and student engagement efforts supported one of the most robust applicant pools in fellowship history," said Jonathan Pennock, PhD, National Sea Grant College Program director. "I have no doubt that the finalists' diverse perspectives will provide great insight towards addressing critical marine policy and science challenges."
After spending 11 years in the U.S. Navy, Sean Mahaffey was awarded a National Science Foundation Graduate Research Fellowship to pursue a master's of science degree in oceanography and study water quality and nutrient inputs into the Ala Wai Canal. This oceanographic knowledge and leadership experience will come in handy as an executive fellow at the NOAA Oceanic and Atmospheric Research International Activities Office where he will engage with the All-Atlantic Ocean Research Alliance, the Intergovernmental Oceanographic Commission, and many others.
Mahaffey said "Working in NOAA's Research International Activities Office will give me insight and experience in international scientific diplomacy. In addition to learning how NOAA operates at this high level, I will learn about partner agencies such as the Department of State and the Office of Science and Technology Policy. I'm excited to be working in this incredibly positive and supportive office and I'm thrilled for the unknown opportunities that await in the future."
Roberto Porro will have the opportunity to gain firsthand experience related to coastal hazards planning and disaster recovery, the focus of his PhD studies, through placement in a joint position at the Federal Emergency Management Agency (FEMA) and the Coastal States Organization (CSO). In this unique position he will serve as a communication link between the two agencies to ensure that coastal communities have access to critical resources and hazard mitigation assistance, and will lead the Coastal Hazards Planning and Adaptation Work Group at CSO.
"I feel lucky to be placed in a joint-position with the Coastal States Organization and FEMA, which not only aligns with my experience and interest in coastal management and disasters, but also provides an opportunity to gain insight from both the federal and non-profit perspective" Porro noted. "I'm looking forward to contributing and learning how these realms combine to make coastal communities more resilient."
Mariana Rocha de Souza, who recently completed her PhD in marine biology, is spending her fellowship year at the NOAA Global Ocean and Observing Program (GOMO), the leader in global ocean observations used in climate and weather predictions. Prior to earning her PhD investigating the impacts of future climate conditions on coral reefs, she had the opportunity to study in and travel to multiple countries, including Brazil and France.
de Souza noted "As a coral biologist, the Knauss Fellowship is an opportunity to synthesize my work in research and communication, as well as strengthen my understanding of policy and stakeholder engagement skills, to encourage meaningful policy changes that benefit coral reefs. I am very excited to be working at GOMO, the Global Ocean Monitoring and Observation Program at NOAA, which will allow me to engage with international stakeholders and policymakers, giving me a great opportunity to learn about international policy."
This year's class comprises students and recent graduates from 51 distinct universities, including 11 minority-serving institutions. The finalists completed coursework and research in a range of fields, such as agronomy, anthropology, ecology, environmental policy and law, fisheries, geology, marine and coastal sciences, several disciplines of oceanography, tourism management, and urban and regional planning.
Executive appointments for the 2022 Knauss Fellows included placements throughout the National Oceanic and Atmospheric Administration as well as with the Department of Energy, Federal Emergency Management Agency, National Science Foundation, U.S. Army Corps of Engineers, and other agencies. Legislative placements included the Senate Committee on Environment and Public Works (Majority), the House Committee on Natural Resources (Majority), the Senate Committee on Commerce, Science, and Transportation (Majority and Minority), and several placements in both majority and minority personal offices (House and Senate).
Since 1979, the National Sea Grant College Program has provided fellowships working in federal government offices in Washington, D.C. to nearly 1,500 early-career professionals who have become leaders in science, policy, and public administration.
The University of Hawai'i Sea Grant College Program is part of the University of Hawai'i at Mānoa's prestigious School of Ocean and Earth Science and Technology. It supports an innovative program of research, education, and extension services directed to increasing sustainability of coastal and marine resources and resilience of coastal communities of the state, region, and nation. Science serving Hawai'i and the Pacific since 1968.