Knauss Fellow 2022
Education
PhD Marine Biology, University of Hawaiʻi at Mānoa
MS Oceanography and Marine Biology, Université d'Aix-Marseille, France
BS Biological Science, University of Sao Paulo, Brazil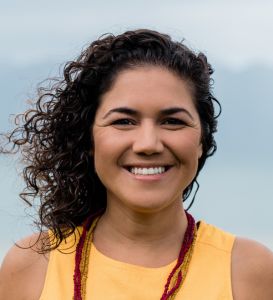 Address:
2525 Correa Rd., HIG 238
Honolulu, HI 96822
Mariana Rocha de Souza will join the 2022 Hawaiʿi Sea Grant Knauss cohort as an executive fellow and will be hosted at the NOAA Global Ocean and Observing Program (GOMO), the U.S. Federal source and international leader for global ocean observations used in climate and weather prediction. She will be working to support GOMO's goals in international collaborations at AtlantOS and Argo.
Throughout her scientific career, Mariana has traveled to multiple countries studying conservation biology of marine organisms. She is originally from Brazil and earned her BS in biological science at the University of Sao Paulo, Brazil and her masters in Oceanography and Marine Biology in the Université Aix in Marseille, in the South of France studying biogeography of jellyfishes. She earned her Ph.D. at the University of Hawaiʻi at Mānoa investigating the impacts of future climate conditions on coral reefs, specifically the role of symbiotic algae in promoting coral resilience.
She is very passionate about teaching, science communication, and outreach and has participated in podcasts, shows, international newspaper articles and regularly conducts science workshops with high school students.
Mariana is excited to synthesize her experience in research and communication, as well and strengthen her understanding of policy and stakeholder engagement skills. She is looking to gain experience working alongside policymakers and to learn how science influences effective management and public outreach, and elevates communities.