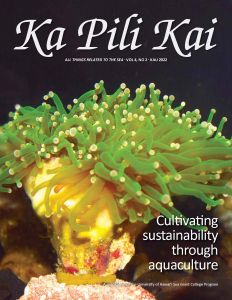 Click on the cover image to view the full issue.
Cultivating sustainability through aquaculture

ʻO nā loko iʻa, ʻo ia nō kekahi mau mea hiluhilu o ka Pae ʻĀina ʻo Hawaiʻi, a ua hana maoli ʻia e ka poʻe kahiko no ka momona o ka ʻāina. Mau nō ka hana ʻana i nā loko iʻa a hiki i kēia wā, ʻoiai ua ʻaneʻane e nalowale nā loko iʻa o ka wā kahiko. He waiwai ka hoʻāla hou ʻana i ia hana a nā kūpuna no ka pono o ka iʻa lawa kūpono a me ke ola o nā hanauna o kēia mua aku.
Ma kēia helu o Ka Pili Kai, hoʻohanohano ʻia nā hana e ola hou ai nā loko iʻa kahiko, a me nā papahana hou no ka mahi iʻa ʻana o kēia au hou. Ke lana nei ko mākou manaʻo e nanea ka maka i ka heluhelu ʻana i nā ʻike o ka mahi iʻa e lawa pono ai ka ʻāina i ka mea ʻai, a e ulu ana ka hoihoi i loko o ʻoukou no ka noiʻi mau i ka loko iʻa.
Loko i'a (Hawaiian fishpond), the Indigenous aquaculture of Hawai'i, not only provides sustenance for Hawai'i's people, but also lessons in life if one opens themself to receive. While the history of Hawai'i tells the tale of how the practice of loko i'a was nearly lost, today those lessons are the continued encouragement, inspiration for the revival of this practice, and ultimately food sustainability for the future.
In this issue of Ka Pili Kai, we highlight a few current efforts in loko i'a restoration and introduce the latest projects of its "little sister" – contemporary aquaculture. We hope that you enjoy these updates from various aquaculture perspectives and that they inspire your own exploration of loko i'a lessons for a more food sustainable Hawai'i.
Click here to view the full issue.