Resilience reports are for the birds: How the seabirds of Lalo are inspiring holistic decision-making
by Kilo Kaʻawa-Gonzales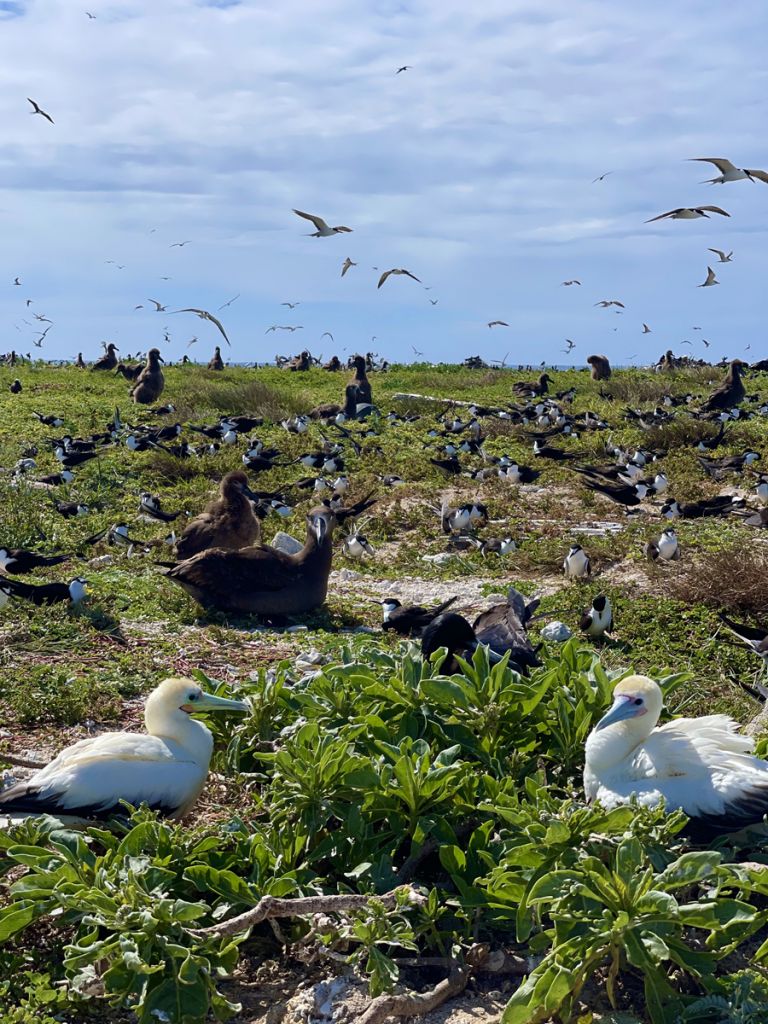 It was almost prehistoric. The whirling sky around me was full of feathers and wings as we plowed through breaking waves on an old metal landing craft that was likened, on more than one occasion, to the boats used to storm the beaches of Normandy. I had hitched a ride with the US Fish and Wildlife team doing a fuel drop-off for the summer field crew at Tern Island, the largest islet within Lalo (French Frigate Shoals) in the Northwestern Hawaiian Islands. As I stepped ashore on this sandy island, surrounded by the turquoise blue of the Pacific, I was enveloped by the sounds, smells, and electricity emanating from the wildlife that had staked their claim to this piece of land long ago. And at this moment, my task as a Hawaiʻi Sea Grant Grau Fellow took on new meaning.
When I began my Grau Fellowship with NOAA's Pacific Regional Executive Board (PREB), I was presented with quite a daunting task: assist Papahānaumokuākea Marine National Monument (PMNM) efforts to develop a Resilience Strategy for Lalo. "Resilience," I thought to myself. "Where do I even start?" As I had never had the opportunity to visit the Monument prior to this fellowship, my knowledge of this vast area was limited to pictures I had seen online and documents or books I had read.
As a starting point, I was tasked with organizing workshops that brought together PMNM agency co-managers, research and cultural subject-matter experts, and climate collaborators to compile information pertaining to valuable wildlife that live on Lalo. Through this collaborative process, I was able to learn about the key climate stressors experienced by this valued atoll, and the particular impacts these stressors have on both individual species and the overall ecosystem. I started to understand resilience as the capacity for an ecosystem to maintain its normal patterns of nutrient cycling and biomass production after experiencing an ecological disturbance. Little did I know that my current understanding of resilience was just a piece of the equation.
In May 2022, aboard the M/V Imua, I had the opportunity to be a part of a summer field crew deployment operation on Kamole (Laysan Island). On our voyage, I had the privilege of witnessing the grandeur of Nihoa, Mokumanamana, Gardner Pinnacles, and Maro Reef. On our way to Kamole, I spent a few hours at Tern Island, the largest island within the Lalo atoll system, and the focus area for my professional work. All of the images I created in my head about what I thought Tern Island, and Lalo as a whole, looked like were dwarfed by the abundance of life I witnessed, establishing a more accurate realization of the scope and scale of this treasured place. This newfound understanding of scale included the dilapidated military-built seawalls, which in their current state are the primary source of wildlife entrapments on Tern Island.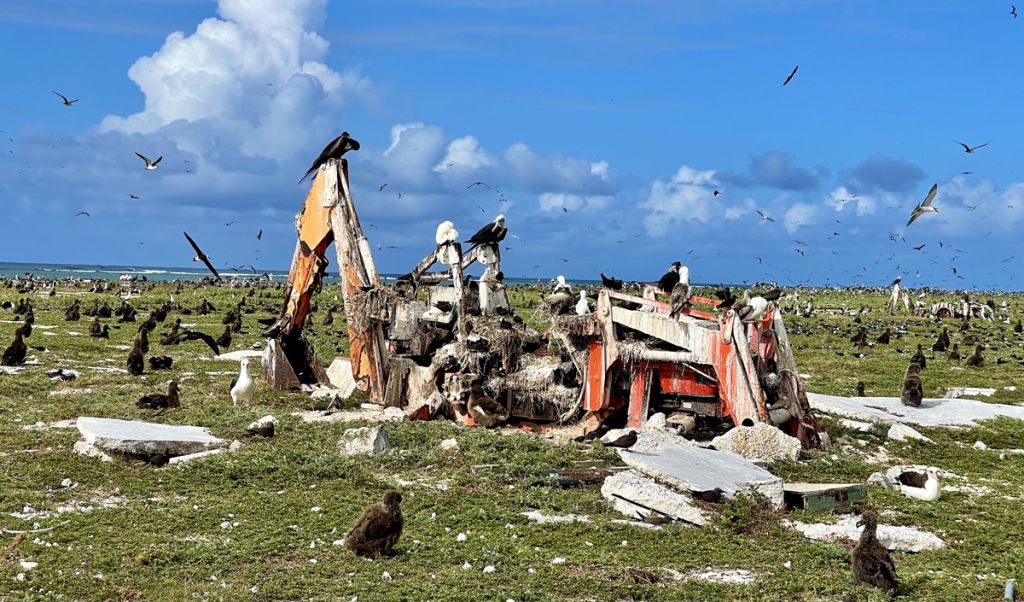 As I departed Lalo, I felt a sense of responsibility and investment in this place. By physically experiencing the island, I saw "resilience" take on a new aspect, leaving me to find a more personalized approach to maintain this symphony of birds and sea life and activity. It left me with a personal charge and investment to care for these species and place, and reframed my view on this immense goal of "building resilience" that I was working to achieve.
This personal visit also reminded me of the Hawaiian cultural ties to this place. There is a belief that these islands and species are kūpuna (elders) that we, as kanaka ʻōiwi (Native Hawaiians), are responsible for. By caring for them, we help maintain the cultural and ecological components that make us uniquely Hawaiian. Many times I have heard the question: "Why is Lalo worth saving?" My answer now is that it is home to kūpuna, and by maintaining the 'āina (land), we are preserving a part of our identity as kānaka ʻōiwi that allows us to be uniquely Hawaiian.
This island experience also made me wonder about how our perceptions are impacted by our perspective. Oftentimes, without exposure to the areas we are managing, our perceptions of a place can be impersonal and feel disconnected. By allowing ourselves as 'āina managers to be immersed in and develop pilina (connection/relationships) with these places, this then shifts our perspective to one of familiarity, from being a detached viewer to a protector of a place that is a personal extension of our self. This shift allows for innovative thinking around management strategies and priorities. Personal impressions and experiences connected to a place strongly influence how we develop management considerations and outcomes.
In the development of management strategies, such as the Lalo Resilience Strategy, we can't manage what we don't measure, and what we measure needs to be meaningful. In many instances, managers and decision makers have never had the opportunity to experience personally the places and ecosystems that they manage. This may limit or minimize a manager's scope of understanding when considering feasible options to incorporate into management plans. I have come to believe that immersion into the protected areas we oversee is an integral step that can change how we approach management and address challenges associated with climate change and anthropogenic impacts. It can strengthen the ability for natural resource managers around the world to make holistic decisions driven by both technical expertise and a sense of place that honors the history, knowledge, and culture associated with the 'āina being protected.
As a kānaka ʻōiwi who has been able to experience Lalo firsthand, I am excited to be an example of interweaving technical expertise and personal experience to develop innovative and adaptive strategies that consider a holistic biocultural approach to management.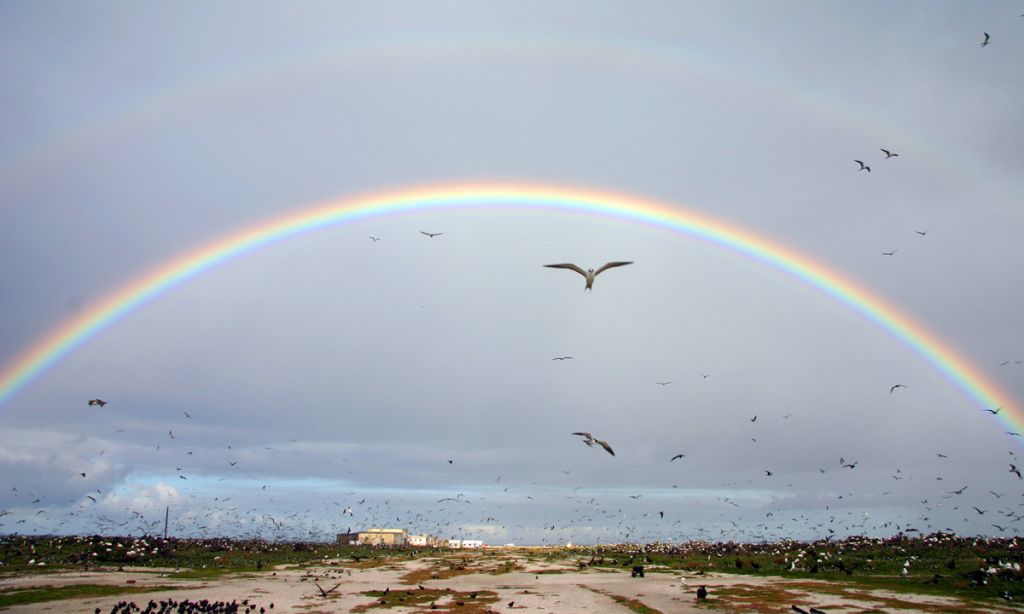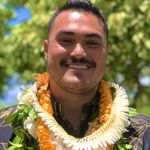 About the author: 
Kiloaulani Kaʻawa-Gonzales, a 2021 E. Gordon Grau Coastal and Marine Resource Management Fellow hosted by Papahānaumokuākea Marine National Monument Office, is working with the NOAA Pacific Regional Executive Board (PREB) to develop a Lalo (French Frigate Shoal) Resiliency Strategy Report. Kilo was born and raised on Molokai where he developed a lifelong passion and love for the ocean, streams, and conservation.