Finding inspiration in the desert: Personal reflections from COP
by Mariana Rocha de Souza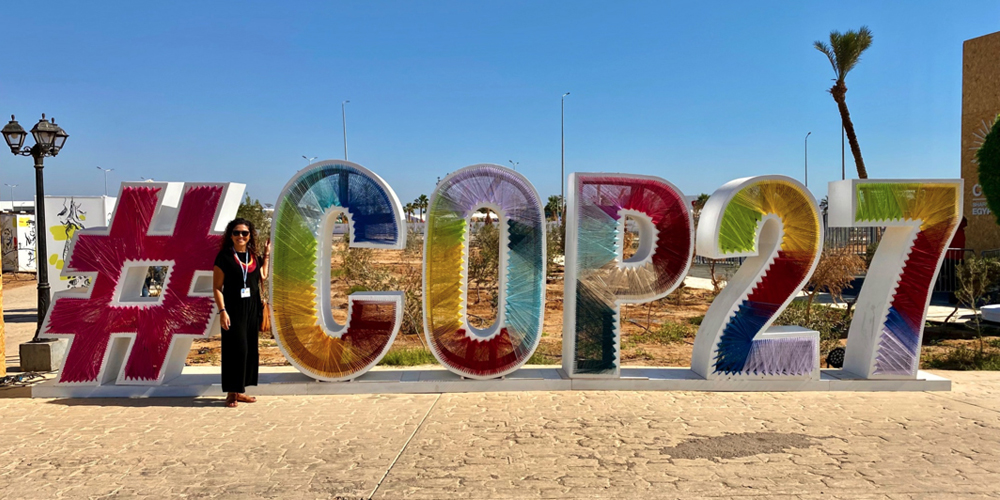 Sharm El Sheikh, in Egypt, the host city for COP27 sits on the edge of the Sinai Peninsula, surrounded by amazing coral reefs and red mountains. In the shadows of these mountains, the United Nations Framework Convention on Climate Change, COP27, took place, bringing together representatives from more than 200 countries.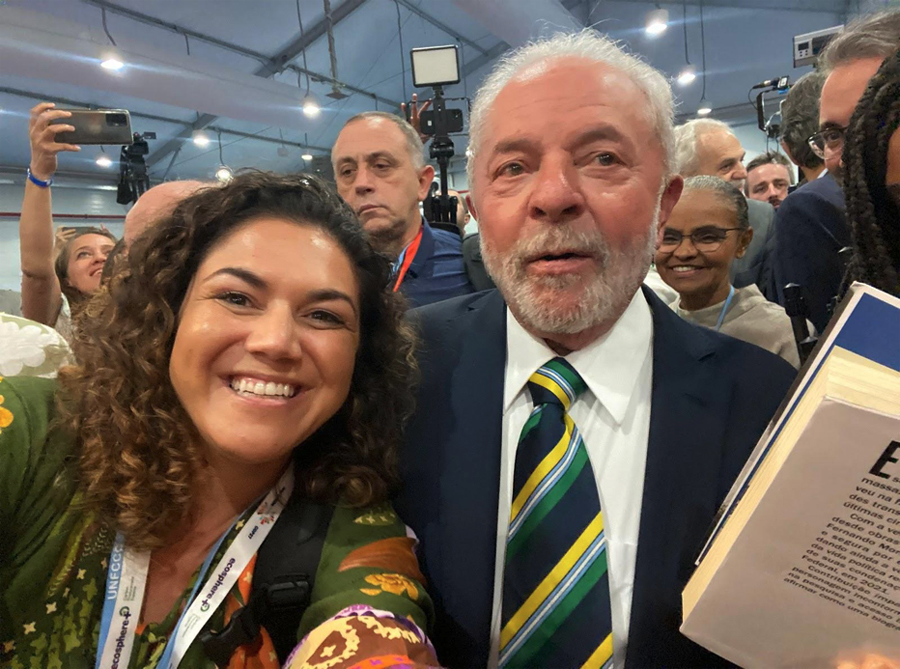 I am a 2022 Marine Knauss Fellow, placed at NOAA, and I had the incredible opportunity of attending COP27 as part of the International Coral Reef Society delegation (ICRS). It was very inspiring to see so many people–youth, indigenous communities, private sector, researchers, activists, and politicians–all there to discuss actions related to climate change. I had many productive conversations with all different groups, to learn about their agendas and talk about the importance of coral reefs. One major highlight for me because I was born and raised in Brazil, was a conversation with members of the Brazilian government, which gives us an open door to follow up and have more formal discussions about increasing protections for the Brazilian coral reef ecosystem. In a year when one of my goals was to get a better understanding of policy, attending COP27 in person gave me a unique chance to understand how decisions at this global scale are made, watch some negotiations, and talk to many negotiators about their perceptions and politics of the decisions.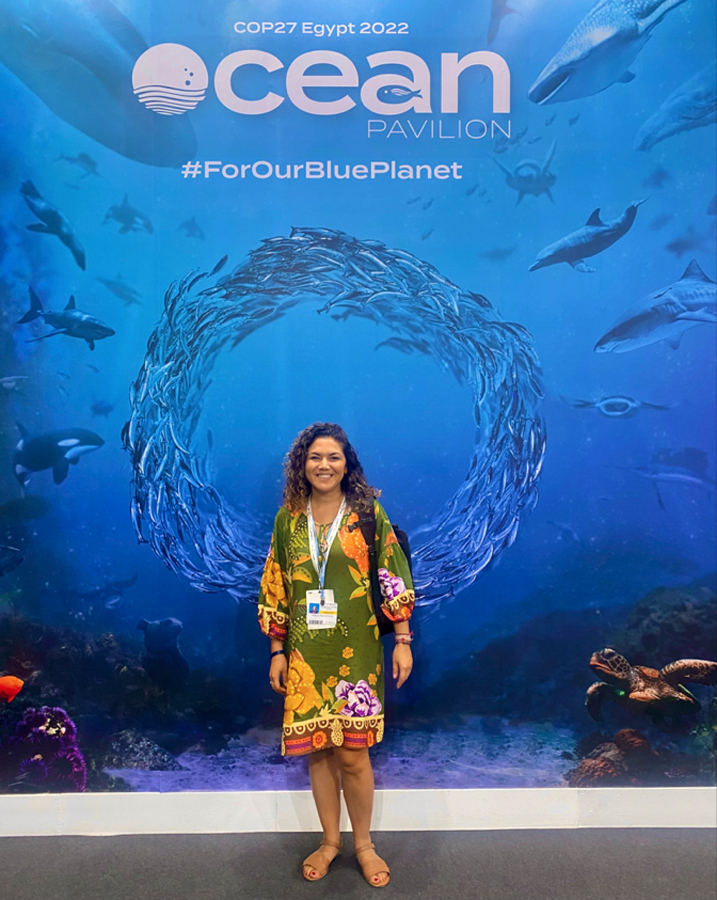 In parallel with the negotiations, this COP27 designed key thematic days that placed on its agenda a number of panel discussions, roundtables, and side events. There were so many interesting events happening at the same time! Just to give an idea of the magnitude of a COP, there were 3 zones which could only be reached by bus. The Green Zone was open to the public, and it was a platform where business community, youth, civil and indigenous societies, academia, artists, and fashion communities from all over the world could express themselves. The Innovation Zone, not officially run by the Egyptian COP presidency, was also open to the public and presented talks and plenaries which encouraged cross-sector, public-private partnerships. And finally, there was the Blue Zone, which required being part of a delegation, and hosted the formal negotiations, as well as numerous buildings of hubs, pavilions, and stands from countries, private sectors, and universities.
While COP27 was named the "Implementation" COP, it did not deliver everything we hoped. The major accomplishment from this COP was the establishment of the "Loss and Damage" funds for vulnerable countries affected by climate change, a win for small islands and other nations who face future inundation from climate-driven sea-level rise. Other successes from this COP included the launch of a 5-year work program to promote technology solutions in developing countries and the announcement of the commitment by the Egyptian government to extend official protection to the entire Rea Sea Great Fringing Reef.
However, countries could not agree on many points, including a stronger commitment to keep global average temperature from rising more than 1.5 degrees Celsius above pre-industrial levels, an important goal set in the 2015 Paris Agreement. This limit represents a temperature that may affect several critical tipping points, one of which is the possible collapse of coral reefs. Research projections suggest that 10-30% of coral reefs may survive if temperature rise is limited to 1.5 C, but likely only 1% will survive if average global temperatures increase 2 C by the end of the century. The current trajectory is on track for more like 2.5-3 C rise by 2100, and the time window to change this scenario is rapidly closing.
Even though COP27 did not accomplish everything we all hoped and expected, I left COP very inspired by the actions that were taken, and by the activism I saw. COP showed me there is a role for civil society in influencing national and global decisions, by putting pressure on the decision makers, highlighting what science shows us, and changing behavior around us. I hope to continue being involved in policy development in my future career beyond the Knauss Fellowship.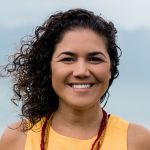 About the author: 
Mariana Rocha de Souza, is a 2022 Marine Knauss Fellow, placed at the Global Ocean Monitoring and Observing Program at NOAA, aligning with her interest in conservation biology. Mariana grew up in Brazil, is fluent in four languages, and has travelled to many countries, including Egypt most recently!