The changing ocean chemistry, bubbling under the surface
by Amy Markel
At this stage, most people are aware that the continued use of fossil fuels releases too much carbon dioxide (CO2) into the atmosphere. But much of that excess CO2 is then absorbed by the oceans, something that has been well-documented here in Hawaiian waters over decades.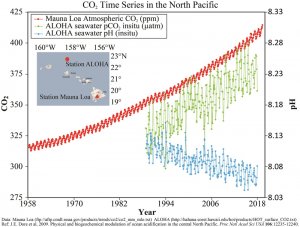 The figure to the right is a famous one used by many scientists based on these local measurements. It shows atmospheric CO2 levels rising (red line), as well as the amount of CO2 absorbed by the ocean (green line). The blue line show the acidity (or pH) of the ocean water. As pH decreases, the more acidic the water is, which is why scientists talk about "ocean acidification.
The problem is, ocean acidification changes the general chemistry of the ocean, affecting numerous processes associated with marine life, especially for species with skeletons or shells. As CO2 absorbed from the atmosphere combines with water, it creates carbonic acid, which then reacts with, and holds onto, loose carbonate in the water (see graphic below). However, this reduces the available carbonate that species like corals and plankton can use, when combined with calcium, to build skeletons and shells.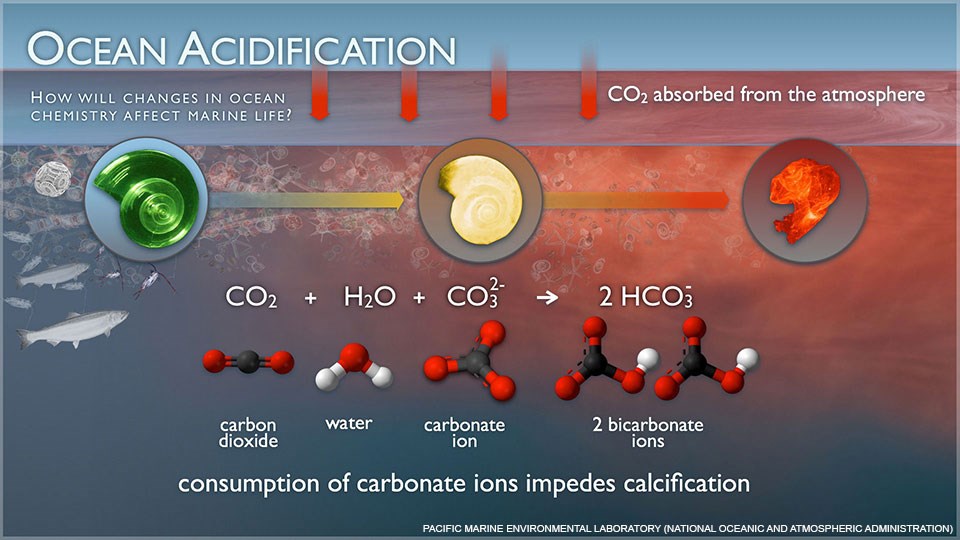 Hawai'i hosts some of the foremost data sets that record changes to global water chemistry over decades, with specific focus on ocean acidification parameters. So in 2018, the state of Hawai'i joined the International Alliance to Combat Ocean Acidification which is dedicated to helping states and nations develop action plans, collaborate across regions and international networks, and collectively work on local and global implementation of planned actions. Hawai'i is dedicated to the development and implementation of a state-wide action plan to combat ocean acidification effects in the region.
The Division of Aquatic Resources (DAR), within the Hawaiʻi Department of Land and Natural Resources, was designated as the lead agency for this action planning effort, and as an E. Gordon Grau Coastal and Marine Resource Management Fellow assigned to work at DAR, I was tasked with helping develop the Ocean Acidification Plan for Hawai'i. Through this fellowship, I was able to travel to the New York Aquarium in 2019 to attend the International Alliance to Combat Ocean Acidification at the Coast to Coast State Convening on Ocean and Coastal Acidification. It was an amazing opportunity to meet representatives from other states and partners and to learn more about other state agencies' planning efforts.
After delving into ongoing ocean acidification research and current national planning efforts, I was curious about ocean acidification impacts to Hawaiian species. Some local species are at risk because they use calcium carbonate to make skeletal structures: corals; calcareous algae, like Padina (limu pepeiao) and Halimeda; and crustose coralline algae (CCA), which create substrate for coral polyp recruitment. Other local species need calcium carbonate for protective shells: lobsters, crabs, and other crustaceans; bivalves like oysters and clams; and 'opihi and marine snails. However, researchers are still unsure how else these species are impacted by ocean acidification, so this informational need will be highlighted in the state's Ocean Acidification Plan.
To understand more about changing local conditions, I partnered with local experts from NOAA, investigating and documenting work already in progress across the islands. For example, as part of their coral reef monitoring, NOAA scientists also collect water samples to test for carbonate chemistry, and they track carbonate growth (or accretion) and dissolution (or bioerosion) at their monitoring sites. Species in the waters around the Main Hawaiian Islands show lower accretion rates but are still within expected ranges based on the available calcium carbonate concentrations measured in the local waters. However, bioerosion rates are a little more unsettling: sites in south Kona, off Hawai'i Island, and on the south shore of O'ahu have some of the highest bioerosion rates recorded in the Pacific region.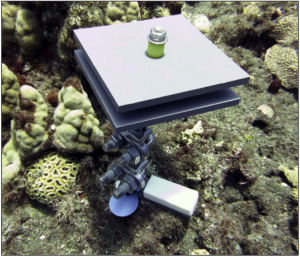 NOAA is able to monitor these conditions around Hawaiʻi on a 3-year rotating basis, but with the climate crisis heating up, there is clearly a need to monitor more frequently and to include investigations of localized coastal acidification, not just impacts of global ocean acidification. In 2008, researchers from the School of Ocean and Earth Science and Technology (SOEST) at the University of Hawaiʻi at Mānoa created a network of buoys to make measurements around the island of O'ahu of CO2, temperature, salinity, chlorophyll, dissolved oxygen, and water turbidity every three hours. (See a previous Hawaiʻi Sea Grant Blog about that project.) Data from the buoy network have revealed important information about coastal acidification around O'ahu, like the fact that land-based sources of pollution and excess nutrients can exacerbate the impacts of global ocean acidification and cause far worse localized coastal acidification.
Based on toolkit suggestions from the International Alliance, the State of Hawaiʻi Climate Change Mitigation and Adaptation Commission staff in collaboration with different Hawaiian agencies, departments, and community partners, developed five goals as the framework for a plan for action:
Increase scientific understanding of ocean acidification in the region.
Reduce carbon dioxide emissions and land-based sources of pollution.
Build adaptation and resilience of coastal communities to impacts of ocean acidification.
Increase public understanding of ocean acidification, both general public and legislature.
Build and continue international collaboration and support.
These goals were approved by the Climate Commission in October 2020, and the full action plan with recommendations for coping with ocean acidification will be available later this year.
Helping develop this action plan has been an extraordinary opportunity to strengthen network connections for our state, as well as broaden my own professional network. I have been inspired by the work I have been able to do during the Grau Fellowship, and I am left with hope that our action plan will be implemented, combatting ocean acidification, as a result of these conversations and planning efforts across regions and networks.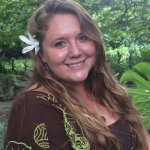 About the Author:
Amy Markel is one of two fellows selected to comprise the first cohort, in 2019, of the E. Gordon Grau Fellowship, which provides a unique educational and work opportunity for post-graduate students interested in coastal and marine resource management and policy. Hosted by the Department of Land and Natural Resources' Division of Aquatic Resources, her fellowship is focused on assisting with the 30 x 30 marine protected areas planning efforts. Amy graduated with her MS degree in natural resources and environmental management from the University of Hawaiʻi at Mānoa in 2019.