Tools + Resources
National Resources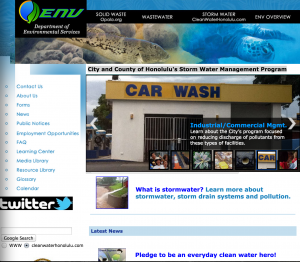 The City and County of Honolulu Department of Environmental Services assists the city in developing and implementing Stormwater Management Program Plan for its Municipal Separate Stormwater Sewer System (MS4) permits.
Community Projects and Initiatives
Hawaiʻi Low Impact Development (LID) Atlas
The Hawaiʻi LID Atlas is a collection of alternative stormwater management practices currently installed across the state. The Atlas is hosted by the National Nonpoint Education for Municipal Officials (NEMO) Network and the University of Hawaiʻi Sea Grant Program.
It is an online resource providing geo-referenced examples of green infrastructure and low impact development for stormwater management. You can browse the Atlas by either selecting a town, land use type, project type, or by simply clicking on pinned sites.
You can add your own project to the atlas by filling out the Hawaiʻi LID Atlas Submission Form.
Click the LID Atlas on the left to explore!
The 'Rain Garden' Mobile Application
'Rain Garden' is a free mobile application (app) designed to help you properly install a rain garden at your home, office, or job site.
Through video tutorials, diagrams, text, and tools, the app guides you through determining the size and placement of your garden, selecting plants, digging and planting your garden, and maintaining your garden.
It also includes tools for determining your soil type, measuring the size of the area that will drain to your garden, and managing multiple rain garden projects.
Download the app to your smartphone to get started.