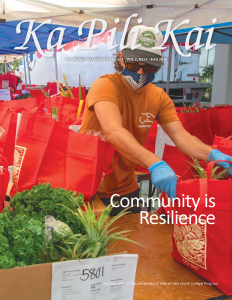 Click on the cover image to view the full issue.
Community is Resilience
Lucky we live Hawai'i… as the local saying goes! In Hawai'i, we're blessed with an incredible environment with steep lush mountains and deep valleys sloping down to vibrant multi-cultural communities, fronted by soft sand beaches and the blue Pacific. The islands owe their natural beauty to their volcanic origins and location in the tropical Pacific. But we also recognize that this geography and geology, as well as the way we've chosen to develop our coastal communities and lack of economic diversity, make us particularly vulnerable to natural and human-induced hazards.
However, Hawai'i's history is rooted in sustainability and resilience. Our host culture has thrived in the dynamic environments of Hawai'i and Polynesia for thousands of years. We strive to be a world leader in holistic and place-based approaches to land management, growing from the science and culture of modern island communities.
We believe Hawai'i's uniquely diverse island society, drawing on its history and strengths, will help us to bounce back from the COVID-19 pandemic and inevitable future crises. Hawai'i and its fellow Pacific Islands are on the front lines of climate change impacts, and will thus be the front-runners in demonstrating for the world how to adapt to unprecedented changes and live more sustainably.
I invite you to browse through the articles included in this issue and learn more about the challenges we face. More importantly, we hope you will learn more about the human ingenuity and community cohesion being tapped to address food security, rainfall flooding, tsunami, lava flows, hurricanes, and other hazards in Hawai'i.
Brad Romine
Hawai'i Sea Grant Coastal Management and Resilience Faculty