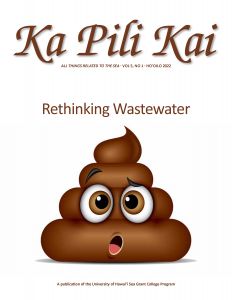 Click on the cover image to view the full issue.
On the Cover
Magazine covers are meant to inspire the reader to pause and reflect on the transformative potential of an issue's contents. Through what they bring into focus, they offer a scaffold for synthesizing across an issue's contents. The cover of the current issue is no different though it challenges readers to understand why the editors may have chosen to use confrontational or humorous imagery to draw attention to critically important issues. This issue's departure from the history of Ka Pili Kai's lustrous cover photography to the satirical has purposeful intent of luring the reader to query beyond the cover and be immediately immersed in a topic about which we do not openly refer to in polite company, but frankly should. The many dimensions of wastewater from the social and ethical, to the biochemical and hydrological, are among the most critical environmental issues we face in Hawai'i and the Pacific. However, they are also among those whose currents run underground, out of site for those not involved in the basic science, conservation, or sustainability discourses. The serious and thoughtful articles contained in this issue of Ka Pili Kai are intended to enrich knowledge and spark conversations, while the humorous cover image is a way to demystify an otherwise unapproachable topic and, perhaps, encourage more transparent, public, and accessible conversations around the health and wellbeing of our communities and environments.
Darren T. Lerner, PhD
Director, Hawai'i Sea Grant
***
No ka nui o ka makani a me ka ikaika loa o nā au o ka moana, ua kālai mau ke kai i nā hiʻohiʻona o ke kapakai. Akā, i kēia mau lā pilikia ke kai i ka hana a kānaka. Ma loko o nei puke heluhelu, hōʻike ʻia kekahi o kēia mau mea nāna e hoʻopilikia i ke kapakai, i hiki ke hoʻoponopono ʻia, e like me ke kūkulu hou ʻana i ka ʻōnaepuni wai lepo.
Ua holomua ka poʻe ʻenekenia i ka lawelawe maikaʻi ʻana i nā ʻenehana wai lepo e pono ai ka nohona ma ka ʻāina me ke kai. ʻO kekahi o ia mau mea ʻenehana hou, ʻo ia nō ka hoʻokahua ʻana i nā ʻāpana ʻāina pulu, a me ke kūkulu ʻana i nā lua puhi kūkae.
He ʻoiaʻiʻo nō, aia ka pono ʻo ka ʻiʻini o kākou e mālama a hoʻokaulike i ke ola o ka ʻāina a me ke kaiaola kapakai no ka lehulehu ma o ke kaukaʻi ʻana i ka hiki o ke ao kūlohelohe ke hoʻōla hou.
The sea, through powerful tides and the fluctuation of the currents, has always carved into the land to shape it. But these days, the built environment is too strongly impacting the sea. This issue outlines a few of these harmful yet reversible habits such as those stemming from wastewater infrastructure.
And indeed, the engineering community has made great strides in implementing environmentally friendly wastewater technologies that benefit both land dwellers and the ocean as a whole. Such exciting innovations, as presented in this issue, include constructed wetlands and incineration toilets.
Truly, public health and the health of our nearshore ecosystem depend upon our willingness to re-balance the relationship between land and sea, and we do this by harnessing Nature's own potential to find solutions.
Alyssa Anderson, PhD
Postdoctoral Fellow, Pacific Islands Climate Adaptation Science Center & University of Hawaiʻi at Mānoa
Nicholas Kawelakai Farrant, Coastal Community Resilience Specialist
Hawaiʻi Sea Grant and North Shore Community Land Trust
Joachim Schneider
Hawaiʻi Sea Grant E. Gordon Grau Fellow, 2020
Click here to view the full issue.