HANAUMA BAY EDUCATION PROGRAM
The Hanauma Bay Volunteer Program (HBVP) is one of the oldest volunteer programs in Hawaii. Before the HBVP was formed in 1990, a small group of dedicated community members saw the need to educate the millions of visitors to the bay, which became a Marine Life Conservation District in 1967. Everyday they would set up a table at the beach and educate visitors about the fragile ocean ecosystem, identification of marine animals, and how to become ocean stewards. Their dedication sparked the need to develop both an Education Program and a Volunteer Program at Hanauma Bay.
Since 1990, the HBVP has grown to more than 100 volunteers that donate roughly 12,000 hours of their time to the program each year. Our volunteers, also known as Interpretive Guides, still educate visitors at the beach (some of those volunteers being from the original group of community members), but we have also added a Visitor's Center and a Theater where we further educate our visitors. There are a variety of volunteer opportunities at the bay for all ages.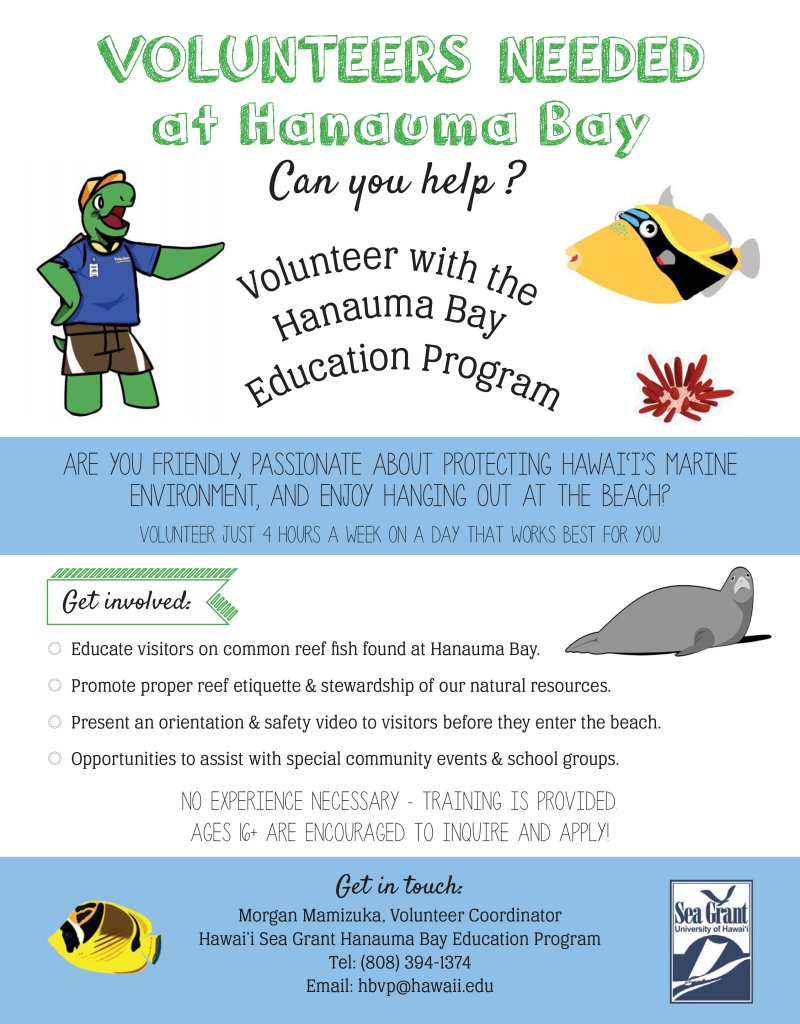 Interpretive Guide: Interpretive Guides work 4 hour shifts at least once per week and rotate between the three volunteer stations. The shifts include 2 hours at the beach desk, 1 hour in the Visitor's Center, and 1 hour in the Theater. Volunteers staffing these areas make an effort to reach each visitor to insure that they are informed of the mandatory orientation video and proper reef etiquette, park rules and regulations, and also answer general questions about the park and marine life identification.
E Mālama Hanauma Youth Steward: Youth Steward Volunteers are high school students who learn how to become stewards of HanaumaBay by taking ownership of areas of the park. Youth Stewards may also help Interpretive Guides at the volunteer stations. Learn more
Ho'okipa Cart Helper: These volunteers are stationed near the entrance to the Visitor's Center where visitors line-up to the admission ticket windows. They answer questions visitors may have about the park and admission procedures and introduce them to the environment they will be exploring with the aid of specimens, books,forother education materials.
School Program Docent: School Program Docents aid the Education Staff when school groups or other permitted groups visit the Bay. A docent may help with natural history tours, 30 minute group orientations, and any other educational activities that the Education Staff run.
Free training sessions that include marine life identification, introduction to marine protected species and sea turtles, outdoor activities, a detailed history of the park and management, and much more!
Monthly volunteer appreciation and enrichment events such as field trips, educational activities, guest speakers, and social gatherings.
Letters of Recommendation (after 1 year of service)
Volunteer newsletter
Annual Volunteer Appreciation Banquet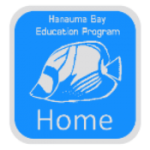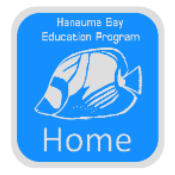 Learn more about the Hanauma Bay Education Program.
Hanauma Bay Education Program
100 Hanauma Bay Rd.
Honolulu, HI 96825
Phone: (808) 397-5840
Email: hanauma@hawaii.edu