My lifelong question
by Crispin Nakoa
I grew up in and around the ocean. When I was little, almost every weekend was spent fishing on my dad's boat out of Kawaihae Small Boat Harbor on Hawaiʻi Island. We often caught ono and mahimahi and almost always had fresh fish of some kind at the dinner table. As I got older, the boat needed repairs, and fishing dropped off as other life changes happened. I was accepted into Kamehameha Schools Hawaiʻi for the third grade, causing my family to move across the island to Hilo. Our boat, only 16 feet long, was too small to take out regularly in the Hilo waters, due to the rough conditions from the constant trade winds and swells, so it never did get fixed.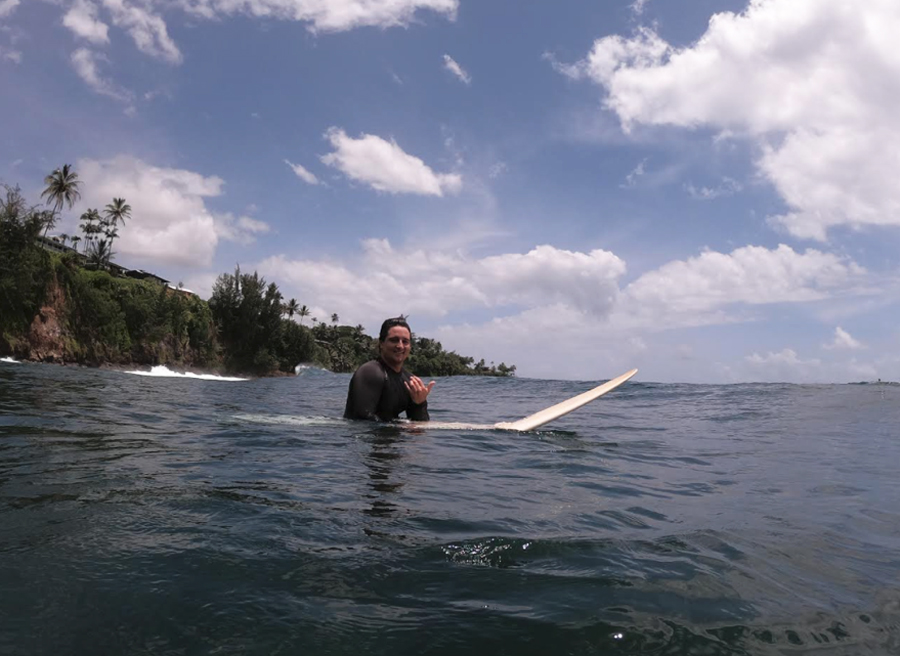 But I couldn't stay away from the ocean. Without the boat, weekend ocean activities turned to surfing. Before our move, I had only bodyboarded a few times in the shore break at Hapuna Beach State Park, mainly ending up plowing straight onto the sand, tumbling in the waves with a smile on my face. But from the minute I saw the waves breaking down the line at Honoliʻi, north of Hilo, I was captivated. What was even more amazing was how the surfers glided effortlessly through the waves, in a way that I had never noticed before. When my dad took me out and pushed me into breaking waves, I was scared at first, but the thrill of standing up and dropping down the wave face outweighed my fears.
Surfing took over my life as I improved and began surfing at more rocky and shallow spots along the Hilo coastline, more distant spots around the island, and even traveling to Oʻahu for family visits that turned into surf trips. I started entering contests and did very well on Hawaiʻi Island, well enough to make it to the state championships on Oʻahu for four years, winning twice and earning second twice. Success at the state championship contests qualified me for nationals, and I competed three times at Huntington Beach and Lower Trestles in California.
Surfing in new locations made me notice differences in the water between California and Hawaiʻi. There were certain places where the waves looked incredible, but nobody was surfing. When asked, locals explained, "Oh, that used to be a good surf spot, but there's always sewage spills so no one goes there anymore." Comments like this made me wonder, how clean was the water back home?
Throughout my life surfing, swimming, and fishing along the shoreline of Hilo, I have heard many comments about the water quality here. The general consensus is that the ocean is clean outside of the breakwater, but not the best quality within it. Some people insist that even though conditions outside the breakwater look cleaner, the water is still polluted because of the sewage outfall pipe from the wastewater treatment plant. Many people have cited a study from the 1980's that apparently found the water at one beach outside of the breakwater had higher bacterial counts than those inside of the breakwater. Other locals blame the pollution on cruise ships dumping their waste offshore or cesspools leaking into the environment, reaching the shoreline through submarine groundwater discharge. There is no doubt that there are many opinions on the source of contamination in Hilo waters, but so far, evidence is hard to come by.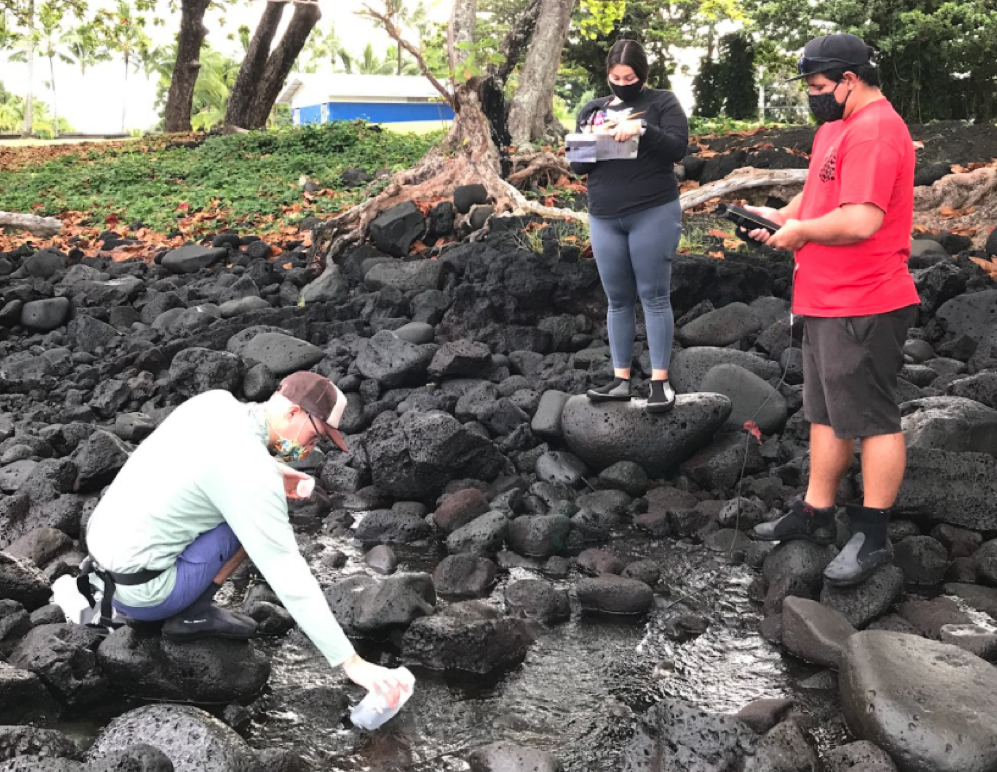 I am fortunate enough to be investigating this problem as a Hawaiʻi Sea Grant Graduate Fellow with Dr. Tracy Wiegner, Dr. Steve Colbert, and Dr. Karla McDermid from the University of Hawaiʻi at Hilo. Together, we are identifying areas impacted by sewage pollution along the Hilo coastline, while another Hawaiʻi Sea Grant Graduate Fellow is determining the sources of pollution. When I received news that I could be a part of this work, I was all in, even though it meant moving back home to Hilo from my newly established life in Kona. It also meant that I could earn a master of science degree through the UH Hilo Tropical Conservation Biology and Environmental Science graduate program while answering many of the questions I have wondered about most of my life.
I have been monitoring 20 stations along the Hilo coastline for a year now, collecting water samples and analyzing them for multiple sewage indicators. It brings a special feeling to sample at the places where I grew up surfing, swimming, and fishing. I often reminisce about my earlier life as we walk the coastline, only to be distracted by familiar faces still enjoying those same spots that are now my sampling stations. Sampling will wrap up in the next few months, and I am excited to finally have a conclusive answer to the question of water quality in the place I grew up.
Just as a teaser from my preliminary results: it might not be as bad as people think!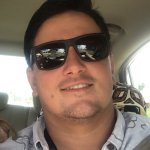 About the author:
Crispin Nakoa is an avid fisherman, surfer, and scientist with a passion for protecting the ocean for future generations.