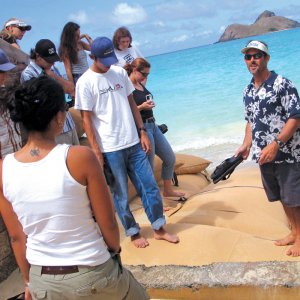 University of Hawai'i to survey Kailua/Lanikai and Waimanalo residents and visitors about tourism
July 18, 2019  
(Honolulu, HI) – This week the University of Hawai'i Sea Grant College Program (Hawai'i Sea Grant) will be conducting a series of scientific surveys of Kailua/Lanikai and Waimānalo residents, in addition to visitors, about the impact of tourism to these communities. The comprehensive surveys are scheduled to continue throughout the month of July.
The resident surveys query residents about the positive and negative effects of tourism on their lives and their opinions about various proposed solutions to tourism-related problems in their communities. Meanwhile, the visitor surveys ask visitors about their perceptions of Kailua/Lanikai and Waimānalo, and their spending habits in these communities. The study will also assess how visitors' perceptions of infrastructure and the overall crowdedness at Kailua Beach Park has changed over time.
The surveys are part of the Windward O'ahu Tourism Assessment project funded by the City and County of Honolulu in partnership with Hawai'i Sea Grant.
"Part of sustainability and resiliency is making sure we have the resources and programs in place to take care of the environment, which is one of the main attractions for both residents and visitors where these surveys will take place," said Joshua Stanbro, chief resilience officer and executive director of the city's Office of Climate Change, Sustainability and Resiliency.
The project will provide a preliminary assessment of resident and visitor perceptions of current conditions and provide recommendations based on community sentiments and priorities. Preliminary results will be available by the end of the year.
The resident surveys will be administered both online and through conventional mail to a random sample of residents. Hawai'i Sea Grant encourages all residents who receive invitations to participate in the survey and make their voices heard by completing and submitting the questionnaire. For more information contact Dolan Eversole at (808) 956-9780, or visit:  www.HawaiiSeaGrant.org