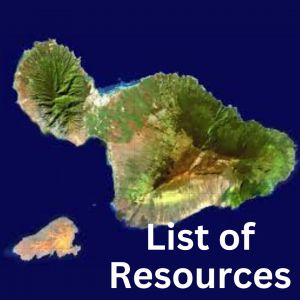 Selected list of resources to assist in fire recovery efforts on Maui

County of Maui Facebook, Twitter, or Instagram for real-time updates
 Local Fundraisers:
Council for Native Hawaiian Advancement
Hawai'i Community Foundation Maui Strong Fund
To determine if a charity is reputable, visit Hawaii Charities, Tax and Charities Division, Hawaii Attorney General
Volunteer Opportunities and to donate supplies:
If you are on Maui:
The Family Assistance Center for those seeking information on loved ones and for those who are unaccounted for is now open daily from 10 a.m. to 8 p.m. at the Kahului Community Center, 275 Uhu Street.
Maui Emergency Management Agency and FAC staff will work with families and individuals to gather detailed information and administer DNA swabs.
People trying to locate loved ones who may be impacted by the fires also can call the American Red Cross hotline at 1-800-733-2767.
If you are in need of housing, program application forms is live on the Hawai'i Housing Finance and Development Corporation website, https://dbedt.hawaii.gov/hhfdc/. A list of available properties should be online by Tuesday, August 15, 2023. The program will remain active indefinitely.
Ongoing list of resources compiled by:
Hawai'i Public Radio: https://www.hawaiipublicradio.org/helpmaui
Honolulu Civil Beat: https://www.civilbeat.org/2023/08/help-maui-fire-victims-heres-how-you-can-donate/
University of Hawai'i: https://www.hawaii.edu/news/2023/08/10/how-to-help-maui-ohana-affected-by-wildfires/