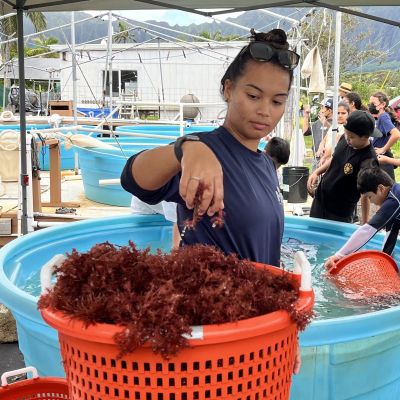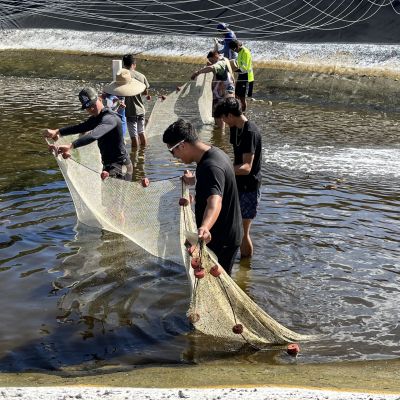 NOAA Sea Grant projects provide $3.3M in support of seafood industry workforce development
(Honolulu, HI) – Nationwide, NOAA Sea Grant awarded $3.3M aimed at bolstering workforce development efforts in both the wild-caught fisheries and aquaculture sectors.
The University of Hawai'i Sea Grant College Program (Hawai'i Sea Grant) was awarded $400,000 to enhance and promote aquaculture workforce development in Hawai'i and the Pacific, resulting in the creation and implementation of an aquaculture career education and internship program for the region.
Sea Grant programs in Alaska, California, Connecticut, Massachusetts, New Jersey, North Carolina, South Carolina, and Washington also received funding awards (see full descriptions here).
"Supporting the training and development of seafood professionals is a key component of ensuring sustainable U.S. fisheries and aquaculture and a priority for Sea Grant," said Jonathan Pennock, director of the National Sea Grant College Program. "We look forward to seeing the positive impacts the 10 selected projects will have across the country."
In Hawai'i and the Pacific region, the goal is to increase participation and develop a diverse aquaculture workforce by providing internship, training, education, and outreach opportunities to support aquaculture and seafood sector needs of the communities. Internships will be geared for students and community members interested in receiving training and gaining skills and work experience to pursue careers in aquaculture. Potential career pathways in aquaculture will be shared with the public via a Voice of the Sea television show and outreach to schools.
Elementary, middle, high school, and undergraduate students will have the opportunity to participate in early career aquaculture training programs through this new program. The Hawai'i Sea Grant team will engage with the Hawaiʻi Department of Education, University of Hawaiʻi at Mānoa, University of Hawaiʻi Maui College, University of Hawaiʻi at Hilo, American Samoa Community College, Hawai'i Pacific University, and the University of Guam Sea Grant, and will also create new partnerships to implement the project.
Anne Rosa, Hawaiʻi Sea Grant marine education specialist and project lead, said "This project will create education and on the job training that uplifts the next generation of aquaculture professionals to meaningful careers feeding Hawaiʻi and the Pacific. The active contribution of education partners, loko iʻa, and workforce nonprofits and aquaculture businesses show a collective need, effort, and benefit of the project."
The co-principal investigators are Dr. Kai Fox, Cherie Kauahi, Dr. Beth Lenz, Dr. Darren T. Lerner, and Dr. Darren Okimoto of Hawai'i Sea Grant. Industry and nonprofit partners include Banquet Solutions Hawaiʻi Inc., Blue Ocean Barns, Blue Ocean Mariculture, Hawaiʻi Workforce Pipeline Inc., Kauaʻi Sea Farm, Kualoa Ranch, Kupu, Kupu Place LLC, Mālama Loko Ea Foundation, Ocean Era, Pacific American Foundation, Pacific Hybreed, Paepae o Heʻeia, and Symbrosia.
Read more on NOAA Sea Grant website.
The University of Hawai'i Sea Grant College Program is part of the University of Hawai'i at Mānoa's prestigious School of Ocean and Earth Science and Technology. It supports an innovative program of research, education, and extension services directed to increasing sustainability of coastal and marine resources and resilience of coastal communities of the state, region, and nation. Science serving Hawai'i and the Pacific since 1968.