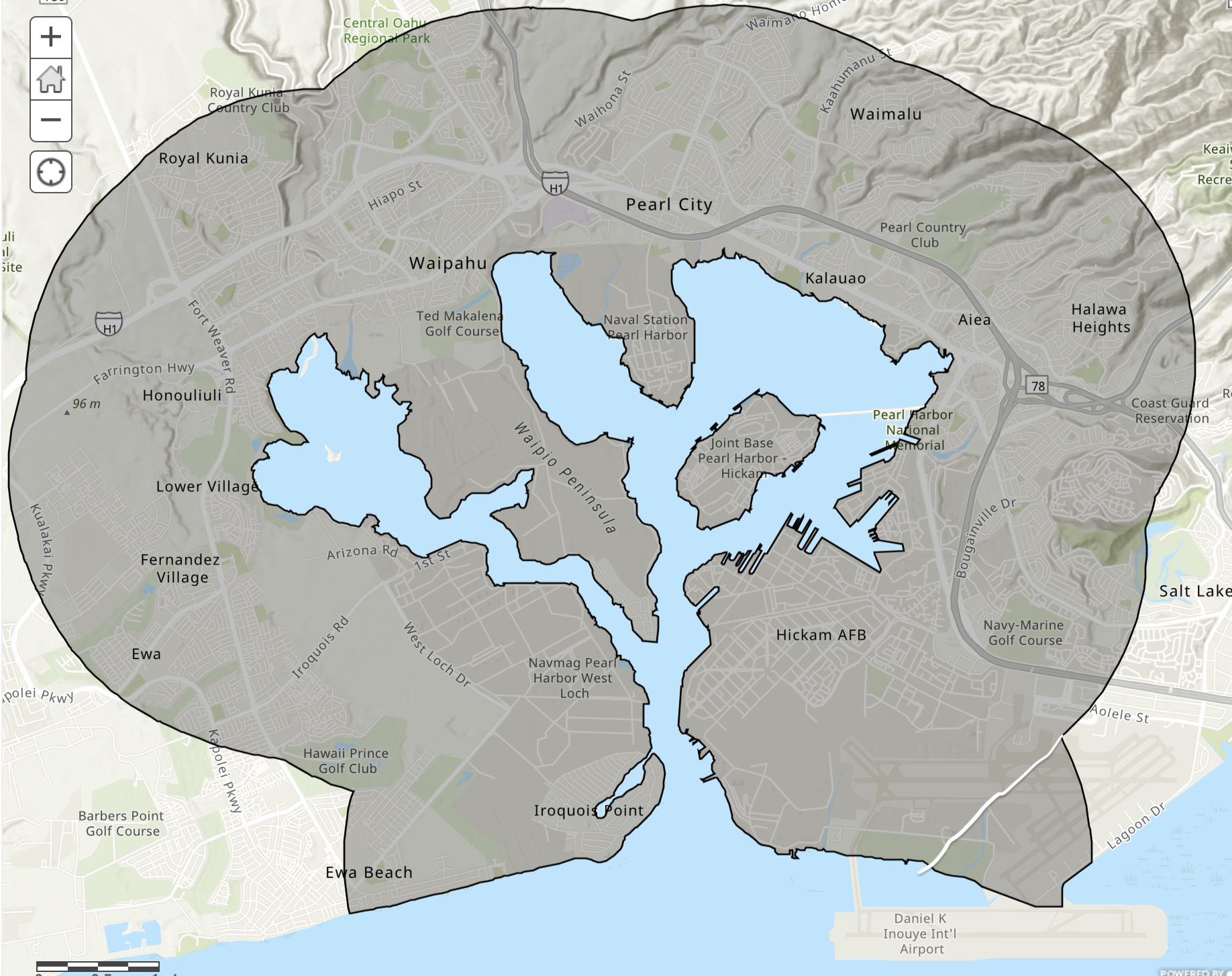 The boundary zone of the NASA Equity and Environmental Justice Program project and ArcGIS map of Pu'uloa

Looking to the past to understand the future of Ke Awa Lau o Pu'uloa

New study funded by NASA to assess threats to human health and the environment
(Honolulu, HI) – NASA's Equity and Environmental Justice Program awarded nearly $250,000 to an interdisciplinary team of university faculty, resource stewards, and nonprofit organizations led by the University of Hawai'i Sea Grant College Program (Hawai'i Sea Grant) to assess land use change over time in  Pu'uloa (Pearl Harbor) to better understand how historical pollutants may be affecting vulnerable communities.
In the past, Pu'uloa was known for its numerous fishponds, calm waters, and abundant streams. Over time, land use in the area shifted to include intensive agriculture, industrial development, military installations, and dense urbanization. These dramatic changes introduced a unique suite of contaminants into the environment, and this study seeks to comprehensively map the potential contaminant risks to evaluate threats to human health, the environment, and food security.
Dr. Eileen Nalley, Hawai'i Sea Grant's ocean and coastal ecosystem health specialist and project lead, noted "Puʻuloa is an area that has long been revered for its resource abundance, yet at present, contamination from current and historic land use poses a risk to the surrounding communities. We hope the products of this study will help support organizations like Mālama Puʻuloa and Loko Iʻa Pāʻaiau as they continue restoring fishponds and promoting food security in the ʻEwa moku."
The project team will look at historic maps, aerial images, and satellite images to analyze the changes in land use over time. These findings will be combined with information on contaminants associated with land use types, as well as socioeconomic data, to better understand the current vulnerability of different communities in the area.
Sharing stories of 'āina and incorporating local knowledge into the overall assessment is a critical component of the study. Throughout the study, the team will be working with Mālama Puʻuloa, a local nonprofit organization, and other community groups to solicit feedback through community workshops. At the conclusion, a training workshop will be held to share the data and the tools that were developed to help in future decision-making and management decisions, while also serving as valuable outreach and education tools.
The interdisciplinary team includes Dr. Eileen Nalley (Hawai'i Sea Grant), Mia Comeros (University of Hawai'i Water Resources Research Center), Kim Falinski (Makalapua Exchange),  Donn Viviani (Leeward Community College), Sandy Ward (Mālama Puʻuloa), Aurora Kagawa-Viviani, Austin Allen, and Lucie Schrager (University of Hawai'i Dept. of Geography and Environment), Dingyi Liu (University of Hawai'i Dept. of Urban and Regional Planning),  Patrick Grady (Hawai'i Sea Grant and Pacific Islands Climate Adaptation Science Center).
The University of Hawai'i Sea Grant College Program is part of the University of Hawai'i at Mānoa's prestigious School of Ocean and Earth Science and Technology. It supports an innovative program of research, education, and extension services directed to increasing sustainability of coastal and marine resources and resilience of coastal communities of the state, region, and nation. Science serving Hawai'i and the Pacific since 1968.