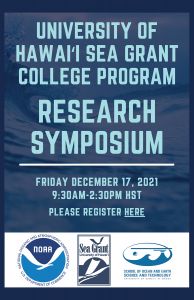 Join us for Hawaiʻi Sea Grant's 2021 Research Symposium Friday, December 17!

Register HERE to receive the zoom login information for the Research Symposium on December 17, 2021. When you register, zoom will send you a login link via email that is unique to you.
2020-2021 Sea Grant-supported Principal Investigators (PIs) and their Sea Grant Graduate Fellows will share their research progress to date through brief talks. We hope the symposium spurs discussion and exploration of future research partnerships and how ongoing projects can be further applied and utilized by local decision-makers.
9:35 am – Welcome – Darren Lerner, Hawaiʻi Sea Grant Director
9:45 am – Fostering a SOEST culture of place-based and community-based pedagogy in support of coastal sustainability in Hawaiʻi – Barbara Bruno, Hawaiʻi Institute of Geophysics and Planetology
10:00 am – Vulnerability of Coastal Ecosystems to Increased Salinity from Climate Change – Kasey Barton, Department of Botany, Sea Grant Graduate Fellow: Anna McCormick
10:15 am – Envisioning In Situ Sea Level Rise Adaptation Strategies for a Densely Developed Coastal Community, Waikīkī – Wendy Meguro, School of Architecture, Sea Grant Graduate Fellows: Ireland Castillo and Jojo Briones
10:30 am – A comprehensive approach to value Waikīkī Beach -Nori Tarui, Department of Economics, Sea Grant Graduate Fellow: Marcus Peng
10:45 am – Enhancing social-ecological resilience and ecosystem services through restoration of coastal agroforestry systems -Leah Bremer, University of Hawaiʻi Economic Research Organization (UHERO) and the Water Resources Research Center (WRRC), Sea Grant Graduate Fellow: Gina McGuire
11:00 am – Effects of watershed restoration to traditional Hawaiian land use practices on health of nearshore coral reef ecosystems – Robert Toonen, Hawaiʻi Institute of Marine Biology, Sea Grant Graduate Fellow: Paolo Marra-Biggs
11:30 am – Tracking groundwater nutrients using novel tracers to inform coastal watershed management in South Kohala, Hawaiʻi – Henrietta Dulai, Department of Earth Sciences , Sea Grant Graduate Fellow: Casey McKenzie
11:45 am – Differentiating treated and untreated wastewater contamination in a tropical coastal community using microbial community genomics – Craig Nelson, Department of Oceanography, Sea Grant Graduate Fellow: Nic Vanderzyl
12:00 pm – Identifying hot spots of sewage pollution in Hilo, Hawaiʻi  – Tracy Wiegner, Marine Science Department (University of Hawaiʻi Hilo), Sea Grant Graduate Fellows: Shayla Waiki and Crispin Nakoa
12:15 pm – Collaborative Study of Groundwater Transport Paths and Discharge Loads of Wastewaters and Other Land-Uses that Impact the Ewa Coastal Zones of West Oʻahu – Craig Glenn, Department of Earth Sciences , Sea Grant Graduate Fellows: Matt Duff and John Cameron
1:00 pm – Microbial biogeochemical cycling across a chronosequence of mangrove introductions across Hawaiʻi – Rosie Alegado, Department of Oceanography, Sea Grant Graduate Fellow: Becca Lensing
1:15 pm – What can seascape-scale vegetation patterns on coral reefs tell us about reef health? – Elizabeth Madin, Hawaiʻi Institute of Marine Biology, Sea Grant Graduate Fellow: Zack Rago
1:30 pm – Resolving the Diet of Larval Marine Fishes to Accelerate Aquaculture Opportunities – Brian Bowen, Hawaiʻi Institute of Marine Biology, Sea Grant Graduate Fellows: Emily Conklin and Cassie Kaʻapu-Lyons
1:45 pm – Land-based pollutants on Hawaiian reefs – Megan Donahue, Hawaiʻi Institute of Marine Biology, Sea Grant Graduate Fellow: Honour Booth