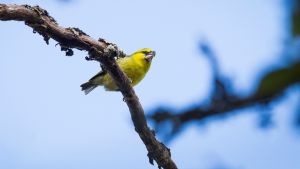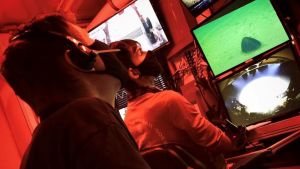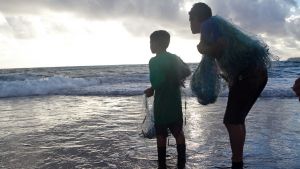 Hawai'i Sea Grant's Voice of the Sea television series wins six Telly Awards
March 30, 2022

(Honolulu, HI) – Out of 12,000 entries from all 50 U.S. states and 5 continents, the Voice of the Sea television series, produced by the University of Hawai'i Sea Grant College Program (Hawai'i Sea Grant), took home six awards in the 42nd Annual Telly Awards.
Voice of the Sea, now in its 9th season, is a premier educational television show, bringing viewers on journeys throughout Hawai'i and the Pacific to meet diverse scientists and cultural practitioners. The series is broadcast on television in Hawaiʻi, American Samoa, Guam, Palau, and the Federated States of Micronesia.
The Telly Awards were established in 1979 to honor the very best in local, regional, and cable television, as well as online commercials, videos, and films. Entries were judged by a panel of diverse and elite television and video industry leaders.
This is not the first win for Voice of the Sea: the series has racked up an impressive 36 Telly Awards to date.
Dr. Kanesa Duncan Seraphin, series producer, host, and professor of education at the University of Hawai'i at Mānoa, said "I am so proud of Hawaiʻi Sea Grant and our collaborators—working together with local communities to share these award-winning stories of science and culture!"
Executive producer for VOS and Hawaiʻi Sea Grantʻs director, Darren Lerner said, "So well deserved for Kanesa and her team at Kaua'i Sound and Cinema who work tirelessly throughout each year, but none of us would be able to produce this series without the scientists and community members that bring local and regional STEM and cultural knowledge and understanding to every episode."
Voice of the Sea was awarded one gold, two silver, and three bronze awards:
Saving the Kiwikiu: Part 2: Gold Telly
This episode highlights the experts who are helping to save the critically endangered kiwikiu. It is especially poignant as, following the episode premiere, one of the kiwikiu was found alive in its natural habitat after the relocation effort was considered unsuccessful.
Cesspool Issues Rising: Silver Telly
Learn about Hawaii's 88,000 cesspools and the link between cesspools, groundwater, and the ocean, Research has shown cesspools cause contamination in groundwater and the nearshore environment.
Community-Based Subsistence Fishing Areas: Silver Telly
Hear about the growing opportunities for communities to formally manage their natural resources and preserve local traditions.
Cesspool Contamination Revealed by Invasive Algae: Bronze Telly
Learn how invasive algae are being used to detect cesspool contamination from the excess nutrients which pollute water systems and negatively impact algae and coral reefs.
Virtually Exploring the Abyssal Plains: Bronze Telly
Explore the deep ocean with students and teachers as they go to sea aboard the research vessel Kilo Moana to collect amazing organisms and study the deep-sea food web.
Cesspool Solutions: Bronze Telly
Investigate new alternatives for small-scale wastewater treatment to help stop the daily leakage of 53 million gallons of sewage into the nearshore environment.
"In the face of a year like no other, the visual storytelling community has continued to defy the limitations of our new world. Achievements have been both societal, such as embracing social media platforms to raise awareness about injustices and promote solidarity for movements, as well as geographical, like developing fully remote pipelines for dispersed teams", says Telly Awards Executive Director Sabrina Dridje. "This year's submissions doubled down on what we already know about the industry. Creativity cannot be stopped. Collaboration will always prevail. New ideas and stories will always find a way to break through to an audience."
Voice of the Sea airs on TV in Hawai'i Saturdays at 4:00 pm and Sundays at 6:00 pm on K5 The Home Team (KFVE). It is a signature project of the University of Hawai'i Sea Grant Center for Marine Science Education. To watch full episodes or learn more about Voice of the Sea, visit voiceofthesea.org.
Read more on UH News
The University of Hawai'i Sea Grant College Program is part of the University of Hawai'i at Mānoa's prestigious School of Ocean and Earth Science and Technology. It supports an innovative program of research, education, and extension services directed to increasing sustainability of coastal and marine resources and resilience of coastal communities of the state, region, and nation. Science serving Hawai'i and the Pacific since 1968.