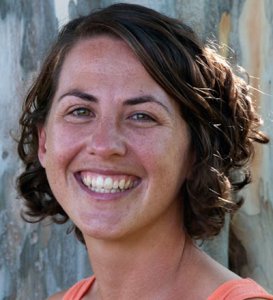 Hawai'i Sea Grant addresses diversity, equity, and inclusion through new leadership position
February 23, 2021
To more effectively address the persistence of societal inequities due to systemic racism and colonialism, the University of Hawai'i Sea Grant College Program (Hawai'i Sea Grant) created a new, full-time senior leadership position and hired Dr. Beth Lenz to serve as its inaugural assistant director for diversity and community engagement.
The Sea Grant network, which is comprised of 34 university-based programs in every coastal and Great Lakes state, Puerto Rico, and Guam, has placed increased emphasis on incorporating diverse perspectives and inclusivity. This position is one of the first of its kind in the network and will foster more equitable and sustainable resource management.
After completing her PhD at the University of Hawai'i at Mānoa, Dr. Lenz spent this past year in the U.S. House of Representatives in Washington, D.C. as a John A. Knauss Marine Policy Fellow. Only 69 recent graduates from across the country were accepted into this prestigious national fellowship, and Dr. Lenz was one of only 14 selected to serve in the Legislative Branch of government where she gained invaluable policy experience in the Natural Resources Committee's Water, Oceans, and Wildlife (WOW) Subcommitee.
Throughout her career, Dr. Lenz has creatively and expertly blended her passion for marine science with projects designed to break down barriers to inclusion that are often inherent in the sciences. For example, while pursuing her PhD she led a two-year project blending art and science which culminated in a free public event in downtown Honolulu and inspired people of all different backgrounds to gain an interest in, and appreciation for, marine science. In her position within the Legislative Branch, she took the opportunity to support the WOW Subcommittee in implementing anti-racist strategies; expanding the diversity of witnesses invited to committee activities; and ensuring equity in legislation to empower under-resourced communities.
Lenz noted "I am excited to support Hawaiʻi Sea Grant in this new role that champions institutional change. By setting high standards that ensure accountability and incorporate all voices, we will maintain a productive and conducive program that better reflects the communities we serve. I hope to demonstrate to other programs the value and need to invest in positions like this. I look forward to returning to Hawaiʻi and developing inclusive, fun, and creative strategies that strengthen our work at the intersection of scientific research, education, policy, and management."
Dr. Darren Lerner, director of Hawaiʻi Sea Grant, said "Though we have a number of our faculty and staff committed to improving our activities and engagement around justice, equity, diversity and inclusion (JEDI), we felt that an important next step was to create this leadership position to help us integrate JEDI throughout all of our research, extension, education, and communication activities. We are thrilled that Dr. Lenz is coming back to Hawaiʻi and joining our Sea Grant 'ohana. We look forward to her leadership in helping us better serve and support the people of our state and region, and importantly, our Native Hawaiian and Pacific Islander colleagues, friends, communities, and cultures."