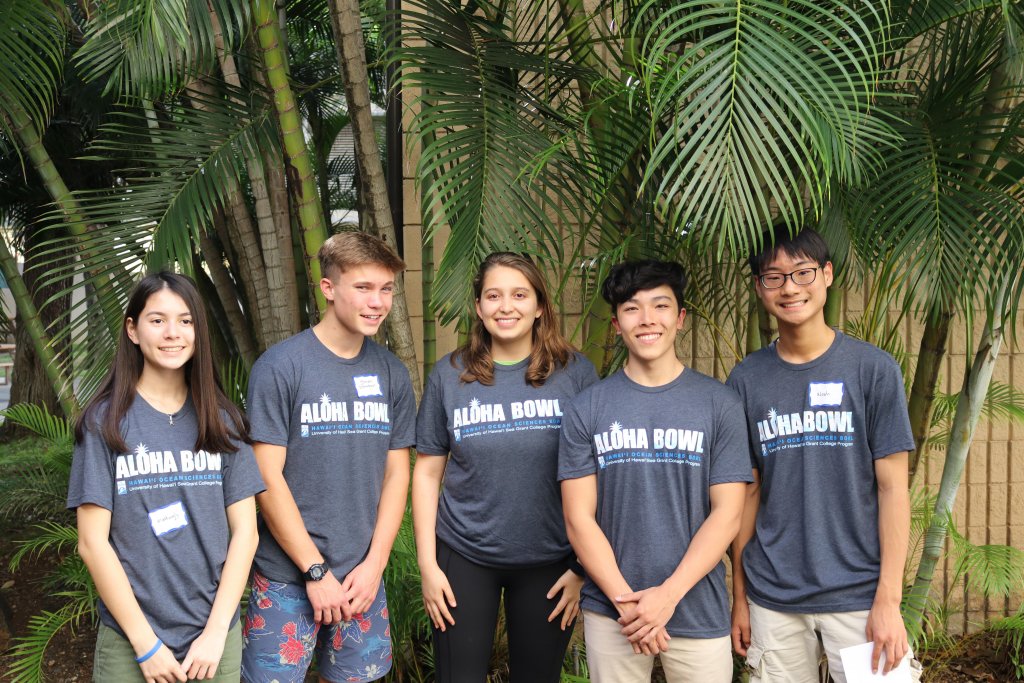 Hawaiʻi Ocean Sciences Bowl, February 15th, 2020
On Saturday, February 15th, 2020, high school students from all over the state competed in the Hawaiʻi regional competition for the National Ocean Sciences Bowl (NOSB), called the Aloha Bowl. Team Punahou (pictured above; L-R: Mattingly Morales, Jonah Johnson, Maya Mastick, Ethan Lau, Noah Chung) took first place and will be representing Hawaiʻi in the National Ocean Sciences Bowl held in April 2020. They will be traveling to Gulfport, Mississippi for the national finals competition.
This educational program was developed to stimulate interest in the ocean sciences among high school students and demonstrate to the public the importance of the oceans in our daily lives. One of the long-term goals of the program is to foster the next generation of marine scientists, educators, and policy makers for the ocean sciences.
View Aloha Bowl 2020 photos on Flickr.
For more information on competition rules and resources, visit nosb.org
Contact the Aloha Bowl coordinators if you have an interest in participating in the 2021 bowl:

Cindy Knapman
lknapman@hawaii.edu
Heather Dudock
hdudock@hawaii.edu