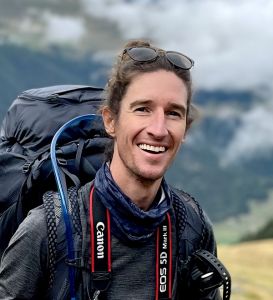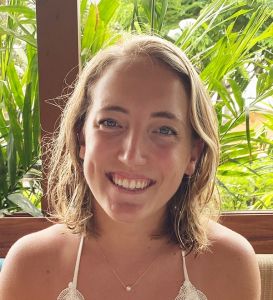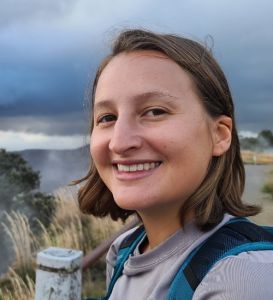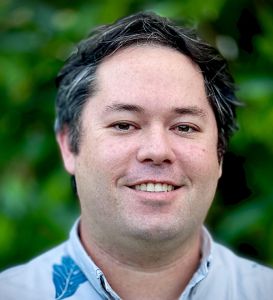 L-R: John Graves (Division of Aquatic Resources), Madeline Krueger (Honolulu Office of Climate Change, Sustainability and Resiliency), Claire Rossi de Leon (Honolulu Office of Climate Change,  Sustainability and Resiliency), Hoaka Thomas (Division of Aquatic Resources)
Four Hawai'i Sea Grant fellows gain hands-on policy experience in climate resilience, marine resource management
(Honolulu, HI) – Four postgraduate fellows from the University of Hawai'i have a unique opportunity to work directly with Hawai'i-based organizations through the University of Hawai'i Sea Grant College Program (Hawai'i Sea Grant) E. Gordon Grau Coastal and Marine Resource Management and Policy Fellowship Program (Grau Fellowship).
The paid fellowship, named in honor of Emeritus Professor E. Gordon Grau, Hawai'i Sea Grant's visionary former director, provides students the chance to obtain relevant resource management and policy experience in Hawai'i and, for many, to pursue career opportunities in their home state.
Department of Land and Natural Resources Division of Aquatic Resources
As a testimony to the importance and value of this program to the offices that host the Grau fellows, the Department of Land and Natural Resources (DLNR) Division of Aquatic Resources (DAR), which has hosted fellows continually since the inaugural Grau fellowship in 2019, is welcoming two new fellows this month to work on its Kōkua Community-Based Monitoring Program and its Holomua Marine Initiative.
The two fellows, John Graves and Hoaka Thomas, will be working in partnership with local communities and DAR staff to gain experience in designing island-based management strategies and community-based monitoring plans. This unique opportunity provides the fellows who already have strong backgrounds in marine biology and natural sciences the chance to connect and communicate with broad audiences, and develop policies that will help to ensure healthy reefs for future generations.
Graves said "At the end of the day, both marine resource managers and community members want the same thing—for our oceans to remain healthy and abundant in the coming years. The Grau Fellowship with the Division of Aquatic Resources exists in a critically important intersection, pairing community engagement with the shaping of policy to best manage our marine resources."
Thomas noted "I feel that science and policy are not two separate domains of society, but are actually integrated. Science informs policy, but policy contextualizes and applies scientific findings for the betterment of our communities. It's my hope that as a Grau Fellow I can use my scientific training to work with local communities and co-produce policies with our local partners that benefits everyone."
City and County of Honolulu Office of Climate Change, Sustainability and Resilience
For the very first time, the City and County of Honolulu Office of Climate Change, Sustainability and Resilience will host two Grau Fellows to help implement climate adaptation strategies through its Coastal and Water Program and its Hazard Mitigation and Long-Term Disaster Recovery Program. The fellows, Claire Rossi de Leon and Madeline Krueger, will work on cutting-edge climate mitigation strategies such as managed retreat, new and innovative funding mechanisms, and to support and enhance the city's partnerships with community-based organizations.
Rossi de Leon said "Working at the intersection of climate science and policy has been an interest of mine for many years now, and I am so grateful for the opportunity to pursue these interests. Coming from a background primarily focused on science and environmental planning, I am interested in learning more about how we can incorporate science into policy and decision-making."
Krueger noted "During my undergraduate research I focused on anthropogenic impacts on estuarine tidal wetlands and their importance as carbon sinks. This drove my desire to pursue a master of science in marine science, and I am eager to join in the efforts of combating climate change and increasing resilience in Hawai'i."
Hawai'i Sea Grant annually recruits municipal, state, or federal agencies, and Hawai'i based nonprofit organizations that work on coastal or marine research, policy, or management to be a host office. Any questions can be directed to Maya Walton, Hawai'i Sea Grant's assistant director for research and fellowships, at waltonm@hawaii.edu or (808) 956-6992.
The Grau Fellowship is modeled after the highly competitive and successful John A. Knauss Marine Policy Fellowship Program which sends recent graduate students to Washington, D.C. for one year to work in either the legislative or executive branch of government. Now, students with advanced degrees from Hawai'i colleges or universities, or local students who are from Hawai'i but obtained their degree(s) elsewhere, can remain in Hawaiʻi.
For more information on the Grau Fellowship visit: http://seagrant.soest.hawaii.edu/about/opportunities/
The University of Hawai'i Sea Grant College Program is part of the University of Hawai'i at Mānoa's prestigious School of Ocean and Earth Science and Technology. It supports an innovative program of research, education, and extension services directed to increasing sustainability of coastal and marine resources and resilience of coastal communities of the state, region, and nation. Science serving Hawai'i and the Pacific since 1968.