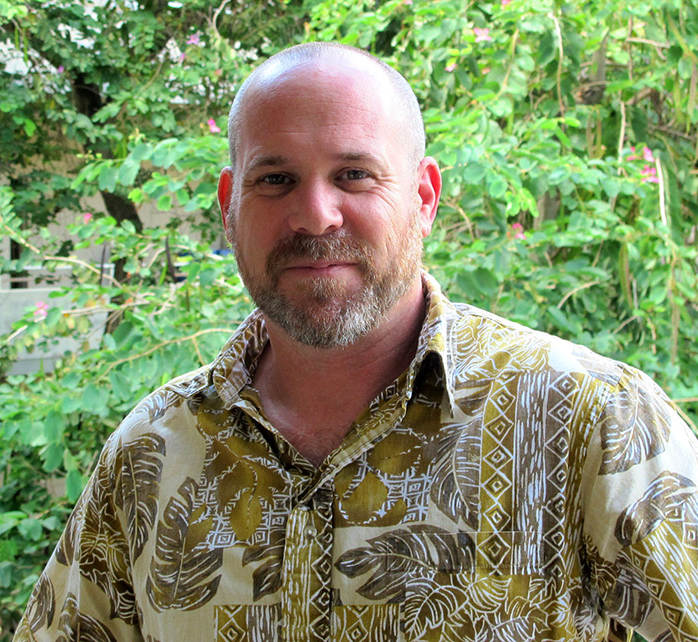 Dr. Darren T. Lerner elected president of Sea Grant Association for two-year term
The appointment will help focus nationwide attention on ocean and coastal issues throughout the Pacific region  
(Honolulu, HI) – Dr. Darren T. Lerner, director of the University of Hawai'i Sea Grant College Program, has been elected president of the Sea Grant Association (SGA), a nonprofit organization that sets program priorities for the 34 Sea Grant programs across the United States and provides a unified programmatic voice on issues of importance toward increasing the sustainability of the oceans and coasts and increasing the resilience of coastal communities.
This two-year role provides a unique opportunity to elevate the issues of critical importance to Hawai'i and the Pacific such as Indigenous knowledge, stewardship, aquaculture and coastal resources, coastal hazards, building resilient communities, environmental and climate justice, the impacts of tourism on the economy, culture, and environment, and much more.
The two-year term spans 2023-2024 and marks only the second time in the 45-year history of the SGA that the president has been elected from Hawai'i.
"I have known Darren for many years and am thrilled to be working alongside him as the new president of the Sea Grant Association" said Jonathan Pennock, director of NOAA's National Sea Grant College Program. "The National Sea Grant Office and the Sea Grant Association provide distinct and important leadership roles for the National Sea Grant College Program. I look forward to continuing the strong partnership between our office and the Sea Grant Association under Darren's leadership as we work together to develop creative and impactful solutions to support coastal communities and advance coastal science."
In support of elevating our regional voices on the national stage, the first national meeting will feature a keynote speech by Landisang Kotaro, the first woman chief of staff at the Office of the President of the Republic of Palau. The speech will take place at the annual Sea Grant John A. Knauss Marine Policy Fellowship reception held at the National Academy of Sciences. Kotaro will share Palau's approach to creating climate adaptation solutions grounded in Indigenous knowledge for coastal communities, especially island nations, with over 350 leaders and policymakers including representatives from the White House and congressional delegation, various federal agencies, leaders from the 34 state programs that comprise the Sea Grant network, and the National Oceanic and Atmospheric Administration (NOAA).
As the SGA president, Lerner is ensuring SGA delegates have direct engagement with island communities, universities, state, federal, and nonprofit experts in Hawaiʻi and the Pacific region to learn about cutting-edge research and education activities addressing climate change and promoting resilience. In many instances, by necessity, small island nations are paving the way in finding innovative solutions to critical topics such as climate change. By bringing the leaders in ocean and coastal organizations to the region, the SGA presidency provides a platform to demonstrate how communities in the Pacific region are informing global adaptation efforts and serving as a model for the U.S. and the world to emulate.
Dr. Lerner noted "As a nonprofit organization, the SGA has an important responsibility to represent the interests of the 34 Sea Grant programs and engage directly with members of Congress, the White House, U.S. Department of Commerce, NOAA, and other executive branches of the federal government. That said, this is a great opportunity to utilize this platform to bring the knowledge and understanding of issues facing Hawaiʻi and the Pacific region front and center on a national scale, and provide an opportunity for communities to share their stories directly to help shape meaningful coastal and ocean policies."