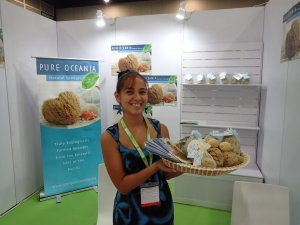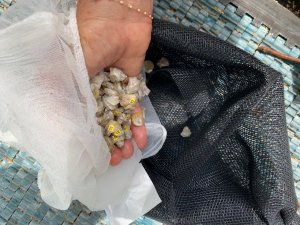 University of Hawai'i Sea Grant College Program receives nearly $1.4 million for aquaculture research
September 19, 2019  
(Honolulu, HI) – The University of Hawai'i Sea Grant College Program (Hawai'i Sea Grant) received nearly $1.4 million to establish a new aquaculture-focused collaborative program in Hawai'i and the Pacific region and explore new aquaculture opportunities.
Hawai'i Sea Grant was among several Sea Grant programs around the country to receive funding from the National Oceanic and Atmospheric Administration (NOAA) to address specific priorities of the 2019 Sea Grant National Aquaculture Initiative. The 42 projects that were funded total $16* million in federal grants, and will help spur the development of a sustainable marine and coastal aquaculture industry in the U.S.
"With our 2019 investments, we are building on investments by Sea Grant and NOAA over the last few years to fill critical gaps in information and strengthen connectivity of science to industry," said Jonathan Pennock, director of the National Sea Grant College Program. "These investments will help advance U.S. aquaculture in sustainable, thoughtful ways using the best science and talent across the country."
All of the funded projects belong to one of three federal funding opportunities identified by National Sea Grant as current areas of need for U.S. aquaculture.
To fully integrate aquaculture research, outreach, and education in Hawai'i and the Pacific region, Hawai'i Sea Grant and its partners were awarded nearly $1.2 million to revitalize, solidify, and expand an aquaculture-focused, collaborative program that will be socially, geographically, and economically inclusive.
Dr. Darren Lerner, Hawaiʻi Sea Grant director and principle investigator, said "With renewed interest here in Hawaiʻi as demonstrated by Governor Ige's signing of Act 063, this funding will assist in creating a hub which fully integrates research, extension, and education services directed towards supporting the continued development and enhancement of indigenous aquaculture practices and the aquaculture industry in Hawaiʻi and the Pacific."
Co-investigators include Dr. Andre Seale, an assistant research professor in the College of Tropical Agriculture and Human Resources at the University of Hawaiʻi at Mānoa; Dr. Darren Okimoto, Hawai'i Sea Grant associate director and extension leader; Simon Ellis, Hawai'i Sea Grant extension specialist and director of the Marine and Environmental Research Institute of Pohnpei (MERIP); Max Sudnovsky, Hawai'i Sea Grant coastal management extension agent based at the College of the Marshall Islands; Kelley Anderson Tagarino, Hawai'i Sea Grant aquaculture extension agent based at American Samoa Community College; and Dr. Maria Haws, a professor of aquaculture at the University of Hawaiʻi at Hilo and director of Hawai'i Sea Grant's Center for Sustainable Aquaculture and Coastal Resources (CSACR). The center will serve as a hub for the aquaculture industry, state and local government organizations, community groups and practitioners, and focus on the continued development and enhancement of aquaculture and indigenous aquaculture practices across the state and region.
Hawai'i Sea Grant was also the recipient of two additional grants totaling $200,000. One project, titled "Culture of Native Bivalve Species to Expand Mariculture Opportunities and Improve Coastal Environments," will develop hatchery and nursery methods for selected bivalve species such as the black-lip pearl oyster and other saltwater clams in Hawai'i and the U.S. Affiliated Pacific Islands. In addition, Ellis received $100,000 for a project titled "Exploring the Potential for Sustainable Capture-Based Aquaculture of Spiny Lobster (Panulirus spp.) in Pohnpei, Federated States of Micronesia." This project aims to test the feasibility of growing wild spiny lobster to form a new aquaculture industry in the Western Pacific. Mr. Ellis is partnering with Drs. Darren Lerner and Dr. Darren K. Okimoto on this grant.
Haws noted "These new awards demonstrate how important it was to have formed CSACR five years ago and to serve the entire Pacific region. The leading aquaculture specialists in the UH System now have an unprecedented opportunity to come together to strengthen aquaculture education and extension throughout the region, just as demand from students and producers is reaching an all-time high."
All projects awarded in this national competition include public-private partnerships and will be led by university-based Sea Grant College Programs.
NOAA Sea Grant's investment in aquaculture research, outreach, and education programs continues to produce results for coastal communities and their economies. The economic benefit of Sea Grant's investment in aquaculture in 2018 was $65 million, including sustaining or creating 841 jobs and 345 businesses. In 2019, Sea Grant has employed or partially funded 111 professionals working on aquaculture around the country to study, communicate, identify needs, or transfer research to industry members and the public.
For a full list and short descriptions of the 42 grant projects, visit the NOAA Sea Grant website.
*Total for three-year commitment, pending the availability of federal funds