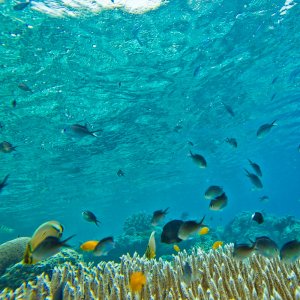 Hawai'i Sea Grant Announces 2020 Finalist for John A. Knauss Marine Policy Fellowship Program
July 24, 2019  
(Honolulu, HI) – Beth Lenz, a PhD candidate in marine biology at the University of Hawai'i at Manoa, was chosen to be one of only 69 finalists nationwide for the John A. Knauss Marine Policy Fellowship in Washington, D.C.
Since 1979, the National Sea Grant College Program has provided fellowships working in federal government offices in Washington, D.C. to over 1,300 early-career professionals. The fellows receive hands-on experience transferring marine science to policy and management through one-year appointments.
"With each year and class, we continue to be more impressed with the Sea Grant Knauss fellows. They bring fresh perspectives and experiences to the coastal and marine science and policy work happening in D.C., and they continue to raise the bar for us all," said Jonathan Pennock, National Sea Grant College Program Director. "Congratulations to the 2020 Knauss finalists!"
Lenz was selected by a competitive process that included several rounds of review at both the University of Hawai'i Sea Grant College Program (Hawai'i Sea Grant) and national level. This fall, she will travel to Washington, D.C., to interview with several executive or legislative offices, and will begin her fellowship in February 2020. She said ""I am thrilled to be selected as a Knauss finalist, representing Hawaiʻi Sea Grant and the University of Hawaiʻi. This is an incredible opportunity to expand my skills as a scientific researcher and apply that perspective to policies which influence our marine and freshwater ecosystems."
The 69 finalists represent 27 of the 34 Sea Grant programs.
Executive appointments for the 2019 Knauss fellows included placements throughout the National Oceanic and Atmospheric Administration as well as with Department of the Interior, National Science Foundation, U.S. Navy, and other agencies. Legislative placements included the Senate Committee on Environment and Public Works (Minority), the House Committee on Transportation and Infrastructure (Majority), the Senate Commerce Committee (Majority and Minority), the House Committee on Natural Resources (Minority), and several placements in both majority and minority offices.
Curious about the Knauss fellowship? The Knauss blog shares stories from the 2019 Knauss class on fellowship experiences and their journeys to D.C.
Placement of 2020 Knauss finalists as fellows is contingent on adequate funding in Fiscal Year 2020.