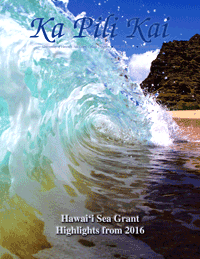 Hawai'i Sea Grant Highlights from 2016
In 1966 President Lyndon Johnson signed The National Sea Grant College and Program Act, establishing the Sea Grant Program. Today, the National Sea Grant College Program network is comprised of 33 programs based in every coastal and Great Lakes state, Puerto Rico, and Guam. These programs represent partnerships between universities and the federal government's National Oceanic and Atmospheric Administration (NOAA), allowing Sea Grant to direct federal resources to pressing problems in coastal communities.
In 2018 the University of Hawai'i Sea Grant College Program will be celebrating its 50th anniversary. Stay tuned to our Facebook and Twitter pages, or log on to our website to learn more about the ways you can celebrate this milestone with us!
1963: Dr. Athelstan Spilhaus presents the idea of "Sea Grant Colleges"
1966: President Lyndon B. Johnson signs the National Sea Grant Collegeand Program Act of 1966
1968: University of Hawai'i Sea Grant Program opens its doors
1971: The first four universities achieve Sea Grant College status: Oregon State, Rhode Island, Washington, and Texas A & M
1972: University of Hawai'i Sea Grant College Program is the 5th program to achieve college program status
Established Two New Centers of Excellence
The Center for Coastal and Climate Science and Resilience was formed to assist coastal communities throughout Hawai'i and the Pacific islands prepare for coastal storms, natural hazards, and the impacts of climate change. It brings together world-renowned university scientists and outreach professionals with government and community partners to focus on critical issues relating to the challenges faced by coastal communities. The center is directed by Dr. Mark Merrifield, professor in the University of Hawai'i at Mänoa Department of Oceanography. The Center for Integrated Science, Knowledge, and Culture works to better understand traditional knowledge and cultural practices in todays context. Integrated with current research, this knowledge and understand seeks to better inform policy and decision makers. One significant component of the center is the Institute of Hawaiian Language Research and Translation, led by Dr. Puakea Nogelmeier, a professor of Hawaiian language. The institute is an invaluable resource for anyone in the state and beyond to find and utilize historical Hawaiian knowledge. It provides professional training and prepares the next generation of translation leaders and scholars in all fields related to Hawai'i, its people, its culture, and its history. Faculty and students from any of the University of Hawai'i campuses can participate in research projects.
Helped Hawai'i Prepare for Coastal Hazards and Climate Change
Hawai'i Sea Grant received nearly $850,000 for a project titled "Building Resilience to Coastal Hazards and Climate Change in Hawai'i" through the NOAA Regional Coastal Resilience Grants Program. The three-year project aims to increase Hawai'i's resilience to coastal hazards by informing and building on ongoing planning efforts already underway throughout the state under the Hawai'i Climate Adaptation Initiative. The project will develop new tools for visualizing sea-level rise impacts and provide guidance on planning for impacts of climate change and recovery following disaster events.
Assisted Homeowners throughout the State, Region, and Nation
Dennis Hwang, Hawai'i Sea Grant extension faculty, continued his efforts to prepare communities throughout the state for risks from natural hazards by organizing and/or participating in over 20 workshops, seminars, and emergency fairs and distributing free copies of the Homeowner's Handbook to Prepare for Natural Hazards. In May 2016 he was awarded the Dr. Arthur Chiu Award for Excellence in Hurricane Preparedness for the second time, which is an award given annually by the Hawai'i Emergency Management Agency to an organization, individual or business that has demonstrated innovation or excellence in hurricane preparedness for the community.
Engaged Citizen Scientists to "Snap the Shore, See the Future"
"King tides" are the highest predicted tides that occur only a few times per year and give us a glimpse of what our coasts may look like in the future. In 2016 Hawai'i Sea Grant became a regional project lead under an international king tides project, which records extreme high tides on a global scale. To date, citizen scientists from across the Hawaiian Islands have submitted over 300 photos of their local shorelines during king tides. These photos populate a free, publicly accessible database that provides a critical resource for researchers, policy makers, and community members.
Coordinated Beach Management in Top Tourist Destination
In partnership with the newly formed Waikïkï Beach Special Improvement District Association (WBSIDA), Dolan Eversole took on expanded duties as the Waikïkï Beach Management Coordinator. This new Hawai'i Sea Grant extension position involves traditional extension and project management duties specific to Waikïkï Beach management and maintenance, and technical support and stakeholder engagement through the WBSIDA for beach management and improvements.
Convened Green Stormwater Infrastructure Summit
Stormwater runoff, the number one source of pollution in the state of Hawai'i, occurs when rainwater flows over compact ground and other hard surfaces into streams, ponds, storm drains, and the sea. Anything that enters the stormwater drainage system flows untreated directly into a stream or the ocean and impacts nearshore environments. Matthew Gonser, an extension agent with Hawai'i Sea Grant who focuses on community planning and design, convened a one-day summit which brought together over 150 local and national experts to develop collaborative solutions with a specific focus on water quality and quantity.
Promoted Stewardship and Education at Hanauma Bay
The E Mālama Hanauma Program at the Hanauma Bay Education Program (HBEP) has become increasingly popular as schools and communities take an interest in being good stewards of the coastal areas. The Puri-Tee system, and its smaller counterpart the Mini Puri-Tee system, were created in part by HBEP's assistant volunteer coordinator to educate the public about the microplastic debris plaguing the Hanauma Bay Nature Preserve. In 2016 over one thousand participants of all ages helped to filter out increasing amounts of small plastics in the sand and in the reef.
Academic Journal Featured Student Architecture Project
Kristoffer Jugueta's creative work was one of twenty undergraduate student projects featured in the inaugural issue of Mānoa Horizons, a peer-reviewed academic journal that showcases high-quality research, creativity, and innovation produced by undergraduate students at the University of Hawai'i at Mānoa (UH Mānoa). He was tasked with conceptually designing both environmentally friendly architecture and urban landscape at Kewalo Basin in Honolulu during a design studio taught by Wendy Meguro, an assistant professor of architecture and Sea Grant coastal sustainability faculty.
Built Living Laboratories for University Campus
Eileen Peppard, a sustainability specialist with Hawai'i Sea Grant, has collaborated since 2010 with UH Mānoa's Hawai'i Natural Energy Institute on energy efficiency and computer modeling of buildings. Through this partnership, two new 1400-square-foot net-zero buildings were developed for UH Mānoa's College of Education: a groundbreaking project where the buildings produce as much electricity from photovoltaics (PV) as they consume. The efficient, smart building design includes: daylighting integrated with photo-controlled LEDs, natural ventilation, high performance windows and climate controlled ceiling fans, optional air conditioning, PV panels, and a very smart building digital control system. In addition to reducing costs, the buildings are learning labs for students and university planners.
Maui Hosted Peter J. Rappa Sustainable Development Fellow
The University of Hawai'i Sea Grant College Program (Hawai'i Sea Grant) and Maui County partnered to host Lea Sabbag, one of three fellows selected for the annual summer Peter J. Rappa Sustainable Coastal Development Fellowship. Sabbag's fellowship was a final requirement toward completion of her master's degree in urban and regional planning from the University of North Carolina at Chapel Hill. With her extensive knowledge and experience in disaster recovery planning, Sabbag supported Hawai'i Sea Grant and Maui County by conducting research to strengthen the disaster recovery process in Hawai'i. Expanding on previous work on Maui to develop disaster rebuilding guidelines, Sabbag and Tara Owens, Hawai'i Sea Grant's coastal processes extension agent based on Maui, authored a white paper to share the results of this effort.
Hawai'i Sea Grant Helped Maui County Provide Emergency Coastal Erosion Response
Large and persistent swells over the 2015-2016 winter associated with El Niño conditions caused extensive beach erosion all around Maui, particularly in the West Maui region. In this area, beach and land loss critically impacted several properties. Additionally, higher than normal tides since contributed to additional stress on beach systems with already reduced beach width and volume. Tara Owens provided Maui County shoreline planners direct support throughout the impactful winter and spring seasons. Through a long-standing partnership with the County, Hawai'i Sea Grant contributes to site inspections and assessments, provides input on site specific erosion control options, property owner and stakeholder outreach and coordination, and coordination with other permitting agencies to pursue appropriate long-term solutions.
Maui County Convened Shoreline Hazard Planning Workshop
With support from Hawai'i Sea Grant, Maui County convened a workshop in 2016 focused on shoreline hazards, sea-level rise, and adaptation opportunities. The workshop targeted county department and division supervisors as well as staff from the planning department. University of Hawai'i at Mānoa (UH Mānoa) professor, Dr. Charles (Chip) Fletcher, was invited to provide the latest climate science updates as well as recent UH Mänoa coastal modeling research and results. This was followed by a presentation by Tara Owens to show recent coastal hazard impacts and adaptation strategies. The workshop concluded with a strategic exploration of future shoreline hazard planning and adaptation.
Produced Waiwai Video Collection
Pelika Andrade, a Hawai'i Sea Grant extension agent based on Hawai'i Island, expanded on her previous work on Na Kilo 'Āina, Kukai Laulaha International Exchange, and the Huli'ia Observational Tool by producing a collection of videos and a book through a NOAA Fisheries Pacific Islands Regional Office grant. The collection, titled Waiwai: Wealth in Diversity, sought to support a network of community leaders who are empowered with knowledge and actively engaged in the stewardship, conservation, and perpetuation of our precious coastal and marine resources. The collection highlights programs that advocate for the wealth found in the diversity of knowledge, experience, and perspective and the utilization of diversity to understand and address health and well-being within our communities of people and place.
Preventing erosion on the Banks of Wai'ula'ula Stream
High performance turf reinforcement matting has been installed on the banks of Wai'ula'ula Stream in Waimea on Hawai'i Island to stop erosion and allow native plants to establish. Since this is the first time this type of matting has been used on steep stream banks in Hawai'i, Lisa Ferentinos, a Hawai'i Sea Grant extension agent, is monitoring performance of the mat and growth of the plants. Plans are underway to install coir (coconut fiber) logs and erosion matting on other eroding stretches of the stream to compare the performance of various designs. A raingarden is also being installed to filter runoff from a shopping center parking lot that currently drains into the stream.
Protecting Hawai'i Island Residents from Rat Lungworm
Preventing infections from rat lungworm is a new concern for the estimated 60,000 Hawai'i residents without access to a municipal water supply. Ferentinos produced a straightforward flyer explaining how to reduce the risk of rat lungworm by controlling slugs and snails around rainwater catchment systems, and is also working with the Big Island Invasive Species Committee to provide additional informa­­­tion on how to reduce risks to catchment users.
Helped to Update Kaua'i County General Plan
Following the successful publication of the "Kaua'i Climate Change and Coastal Hazards Assessment" in 2014, Ruby Pap has been a key member of the Kaua'i County Long Range Planning Division's 2035 General Plan (GP) update team. To assist in the implementation of certain plan recommendations she held design charrettes, which are workshops where community groups, developers, and other stakeholders meet to discuss the important issues and identify top priorities and solutions. On November 3, 2016, the draft 2035 GP was released to the public, a major milestone for the planning department.
Produced Award-Winning Television Show
Voice of the Sea is a 30-minute TV show that shares stories of scientific, environmental, and cultural work in local contexts and is produced by Kanesa Duncan Seraphin, director of Hawai'i Sea Grant's Center for Marine Science Education. In each episode, Voice of the Sea profiles cultural experts and science researchers to enrich viewers' understanding of who these people are and what they do. It launched in January 2014 and airs in Hawai'i on Sunday nights at 6 p.m. on KFVE (channels 5 and 1005) where it is averaging 10,000 viewers (per Nielsen Ratings). 19 new episodes are broadcast each year, profiling scientists and other professionals in Science, Technology, Engineering and Mathematics (STEM) careers. The series won 11 national Telly Awards since 2014 and is now in its third season (2016) on KFVE. Voice of the Sea expanded its broadcast to U.S. territories and affiliated Pacific regions and now airs in Guam, American Samoa, and in Palau and the Federated States of Micronesia.
Engaged Students in Coastal Monitoring Program
At the base of the watershed, the intertidal environment is affected by everything that happens upstream, from pollution to development. Our Project In Hawai'i's Intertidal (OPIHI) began as a citizen-science program, in the early 2000s, for secondary school students to monitor rocky intertidal areas in Hawai'i. The program, named after a culturally important limpet (Cellana spp.), was formed in an effort to describe ecological patterns, inform conservation efforts, and engage students in science. The overarching goals of OPIHI are to document, monitor, and assess changes in species compositions that may be due to factors such as climate change and coastal development, including the spread of invasive species.
Federated states of Micronesia
Supported New Aquaculture Industry
Simon Ellis, Hawai'i Sea Grant extension faculty based in Pohnpei, Federated States of Micronesia, provides outreach on sustainable aquaculture through his role as director of the Marine and Environmental Research Institute. He focuses on teaching and supporting local farmers in farming of sponges for the bath and beauty industry, and coral and giant clams for the marine ornamental trade, both of which are sustainable and low impact.
Republic of the Marshall Islands
Translated Popular Handbook into Marshallese Language
In 2015 a version of the popular Homeowner's Handbook to Prepare for Natural Hazards was developed for the Marshall Islands, taking into account the specific issues and challenges facing communities in these small islands. In 2016 the handbook was translated into Marshallese to make it even more useful to the local community. It provides critical information regarding readiness for natural hazards and is divided into four parts. Part 1 presents the purpose and layout of the handbook, includes a discussion of common myths, and outlines 10 action items. Part 2 provides basic information on tropical cyclones, tsunamis, extratropical storms, King Tides, floods, sea-level rise, erosion, and drought. Part 3 discusses in detail the essential emergency supplies, evacuation kit, evacuation planning, evacuation procedures. Part 4 covers how homeowner's can protect their property and provides specific examples.
Territory of American Samoa
Partnered with the SEA Semester Program
The Sea Education Association (SEA) Semester runs environmental studies in Woods Hole, MA and at sea, and for the past three summers has been in-port for six weeks in Pago Pago with its 350-ton brigantine SSV Robert C. Seamans. Kelley Anderson Tagarino, Hawai'i Sea Grant extension agent based in American Samoa, organized day sails and tours to give students the opportunity to experience the ship and life at sea. Tagarino and one of her marine science students also had the opportunity to sail to Rangiroa, Karorina/Caroline Atoll, Kiritimati Atoll (Christmas Island), and in Kitibati on a month-long Pacific Reef Expedition voyage where she taught rapid reef survey techniques. In addition to surveying the reef impacts of the strongest El Niño on record, the voyage also collected blue water data along the cruise track to understand how the El Niño impacted currents, upwelling, and plankton diversity and distribution.
Helped to Coordinate Upcoming Okeanos Mission
In partnership with the American Samoa Community College and the National Marine Sanctuary of American Samoa, Tagarino is helping to coordinate the Okeanos planning team and the upcoming visit from the NOAA R/V Okeanos Explorer. This NOAA ship is the only federally funded U.S. ship assigned to explore the ocean for the purpose of discovery and the advancement of knowledge. The American Samoa mission is scheduled for early 2017 and will investigate and document the diversity and distribution of deepwater environments, including many undocumented seamounts. In addition, the Okeanos mission will benefit the American Samoan Community College students by offering internships as well as multiple telepresence viewings.
Continued to Build Local Capacity in Coral Reef Surveying
For over five years Hawai'i Sea Grant and the American Samoa Community College have co-hosted a coral reef surveying course called Quantitative Underwater Ecological Survey Techniques (QUEST). Modeled after the highly successful UH QUEST program, the American Samoa QUEST program provides a one-week intensive training course during spring break that uses background lectures and in-water survey experiences to explore coral and other invertebrates, algae, and fish survey techniques.