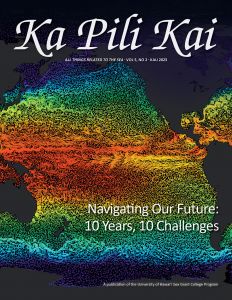 Click on the cover image to view the full issue.
On the Cover
Welcome to our latest issue, dedicated to the United Nations Decade of Ocean Science for Sustainable Development. Through this initiative, the world's attention is focused on the vital importance of the ocean, its immense biodiversity, and the need for its conservation and sustainable use. We invite you along on our journey, raising awareness, inspiring action, and championing ocean conservation to forge a sustainable, resilient future.
Together, we must include knowledge forms from across cultures to ensure the UN Ocean Decade becomes a transformative moment in history. As Pelika Andrade, our colleague, says: "We are invested in a growing collaboration between both Indigenous and western knowledge systems, both relevant and valuable in our journeys to ʻĀina momona, thriving and productive communities. As we find the courage to act, provisioned with tools, instructions, innovation, and faith, let's remember to vision towards a future and not against a past."
Darren T. Lerner, PhD
Director, Hawai'i Sea Grant
***
Aloha mai kākou, e nā hoa heluhelu. Ma kēia helu o Ka Pili Kai, hoʻohanohano ʻia ka United Nations Decade of Ocean Science for Sustainable Development. ʻO ka manaʻo nui o ia kūkala, ʻo ia nō ka hōʻike ʻana i ka waiwai nui o ka moana, nā iʻa like ʻole, a me ke koʻikoʻi a me ka pono o ka hoʻomalu moana. Ke kono nei mākou i ka lehulehu e huakaʻi pū, e hoʻolaha aku i kēia ʻike, a e paipai i ka hoihoi e hoʻomau i nā hana e pono ai ka moana no ka pōmaikaʻi o nā hanauna o kēia mua aku.
Aia ka pono ʻo ko kākou hoʻokomo pū ʻana i ka ʻike o nā lāhui like ʻole i paʻa ke kahua o ia UN Ocean Decade. Penei ka ʻōlelo a ko kākou hoa, ʻo Pelika Andrade, "Ke kākoʻo nei kākou i nā hana kūpono e momona ai ka ʻāina me ka ʻike o nā lāhui ʻōiwi a me nā lāhui ʻē aʻe. I ko kākou ʻimi hoʻonaʻauao me ka manaʻoʻiʻo, ka wiwoʻole, a me nā lako kūpono, e hoʻomanaʻo kākou, mai kaukaʻi kākou i ka manaʻo kūʻē o ka wā i hala, akā, e nānā kākou i ka wā hou e hiki mai ana.
Translated by Alyssa Anderson, PhD
Postdoctoral Fellow,  Pacific Islands Climate Adaptation Science Center
Click here to view the full issue.