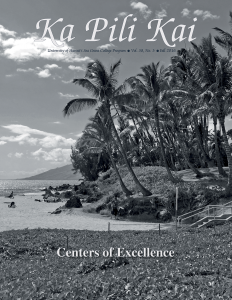 University of Hawai'i Sea Grant College Program Centers of Excellence
To address the needs, challenges, and opportunities of coastal communities and further the goals of the NOAA National Sea Grant College Program, the University of Hawai'i Sea Grant College Program (Hawai'i Sea Grant) has established five centers of excellence to facilitate the delivery of research, education, and extension services. The primary role of each center is to foster the development of robust, resilient, economically and socially inclusive and vibrant coastal communities that function within and sustain their coastal habitats and ecosystems. Each center is challenged to aggressively promote research, education, and extension in its particular focus area.
Hawai'i Sea Grant Centers of Excellence include:
Center for Coastal and Climate Science and Resilience
Center for Marine Science Education
Institute for Hawaiian Language Research and Translation
Center for Smart Building and Community Design
Center for Sustainable Coastal Tourism
Because the centers are interdisciplinary, they provide a vehicle for building connections throughout the university and engaging the best and brightest minds available to address the critical issues facing coastal communities. Hawai'i Sea Grant centers have successfully attracted faculty participation from the Schools of Architecture and Travel Industry Management, Hawai'inuiākea School of Hawaiian Knowledge, the Colleges of Business and Education, and the Departments of Urban and Regional Planning, Geography, Economics, Oceanography, and Geology and Geophysics. Hawai'i Sea Grant researchers and extension agents working through the centers have been able to significantly expand their project efforts through increased collaboration with the multidisciplinary center faculty.
The centers are also playing an increasing role in helping to define the Hawai'i Sea Grant research agenda. Because they are involved with projects that directly affect or impact the coastal community, they are keenly aware of knowledge gaps that exist and need to be addressed to help stakeholders. Synergistically, the centers have also been very effective in helping to disseminate research results to the community at large.
Each center has opened up many fruitful opportunities that are made possible by their composition. In this issue, you will be introduced to many of the fascinating projects the centers are leading which involve the university community, the private sector, federal, state, and local governments, non-governmental organizations, and private citizens. For instance, you will learn about how the University of Hawai'i administration has turned to the Center for Smart Building and Community Design for help in addressing major energy issues confronting the university; Hawai'i state tourism officials and tourism industry leaders have turned to the Center for Sustainable Coastal Tourism to help in developing and implementing a beach management plan for Waikīkī; and private landowners, coastal developers, and the state of Hawai'i are benefitting from an examination of the ramifications of climate change impacts by the Center for Coastal and Climate Science and Resilience. For more information on any of the centers or additional details on the projects included in this issue, please visit: http://seagrant.soest.hawaii.edu.
The core mission of the new Center for Coastal and Climate Science and Resilience (CCSR) is to support collaborative and interdisciplinary coastal and climate research, education, and outreach in the service of communities and decision-makers to understand and address impacts of coastal hazards, climate change, and sea-level rise in Hawai'i and the Pacific. University of Hawai'i (UH) researchers and the University of Hawai'i Sea Grant College Program (Hawai'i Sea Grant) extension faculty working through the CCSR are able to significantly expand project impacts and outcomes through increased collaboration and involvement of multidisciplinary center faculty. The CCSR engages a broad range of regional stakeholders involved in coastal community resilience and coastal ecosystem management to inform the CCSR's research agenda and improve sustainable management of public coastal resources and shoreline land use.
As the only island state in the nation, Hawai'i is exposed to unique coastal hazards including shoreline erosion and coastal flooding, which are increasing in frequency and severity with climate change and sea-level rise. These hazards are worsened by the way we have developed our coasts, which are often too close to shorelines prone to erosion and flooding. Hawai'i is not alone in facing these threats. Hawai'i shares these vulnerabilities and challenges with islands throughout the Pacific, making the University of Hawai'i at Mānoa (UH Mānoa) and the CCSR an ideal hub for coastal and climate science in the region.
Hawai'i Sea Grant extension faculty have decades of combined experience in coastal science and hazards management. Many of the extension faculty with the CCSR are located in local government offices tasked with coastal management on Kaua'i, O'ahu, and Maui, providing an ideal bridge between the university and decision makers. Through these established links, we are informing new policies with the best available science, and helping to guide the research agenda for CCSR partners at UH.
The CCSR aims to achieve its core mission through several goals: 1. Coastal communities in Hawai'i and the Pacific will be more resilient to hazards such as coastal erosion and wave inundation, which will become more severe with changing climate and sea-level rise; 2. Government plans and policies will be more effective at conserving coastal ecosystems and mitigating coastal hazards by integrating decision making based on the best and most current science; and 3. Critical coastal habitats, ecosystems, and public resources will be conserved and restored for the next generation. The goals and vision of the new CCSR are being further refined through a series of planning retreats with key university and government partners.
The concept of a CCSR had been discussed for several years. The launch of the new center in 2016 capitalizes on a number of new and ongoing projects led by Hawai'i Sea Grant and closely related to the center's core mission and goals:
Hawai'i Sea Grant has partnered with NOAA to manage the Hawai'i Islands Sentinel Site Cooperative to improve understanding, long-range planning, preparedness, and adaptation to climate impacts at several "sentinel" coastal sites in Hawai'i, with a particular emphasis on sea-level rise and coastal inundation impacts.
In an effort led by CCSR program manager Dr. Brad Romine, Hawai'i Sea Grant received $850,000 through the NOAA Regional Coastal Resilience Grants Program for a project titled "Building Resilience to Coastal Hazards and Climate Change in Hawai'i." The NOAA-funded project builds on ongoing work by the State of Hawai'i and Department of Land and Natural Resources (DLNR) to produce a statewide Sea-Level Rise Vulnerability and Adaptation report, which Romine is informing and advising through his extension work with the DLNR.
Hawai'i Sea Grant now administers and manages the Pacific Islands Climate Science Center (PI-CSC), one of eight regional centers established by the U.S. Department of the Interior to provide the best available climate science to cultural and natural resource managers. The consortium is led by UH Mänoa and includes UH Hilo and the University of Guam.
About the Director
The Center for Coastal and Climate Science and Resilience is led by Dr. Mark Merrifield, director of the Joint Institute for Marine and Atmospheric Research (JIMAR) and the Hawai'i Sea Level Center (UHSLC), and professor of oceanography at the University of Hawai'i at Mānoa.
Merrifield received his doctorate in oceanography from the Scripps Institute of Oceanography at the University of California, San Diego. His recent research has focused on sea level variability, tide generation, beach processes, and ocean wave dynamics. As director of JIMAR, he leads a broad team of scientists working on ecosystem forecasting, monitoring, and management, protection and restoration of resources, equatorial oceanography, climate research and impacts, tropical meteorology, and tsunami and ocean waves. The UHSLC coordinates a global network of tide gauge stations to monitor global sea level changes and provide tsunami warnings, and analyzes and distributes sea level data to meet a range of end-user needs.
The University of Hawai'i Sea Grant College Program (Hawai'i Sea Grant) Center of Excellence in Marine Science Education (CMSE) is dedicated to building partnerships that enhance marine science education at all levels (kindergarten through graduate school and the public community) in order to foster understanding of the natural world and the role of humans in it.
Ocean and aquatic sciences are among the most underrepresented disciplines in K – 12 curricula. Even in Hawai'i, where the ocean is a daily part of life and traditional Hawaiian knowledge practices recognize the need to protect the connection between the land and sea, ocean knowledge is rarely connected to school learning. The CMSE is a place that scientists and educators look to for ideas and support, acting as both a repository and a point of initiation for new projects to bridge the gap between daily life, culture, ocean science research, and education. The goal of CMSE is to facilitate partnerships and connections between scientists, teachers, students, and life-long learners, enhancing understanding and appreciation of the marine environment.
Voice of the Sea
Voice of the Sea is a 30-minute TV show that shares stories of scientific, environmental, and cultural work in local contexts. In each episode, Voice of the Sea profiles cultural experts and science researchers to enrich viewers' understanding of who these people are and what they do. It launched in January 2014 and airs in Hawai'i on Sunday nights at 6:00 p.m. on KFVE (channels 5 and 1005) where it is averaging 10,000 viewers (per Nielsen Ratings). Nineteen new episodes are broadcast each year, profiling scientists and other professionals in science, technology, engineering and mathematics (STEM) careers. The series won 11 national Telly Awards since 2014 and is now in its third season (2016) on KFVE. Voice of the Sea expanded its broadcast to U.S. territories and affiliated Pacific regions and now airs in Guam, American Samoa, and in Palau and the Federated States of Micronesia.
Exploring Our Fluid Earth
Aquatic sciences have historically been among the most underrepresented disciplines in K – 12 standards. To address this need, Hawai'i Sea Grant's CMSE partnered with NOAA and the College of Education's Curriculum Research & Development Group (CRDG) to develop a middle and high school level, science-based online curriculum in coastal and ocean science. Exploring Our Fluid Earth comprises the essential elements of a year-long course in marine science and is organized into a series of related lessons that build conceptual understanding in four content modules: physics, chemistry, biology, and ecology. The teacher community provides a hub for educators to interact and share resources. (exploringourfluidearth.org)
Teaching Science as Inquiry
Teaching Science as Inquiry (TSI) is a supportive, skills- and content-based professional development model that builds inquiry into teachers' existing professional practice through gradual and sustained implementation of skills within the classroom. Originally developed at CRDG, TSI emphasizes the flexible and collaborative nature of scientific inquiry and guides teachers to help students recognize the dynamic aspects of the nature of science. The overall intent of TSI is to enable teachers to create classrooms that function as a community of scientists — where students learn science by engaging in the practice of science.
Our Project in Hawai'i's Intertidal (OPIHI)
At the base of the watershed, the intertidal environment is affected by everything that happens upstream, from pollution to development. Our Project In Hawai'i's Intertidal (OPIHI) began as a citizen-science program in the early 2000s for secondary school students to monitor rocky intertidal areas in Hawai'i. The program, named after a culturally important limpet (Cellana spp.), was formed in an effort to describe ecological patterns, inform conservation efforts, and engage students in science. The overarching goals of OPIHI are to document, monitor, and assess changes in species compositions that may be due to factors such as climate change and coastal development, including the spread of invasive species.
seaHaromny
seaHarmony (seaharmony.org) is the online collaboration network connecting ocean scientists interested in outreach activities and educators and organizations who want to bring science to their students and communities. The goal of seaHarmony is to: help ocean science professionals develop broader impacts and collaborations; improve ocean literacy, public understanding, and decision making by connecting scientists, educators, cultural practitioners, artists, and resource managers in successful partnerships; and enhance interest in ocean science career pathways by facilitating interaction of scientists with educators in a variety of career pathways. seaHarmony can help you to learn about successful past and current ocean science collaborations connecting scientists and educators/organizations to gain ideas for your own projects.
About the Director
The Center for Marine Science Education is led by Dr. Kanesa Duncan Seraphin, Hawai'i Sea Grant affiliate faculty and professor at the Curriculum Research & Development Group (CRDG) in the UH College of Education. Dr. Seraphin is an educator of K-12 students, K – 12 teachers, university students and the public. Her science research background is in zoology, specifically population genetics, and ecology. She is also a credentialed K – 12 educator with the State of Hawai'i and an experienced curriculum developer.
Dr. Seraphin is also producer and host of the Voice of the Sea TV show, PI of the Exploring Our Fluid Earth curriculum project, PI and Co-PI of the OPIHI citizen science education and research projects, Co-PI on the National Science Foundation's Center for Ocean Science Education Excellence (COSEE) that developed seaHarmony, an elected board member of the National Marine Educators Association, and an active member of the local and national marine science education community.
In January 2004, the University of Hawai'i Sea Grant College Program (Hawai'i Sea Grant) and the School of Architecture created the Center for Smart Building and Community Design (CSBCD). This unique partnership combines design and planning with the natural and social sciences to address issues related to buildings and urbanization, and their impacts on the natural and human environments. The core mission of CSBCD is to encourage vibrant, sustainable coastal communities that reduce environmental footprints and exemplify restorative pathways in building design and community development. Pursuant to this mission, CSBCD seeks to consolidate partnerships and focus university expertise, resources, and networks to assist stakeholders in demonstrating long-term solutions.
Net-Zero Buildings — Living Laboratories for the Campus
Eileen Peppard, a sustainability specialist with Hawai'i Sea Grant, has been leading groups of architecture, electrical engineering, computer science, and planning students on several critical projects to measure grid performance on Maui, and monitoring building energy performance on campus and on military bases. She has collaborated with the University of Hawai'i at Mānoa's (UH Mānoa) Hawai'i Natural Energy Institute on energy efficiency and computer modeling of buildings since 2010. The Hawai'i Natural Energy Institute and CSBCD have partnered to bring an unprecedented project to the university's main campus — two new net-zero classroom buildings for UH Mānoa's College of Education. The "Project FROG" buildings (which stands for Flexible Response to Ongoing Growth) are two, 1400-square-foot modular buildings designed for energy efficiency and comfort. These are net-zero energy classrooms, meaning they will produce as much electricity, from photovoltaics (PV), as they consume. The efficient, smart building design includes: daylighting integrated with photo-controlled LEDs, natural ventilation, high-performance windows and climate controlled ceiling fans, optional air conditioning, PV panels, and a very smart building digital control system. The buildings are learning labs for students and university planners. Energy "dashboards" in each display real-time energy performance of the building, and Peppard's monitoring team collects and analyzes the data. This project exemplifies CSBCD's mission of building partnerships to advance energy solutions for the state of Hawai'i.
Green Stormwater Infrastructure Education
In August 2016, Matthew Gonser, Hawai'i Sea Grant's community planning and design extension agent, organized and hosted the Green Stormwater Infrastructure Summit "Advancing Practice and Policy for Green Communities." It was an unprecedented success that was attended by over 150 state decision-makers, practitioners, and experts from around the country. Gonser has also developed a series of educational web resources for green infrastructure for stormwater management, created a low impact development atlas, and provided data for a smartphone application that gives instructions on installing a rain garden. Gonser's successful focus has been promoting stormwater management education.
Hawai'i's ocean users lament the time following medium to heavy rains across the islands and the subsequent "brown water advisories" recommending against entering the water for a day or two (or three!). These advisories are the consequence of rainwater runoff, or stormwater, which is the result of rainwater flowing over compact earth and impervious surfaces into streams, storm drains, and the sea, and has been cited as the number one source of pollution in the state of Hawai'i. Hawai'i's stormwater pipes are separate from waste sewer pipes, and as a result, anything that enters the stormwater drainage system flows — untreated — directly to a stream or the ocean, impacting water quality and nearshore environments.
Practices and techniques to manage and utilize this water resource before it enters the stormwater pipe system include low impact development (LID) and green stormwater infrastructure (GSI) practices, rainwater catchment, and a multitude of building and plumbing techniques for water capture, recycling, and reuse. In addition to the regulation of stormwater management at the parcel and building scale (e.g., infiltration, green/blue roofs, cisterns/rain barrels, rainwater and gray water reuse), there are opportunities for interventions within the public right-of-way (e.g., biofiltration, street trees and urban forestry, flow-through planters, and permeable surfaces). This can result in multiple benefits, including aesthetics, urban ecological systems, and enhanced environmental conditions for walking and bicycling, and these strategies are becoming increasingly required by regulations and plans.
About the Director
The Center Smart Building and Community Design is led by Dr. Stephen Meder, who also serves as the director of the Environmental Research and Design Lab at the School of Architecture. He has recently returned to his faculty position at the School of Architecture after serving five years as the assistant vice chancellor for physical, environmental, and long range planning for the Office of Planning and Facilities at the University of Hawai'i, Mānoa. He is a principal author of the award winning U.S. Department of Energy publication Field Guide for Energy Performance, Comfort, and Value in Hawai'i Homes. Meder's research on sustainable development, particularly solar design and high performance buildings, has been internationally recognized.
The University of Hawai'i Sea Grant Center for Sustainable Coastal Tourism (CSCT), established in 2009, is a collaboration between the University of Hawai'i at Mānoa's School of Ocean and Earth Science and Technology (SOEST), the College of Social Sciences (CSS), the School of Travel Industry Management (TIM), the Hawai'inuiäkea School of Hawaiian Knowledge, and the School of Architecture. In partnership with local businesses, government, and the community, the CSCT conducts research, education, and outreach activities on sustainable coastal tourism in Hawai'i and various economic, cultural, and environmental impacts of the visitor sector. The primary focus is to conduct science, economic, and policy extension and outreach efforts that: 1) improve the quality of Hawai'i's natural environment, 2) maintain habitats and ecosystems, and 3) reduce energy and water resources needed to support the tourism sector, resulting in positive impacts for the state economy and the quality of life for its residents.
The CSCT acknowledges tourism as a central driver of the economy in Hawai'i, but the intimate relationship between the Hawai'i economy and tourism depends on a healthy and sustainable coastal ecosystem. There is an inseparable link between the environment and the economy. Indeed, it is the diverse and unique ecosystems of the Hawaiian Islands that inspire so many visitors to the region. As such, improving the quality of the environment, restoring habitats and ecosystems, and reducing the energy and water needed to support tourism will result in positive impacts on Hawai'i's economy.
The CSCT collaborates with the tourism industry to promote sustainability of our natural resources, healthy coastal ecosystems, and respect for the unique indigenous and multicultural fabric of our society. It strives to be a portal whereby tourism research is extended to serve Hawai'i communities. It provides a learning network and serves as a repository for tourism data, research, and collaboration. Recognizing that this could not be achieved without the input from a multitude of professionals with divergent backgrounds and expertise, both within and outside the walls of the university, Hawai'i Sea Grant established collaborative partnerships within the University of Hawai'i such as CSS and TIM, and key leaders in the tourism industry such as the Waikïkï Beach Special Improvement District Association and the Waikïkï Improvement Association. These experts bring a distinguished record of scholarship and service on the environmental, economic, and societal aspects of Hawai'i tourism, and guide the mission and goals of the CSCT to ensure it meets the changing and evolving needs of the community.
Waikīkī Beach Management Plan and Coordinator
The CSCT has formed a partnership with the Waikīkī Beach Special Improvement District Association to support a beach management coordinator and plan for Waikīkī Beach. The goal of the Waikīkī Beach management plan is to develop a long-term vision for a sustainable and stable beach system in Waikīkī, and to ensure that the plan reflects the vision and priorities of the local stakeholders. The plan applies innovative coastal, scientific, engineering, and practical knowledge to the challenges of beach management at Waikīkī Beach, and considers the protection and improvement of coastal resources alongside its unique economic, cultural, and historical concerns. In addition, the plan and its implementation provide a template for improved management in other coastal areas in Hawai'i and throughout the Pacific.
In the longer-term, a Waikīkī Beach management plan coordinator position has been created to help implement the plan goals and facilitate recommendations. The coordinator functions as a catalyst for improvements and advancements in Waikīkī including coastal hazard mitigation, beach management, and coastal policy.
Economic Impact Analysis of Waikīkī Beach Management strategies
How much is Waikīkī Beach worth to Hawai'i's economy? Though the value of the beach is considered to be substantial, few studies have addressed this question with quantitative assessments. A 2008 report by Hospitality Advisors (HA) is an exception, providing an oft-cited value estimate of nearly 2.0 billion (2007 U.S. dollars) in overall visitor expenditures annually that could be lost due to the complete erosion of Waikīkī Beach. The first goal of the proposed research is to update the estimates in the 2008 HA report to reflect the subsequent changes in the economic environment to date by applying publicly available data on Hawai'i's tourism and economy.
New Dune Walkover for Maui's Kama'ole III Beach Park
Healthy sand dunes are important to protect shorelines from seasonal erosion and to provide habitats for plants and animals. One important method of avoiding degradation of the dune is to provide designated pathways for access to the beach. Thus, Hawai'i Sea Grant worked with a cadre of South Maui volunteers to build a new elevated dune walkover at Maui's Kama'ole III County Beach Park. The walkway was built entirely with volunteer labor and support, and other similar dune walkovers will be planned as needed in the future.
About the Director
Dr. Denise Eby Konan is founding director of the Center for Sustainable Coastal Tourism. She is the dean of the College of Social Sciences and professor of economics at the University of Hawai'i at Mānoa. As dean, she provides leadership to twelve academic departments that deliver nearly a fifth of the degrees offered on campus. Dr. Konan served for two years as the interim chancellor and for three years as the assistant vice chancellor of UHM. Dr. Konan is a research fellow at the University of Hawai'i Economic Research Organization (UHERO). She was the senior advisor on APEC 2011 for the University of Hawai'i System. Dr. Konan also serves as the academic lead for the university's Daniel K. Inouye (DKI) Democratic Leadership Program. An award winning teacher, she is a leadership fellow with Science Education for New Civic Engagement and Responsibility (SENCER) under which Hawai'i was recognized as a SENCER Model State in 2015. She received her undergraduate degree from Goshen College and her doctorate from the University of Colorado.
Mahi 'Ike Hawai'i: Cultivating Hawaiian Knowledge, is the motto of the Institute of Hawaiian Language Research and Translation (IHLRT). It reflects that we are training hands for tilling the fields of knowledge and harvesting information, not simply mining the data.
The Institute of Hawaiian Language Research and Translation is a systemwide research unit at the University of Hawai'i that provides for collaborations between emerging Hawaiian language scholars and scientists and researchers in all fields within and beyond the university system. By engaging and training a new generation of language scholars to research and translate historical material, IHLRT connects the huge corpus of historical accounts and information printed in the Hawaiian language newspapers to fields of scholarship that never realized it existed, and had no point of entry.
Ka 'Ōkupu 'Ana: Our Beginnings
The concept of the institute started with small projects in 2004. In his spare time, Dr. Nogelmeier led a small circle of researchers and translators to provide the University of Hawai'i Sea Grant College Program (Hawai'i Sea Grant) with a sequence of historical articles about regional fisheries and ocean-related practices, expanding the library of reference for researchers and policymakers. The resource gained recognition, and in 2009, the Joint Institute for Marine and Atmospheric Research (JIMAR) funded research on historical weather events. Four thousand articles were culled, including some which helped document historical Hawai'i Island hurricanes, effectively derailing proposals for legislative dismissal of hurricane insurance and building codes for that island. To highlight the relevance of that data, when Hurricanes Iselle, Madeline, and Lester struck, communities were still covered by insurance. The information collected through these two efforts was then embraced by the College of Education and incorporated into a new science, technology, engineering and math (STEM) curriculum and teacher-training program, Kahua A'o, which continues to expand. The collective force and scholarly interest generated in the course of these projects was the impetus to establish an institute at the University of Hawai'i.
With approval and initial funds in 2015 from David Lassner, the University of Hawai'i president, IHLRT aims to continue the research and translation work that reconnects Hawai'i's archival resources to today. Initial funding for IHLRT was provided by UH President Lassner, former Interim Mānoa Chancellor Bley-Vroman, and Vice Chancellor for Research Bruno, collaborative grant projects with Hawai'i Sea Grant and JIMAR, and support from Hawai'inuiäkea School of Hawaiian Knowledge.
The establishment of IHLRT comes at a critical time. A new wealth of historical knowledge has become available when most of the native-speaking elders have passed, and the language leaders they mentored are now elders themselves. Few speakers of Hawaiian today are familiar with the language of the past and the historical record it contains. With a growing scholarly demand for access to the recently digitized Hawaiian language resources from the 19th and early 20th centuries, IHLRT provides valuable information for various fields of study and at the same time familiarizes proficient students with language and customs of the past. Reopening this archive fuels Hawaiian language revitalization with a cadre of new scholars and "new" language and vocabulary retrieved from the past.
Ka Mahi 'Ana: Our Work
IHLRT's primary focus is to provide research and translation to field-specific, sponsored research projects. Expert language faculty and students engaged by the institute work in tandem to enable and expedite academic, community, and individual access to a valuable Hawaiian language archive – a wealth of social, cultural and historical information regarding Hawai'i. IHLRT intends to expand services and build partnerships that will facilitate smaller-scale newspaper research and translation projects, provide document translations from Hawaiian to English, and generate contemporary translations from English to Hawaiian.
IHLRT is currently providing historical information for three different projects with Hawai'i Sea Grant and JIMAR. The staff is initiating work on projects in Shakespearean literature, recreation practices, and is also laying the groundwork for participation in a long-term project, 'Ike Wai, focusing on water sustainability.
Ke Po'o: About the Director
Dr. Puakea Nogelmeier, the founder and director of UH's Institute of Hawaiian Language Research and Translation, is a professor of Hawaiian language at UH Mānoa where he has taught for over 30 years. His degrees in Hawaiian language, Pacific Islands Studies, and Anthropology were all completed at UH, while beyond the university he trained in Hawaiian language, traditional dance, chant, and literature. Dr. Nogelmeier mentors and trains translators and works extensively with the many Hawaiian-language archives to rearticulate historical Hawaiian knowledge into fields of study today through research, translation, new presentations, and publications of archival materials.
Note – Since this issue of Ka Pili Kai was published, Hawai'i Sea Grant established two additional centers of excellence: the Center for Integrated Science, Knowledge, and Culture and the Center for Water Resource Sustainability.