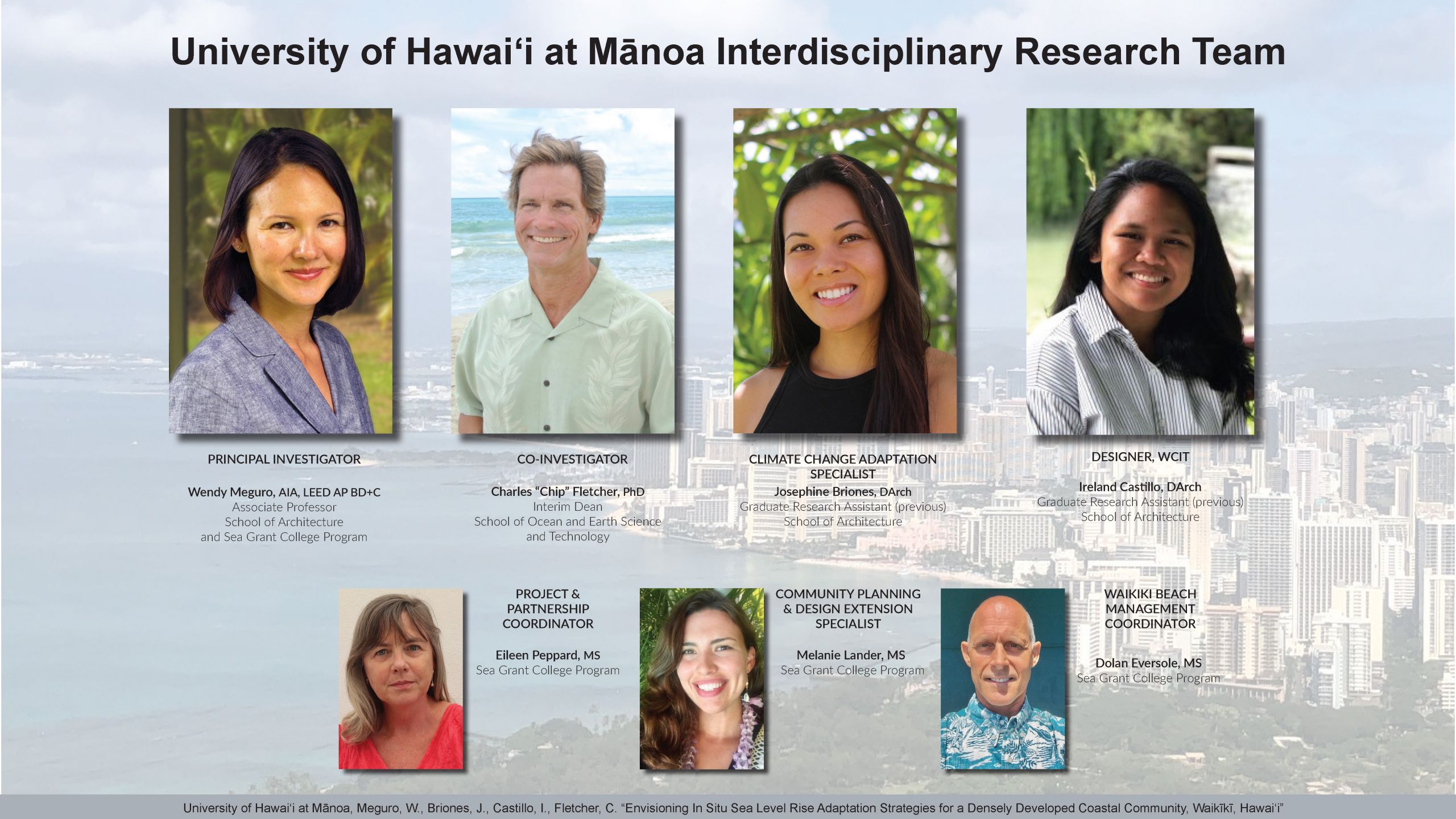 Envisioning Sea Level Rise Adaptation Strategies in Waikīkī, Hawai'i
Waikīkī is the economic hub of Hawai'i's tourism industry and is threatened by flooding from sea level rise, king tides, high wave events, rainfall and storm drain backflow, groundwater inundation, and overflow of the Ala Wai canal. This research merges science with design to create conceptual architectural design renderings to visualize sea level rise adaptation strategies over time for buildings, utilities, transportation, and open space. The interdisciplinary design research team includes graduate research assistants and faculty from the University of Hawai'i at Mānoa School of Architecture, Sea Grant College Program, and School of Ocean and Earth Science and Technology. The goal is for these renderings to compel discussion, contribute to design guides, pilot projects, and new policies that prepare for future flooding. Feedback on adaptation strategies was solicited from over 70 stakeholders and published into an online report as a resource to future design teams and policy makers. The design proposals were shared through public presentation with over 120 attendees and discussion with guest experts.
The team is continuing to research and envision coastal resiliency, this time assessing adaptation options for a beach-front condominium site.
More Project Information: https://seagrant.soest.hawaii.edu/meguro-adapting-waikiki/
Awards:
In September 2022, Envisioning Sea Level Rise Adaptation Strategies in Waikīkī, HI was recognized as a "honorable mention" at the Northwest and Pacific AIA Honors and Design Awards category "Unbuilt" and as a "distinguished entrant" at the American Institute of Architects Honolulu Honors and Awards category "Non-Commissioned Theoretical Work – Unbuilt."
Read more from the articles linked below:
AIA+NWP Design
AIA Honolulu