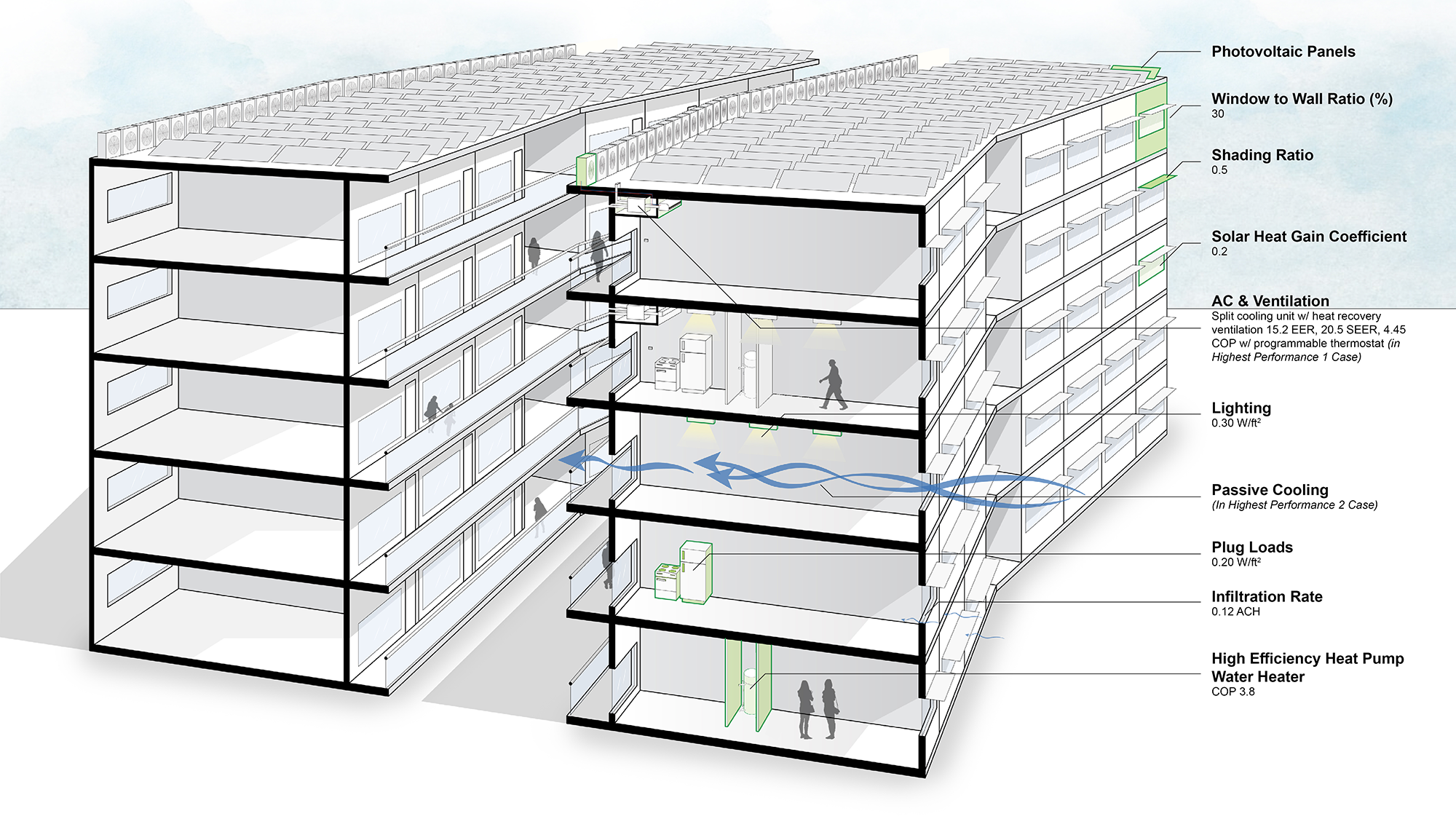 Energy Performance Recommendations Inform Plans and Incentives for Multi-family Housing Associated with Rail Development
Assistant professor Wendy Meguro and consultant WSP, an engineering firm, identified energy targets and effective energy efficiency measures in multi-family buildings and estimated the effects of future warmer weather on occupant thermal comfort and air conditioning energy use. The subjects of the analyses are speculative multi-family buildings on State land in the Waipahu transit-oriented development area. They presented the report and findings to the State of Hawaiʻi Office of Planning, State of Hawaiʻi Energy Office, and Hawaiʻi Energy. The research provided valuable insight to leverage in financial rebate or incentives and provides visionary, valuable technical information and a foundation for future work.
This research has been a collaboration between The University of Hawai'i's: Hawai'i Natural Energy Institute's energy efficiency program, School of Architecture's Environmental Research and Design Lab and  Sea Grant College Program and consultants from WSP.
Publication:
Title: Evaluating Energy Targets and Efficiency Measures in Multifamily Subtropical Buildings through Automated Simulation
The Technology | Architecture + Design journal article by associate professor Wendy Meguro and Elliot Glassman from WSP, "Evaluating Energy Targets and Efficiency Measures in Multifamily Subtropical Buildings through Automated Simulation" is available at this link.
This study demonstrates a replicable process using early design phase energy modeling to reduce energy use in multifamily residential buildings in subtropical climates and achieve net-zero site energy.
Why was the study initiated? Buildings produced almost 40% of annual global GHG emissions in 2018, so reducing energy use in buildings is key to meeting climate change mitigation targets.
Who is the audience? Design professionals, policy-makers, planners, and building developers may be interested in the early-design phase automated parametric energy modeling methods; energy use intensity targets; identification of the most effective energy conservation measures; and estimates of on-site renewable energy generation and storage.
Please download the PDF and view the 2-page spread to see the layout.
Thank you to project collaborators Charles Chaloeicheep, Zachary Stevens, Eileen Peppard, and funder, the Hawaii Natural Energy Institute. The article is open access, thanks to WSP and HNEI. Opening image by Andrew Richard Hara.
Wendy Meguro with colleagues, Elliot Glassman from WSP, and John Delaney from Koning Eizenberg, prepared and gave a talk on "Designing Zero Energy Multifamily Buildings" moderated by Brian Kealoha from Hawaii Energy at the AIA Honolulu Design + Architecture event on September 30, 2021. The talk was part of a two-day event with local, national, and international speakers https://dna-hawaii.com/.