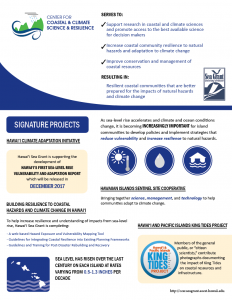 Center for Coastal & Climate Science & Resilience

The Center Serves To:
Support research in coastal and climate sciences and promote access to the best available science for decision makers
Increase coastal community resilience to natural hazards and adaptation to climate change
Improve conservation and management of coastal resources
Resulting In:
Resilient coastal communities that are better prepared for the impacts of natural hazards and climate change
Signature Projects
Hawai'i Climate Adaptation Initiative: Hawai'i Sea Grant is supporting the development of Hawai'i's first Sea-Level Rise Vulnerability and Adaptation Report released in December 2017.
Sea level has risen over the last century on each island at rates varying from 0.5-1.3 inches per decade. As sea-level rise accelerates and climate and ocean conditions change, it is becoming increasingly important for island communities to develop policies and implement strategies that reduce vulnerability and increase resilience to natural hazards.
Building Resilience to Coastal Hazards and Climate Change in Hawai'i: To help increase resilience and understanding of impacts from sea-level rise, Hawai'i Sea Grant is completing:
A web-based Hazard Exposure and Vulnerability Mapping Tool
Guidelines for ingrating Coastal Resilience into Existing Planning Frameworks
Guidelines and Training for Post-Disaster Rebuilding and Recovery
Hawaiian Islands Sentinel Site Cooperative: Bringing together science, management, and technology to help communities adapt to climate change.
Hawai'i and Pacific Islands King Tides Project: Members of the general public, or "citizen scientists," contribute photographs documenting the impact of King Tides on coastal resources and infrastructure
Please contact us at
uhsgcomm@hawaii.edu
or (808) 956-7410 if you would like to request a hard copy or pdf of this publication.